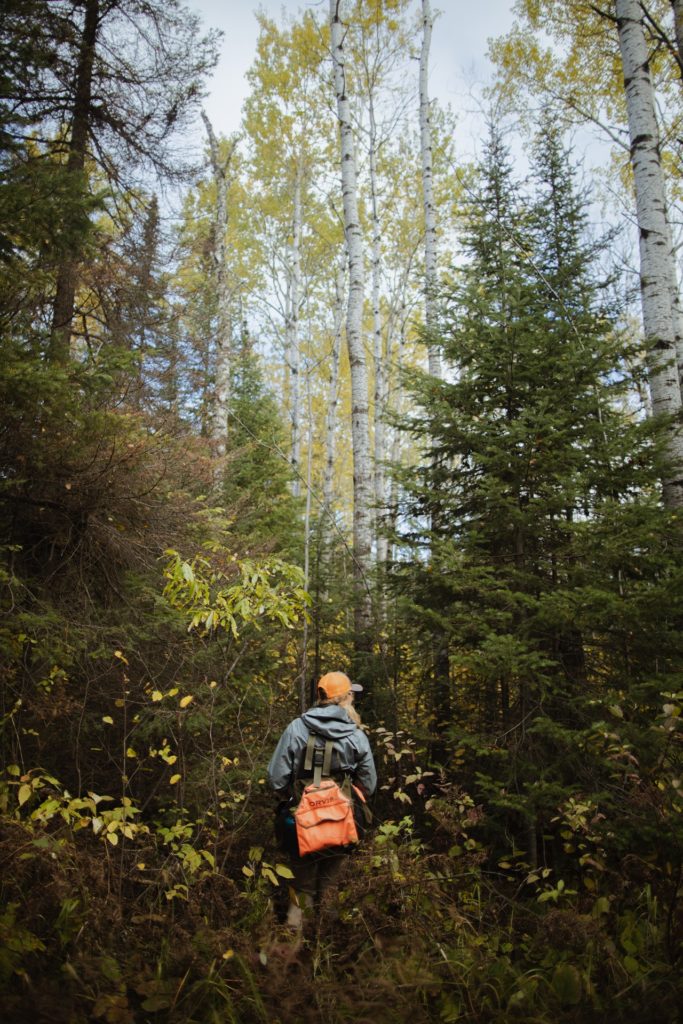 Proposed legislation to Protect Boundary Waters Canoe Area.
January 15, 2020
For Immediate Release
Coraopolis, Pa. – The Ruffed Grouse Society and American Woodcock Society (RGS|AWS) today applauded introduction of the bipartisan Boundary Waters Protection and Pollution Prevention Act (H.R. 5598), legislation that would permanently protect fish, wildlife, and the recreation industry within the Boundary Waters Canoe Area from proposed upstream copper-nickel mining development in the Superior National Forest.
The legislation was introduced by lead sponsors Rep. Betty McCollum (D-MN) and Rep. Francis Rooney (R-FL), with Reps. Fred Upton (R-MI), Raul Grijalva (D-AZ), Alan Lowenthal (D-CA) and Dean Phillips (D-MN) as original cosponsors.
The cumulative effects from acid mine drainage and accidental discharges of wastewater contaminated with heavy metals pose a threat to fish, wildlife and water quality downstream within the Boundary Waters Canoe Area. In 2016, the United States Forest Service proposed withdrawing 234,328 acres of public land and waters in the Rainy River Watershed of the Superior National Forest in the State of Minnesota from consideration for future sulfide-ore copper mining development. This legislation would implement that recommendation, based on the original assessment of risk from such proposed mining upstream in the watershed, and the inability to mitigate damage from acid mine drainage. The bill would not affect logging or ongoing mining operations in the Superior National Forest.
"The Ruffed Grouse Society and American Woodcock society strongly support appropriate use of our public natural resources, but sulfide-ore copper mining is simply not compatible with sustainable habitat and recreation on these lands in the Boundary Waters," said Brent Rudolph, Chief Conservation and Legislative Officer with the Ruffed Grouse Society and American Woodcock Society.
Other conservation partners joined in voicing their concerns over these impacts, and support for the legislation.
"The Boundary Waters Canoe Area is the most-visited wilderness area in the United States. As such, we are proud to engage on this issue on behalf of the many hunters and other conservationists that should have the opportunity to continue to enjoy this special place for generations to come." Noted Kip Adams, Quality Deer Management Association Director of Conservation.
"Developing a mine south of the Boundary Waters watershed when everything flows north makes no sense," said Backcountry Hunters and Anglers President and CEO Land Tawney. "The outdoor recreation industry in northern Minnesota provides certainty for the local economy. This mine would deliver only short-term economic gain followed by a lifetime of harmful impacts to fish and wildlife."
"Sportsmen for the Boundary Waters is proud to stand with our partners in wholehearted support of the bipartisan Boundary Waters Wilderness Protection and Pollution Prevention Act," said Lukas Leaf, Executive Director of Sportsmen for the Boundary Waters. "We urge all outdoor enthusiasts from across the nation to contact Congress and express their support for this forward-looking bill."
RGS|AWS policy staff noted they will continue working with conservation partners and Congressional staff to increase bipartisan support and secure a hearing on the bill.
***

Established in 1961, the Ruffed Grouse Society/American Woodcock Society is North America's foremost conservation organization dedicated to preserving our sporting traditions by creating healthy forest habitat for ruffed grouse, American woodcock and other wildlife. RGS/AWS works with landowners and government agencies to develop critical habitat utilizing scientific management practices.
Information on RGS/AWS, its mission, management projects and membership can be found on the web at: www.ruffedgrousesociety.org.
Contact:
Brent Rudolph
RGS | AWS Chief Conservation and Legislative Officer
BrentR@RuffedGrouseSociety.org