WOODCOCK ACTIVITY/DATA ENTRIES ARE LOGGED INTO A QUEUE FOR ADMINISTRATIVE APPROVAL WHICH MAY TAKE 1 BUSINESS DAY.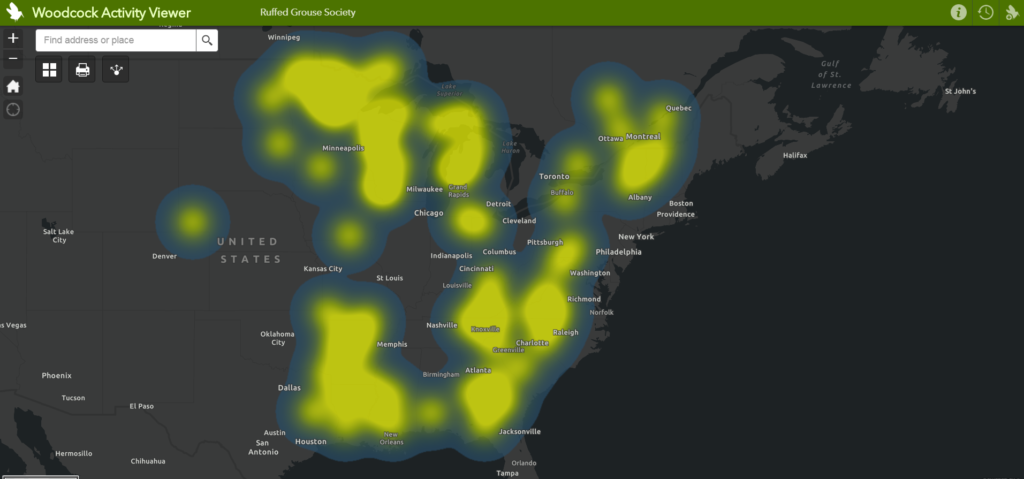 Welcome to the Ruffed Grouse Society's National American Woodcock Migration Mapping System. RGS started providing real-time tracking of the annual fall and spring American woodcock migrations in 2006 — for the first time in history. It has continued each year since. The mapping system relies on daily migration data provided by our members and online readers. Users enter the date, activity level and zip-code (or drop a pin) for the area they're reporting on, then select if the woodcock activity in that area is Light, Medium, Heavy, or at its Peak and you may also add a comment.
The map features a time slider that allows users to watch woodcock activity over time. Please note, we value your entries and willingness to share your reports. We protect all participant data (pinpoint locations), woodcock data will only appear to a certain scale (or zoom-level) if that scale zoom-level is surpassed (zoomed in too far) users will no longer be able to see the data entered – in short, other users will not be able to zoom in and pinpoint another user's entry.