EASTERN WOODCOCK MIGRATION RESEARCH COOPERATIVE
The Ruffed Grouse Society and American Woodcock Society, through the generosity of its members and donors have been proudly supporting the most cutting edge woodcock migration research via the Eastern Woodcock Migration Research Cooperative (EWMRC).

RGS | AWS have conducted specific woodcock migration fundraising campaigns to direct donations and contributions to the EWMRC to purchase GPS transmitters for migrating woodcock, and have assisted partner agencies with completing timely purchase of transmitters and by allowing financial contributions to count as match for federal research funding.
Your Contributions at Work | See current woodcock migration maps.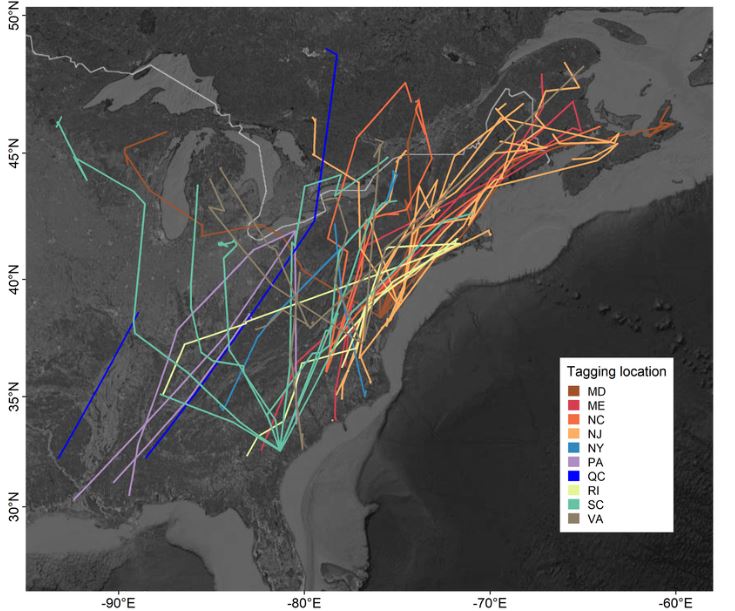 About | Eastern Woodcock Migration Research Cooperative
"The Eastern Woodcock Migration Research Cooperative is an international collaborative interested in understanding migratory ecology for the American Woodcock. The project is coordinated by the University of Maine, and involves partners from throughout the United States and Canada.
​Woodcock have declined throughout eastern North America and we seek to understand how the conditions they experience during migration may influence these declines. By working with a broad set of partners, we use GPS and satellite technology to track woodcock as they migrate between their northern breeding areas and southern wintering grounds.
On our site you can read about the project's research objectives, view the current status of our marked birds on our migration page, meet our project partners and cooperating agencies, and learn about how to support our research."
NATIONAL AMERICAN WOODCOCK MIGRATION REPORT MAPPING SYSTEM
Welcome to the Ruffed Grouse Society's National American Woodcock Migration Report Mapping System. RGS started providing real-time tracking of the annual fall and spring American woodcock migrations in 2006 — for the first time in history. It has continued each year since. The mapping system relies on daily migration data provided by our members and online readers. Users enter the date, activity level and zip-code (or drop a pin) for the area they're reporting on, then select if the woodcock activity in that area is Light, Medium, Heavy, or at its Peak and they may also add a comment.
The map features a time slider that allows users to watch woodcock activity over time. Please note, we value the privacy of your entries and willingness to share your reports. We protect the pinpoint locations of all participant data. Users will not be able to zoom in and pinpoint the specific location of your entries – data will no longer appear users zoom in too closely.

Click to submit another activity posting.