Field Lunch
Grouse BLTs and Fried Apples
Recipe by Joe Schwenke | Images by Scott Brosier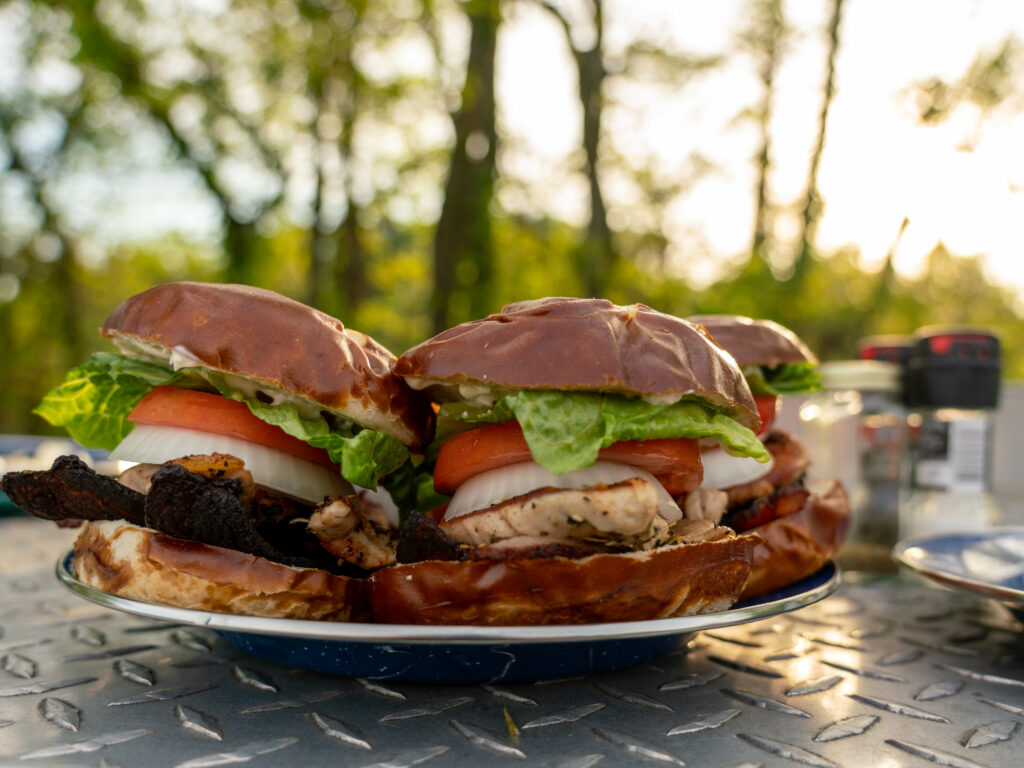 Article originally featured in Covers magazine
The number of days in our season always seems too few, and the number of statuesque points or exhilarating flushes can only be counted as "nearly enough."
While it's the birds we pursue, it's perhaps our game bag of memories that fill fastest. A quick meal in the covert can bring warm comfort on a chilly November day or cold refreshment in September under the shade of aspen. A meal at midday allows the beginner to ask questions and old friends to enjoy the intangibles of camaraderie afield. This field lunch of grouse BLTs and fried apples will take, from removing your vest to donning it again, under an hour.
Ingredients
– Grouse breast – butterflied (1 per sandwich)
– Lawry's Seasoned Salt or your favorite grouse seasoning
– Smoked bacon (3 slices per sandwich)
– Pretzel buns
– Tomato slices
– Onion slices
– Romain leaves
– Mayonnaise
– Apples
– Butter (1 tablespoon per apple)
– Cinnamon/sugar mixture
Directions
– Heat pan to medium and add bacon slices. When bacon is half cooked, add seasoned grouse breast.
– While meat cooks assemble sandwich ingredients and peel, halve and core apples with a trusty bird knife.
– Place cooked meat onto sandwiches, discard grease safely and add butter
to the pan. Increase heat to medium/high and add apples. Sprinkle cinnamon/sugar mixture on apples and cook until softened.
Nutmeg, cloves or a generic pie spice seasoning can also be added.
Enjoy the day, the food and the birds!