RGS & AWS grew in many ways, and we were excited to expand our team this year!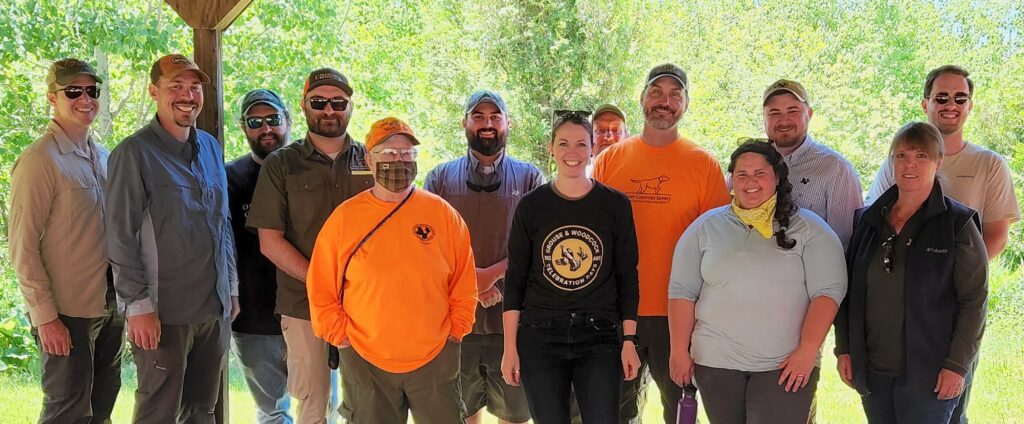 Tomorrow is Giving Tuesday and I want to highlight some incredible things happening at RGS & AWS. It has been a year of growth for us and I have been so impressed by how our team has navigated growing quickly, learning new skills, and working together for the future of conservation. If you haven't already, please consider a gift to support the hard work done by our volunteers and staff.
First, we kicked off 2022 hiring Jessica Haluska to assist with member relations and to help ensure our membership communications are top-notch. If you've reached out with a question, there's a good chance you've interacted with Jessica – be sure to say thank you! Her work often happens quietly and behind the scenes, but her expertise is critical to ensuring that the right information is getting to the right people.
Next, I'd like to highlight our chapter and member engagement team. It has been a very full year – we started by saying farewell to Dave Johnson as he began his retirement. He primarily served as Regional Director for the Western Great Lakes and a few other states. Dave's time at RGS & AWS was highlighted in Covers magazine earlier this year.
The increasing need to support chapter activity and fundraising meant we needed to expand, and we welcomed several new staff to the regional chapter engagement team:
Nick Buggia: Eastern Great Lakes, focusing on Michigan, Ohio, Indiana
Sam (Snyder) Tillman: Minnesota, Iowa, Washington (and also NW Wisconsin)
Gabe Stone: Wisconsin, Illinois, and the UP of Michigan
Grant Erhard: Central and Southern Appalachians
Lisa Rossi earned a much-deserved promotion this year, and is now the national Director of Chapter Relations and Fundraising Events. Lisa has been with the organization for more than 30 years, and in that time, she has helped chapters raise millions of dollars for forest conservation work. Just as importantly, Lisa has provided steady guidance for chapters that want to engage more women and the next generation, chapters that want to appeal to new hunters and re-engaged hunters, and she has a keen eye for ensuring safety is a top priority.
Lisa's promotion means the Mid-Atlantic Regional Engagement position is now open, and that position will oversee most of the chapter network for Pennsylvania, Maryland, New Jersey, Delaware, and a portion of Virginia. If you or someone you know is interested, please check out the position posting, found on our employment web page.
And there's more! We recently welcomed Rob Thoresen to the team as our graphic designer, focused on Covers magazine, organizational publications, and supporting design needs for grant reporting and forest conservation work. Check out the cool Giving Tuesday graphic he created for the biggest online fundraising day of the year!
Finally, we are very lucky to have all our marketing, membership, and engagement staff on board. We have great staff and team support for training in new team members. They continue to ensure the quality of our external relations:   
Nate Kennedy is the regional engagement coordinator for the Northeast and continues to do great work up there!
Nicole Parkhurst is a Jill-of-all-trades, and her oversight and guidance of the membership team has been critical to our success this past year;
Britney Booth, Covers magazine editor and art director, continues to produce an incredible publication. Britney was also instrumental in coordinating the RGS & AWS Grouse Camp event in Wisconsin.
Kevin Sterling focuses on improving our digital membership and national email marketing – if you enjoy the updated regional pages or the maps showing project updates, then you're already a fan of Kevin's work.
Alison Kelley is great at many things, and in particular, she keeps chapter communications flowing by sending chapter events emails, mailing out event flyers, updating the events page, and assisting with member renewals;
Seth Heasley wrenches away on technical needs for many of our information systems, including the website and web store; he may work quietly, but his work is critical for keeping our digital systems up-to-date.
That's all the room I have for now, but watch soon for a summary of who has joined our forest conservation team! We'll also have updates from our leadership team, fundraising/development team and the merchandise department.
I hope you all had a happy Thanksgiving! Make sure you're following us on social media and subscribed to our email updates so you don't miss out.
— Ashley Peters, Director of Marketing & Communications