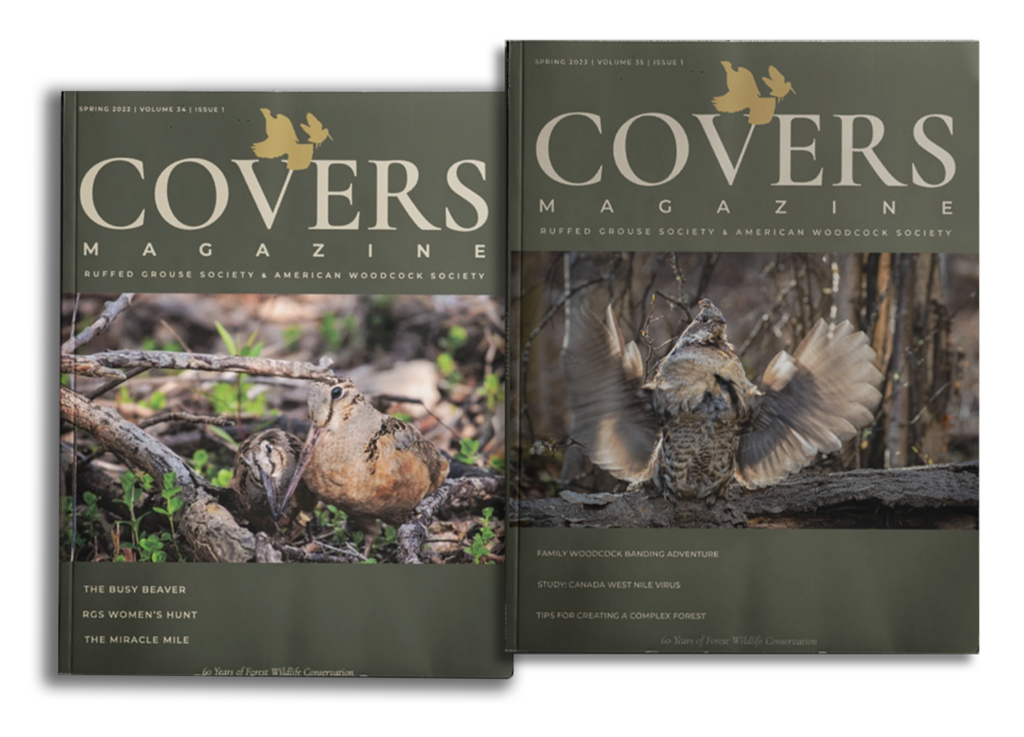 The Ruffed Grouse Society & American Woodcock Society (RGS & AWS) received the Professional Outdoor Media Association's (POMA) 2023 Pinnacle Award in the "Magazine Complete – Print" category, presented during the 2023 POMA conference in June 2023 in Broken Arrow, Oklahoma. The Pinnacle Awards, sponsored by Toyota, honor journalists for remarkable achievement in traditional outdoor sports-focused communications, including magazine publication, writing, photography/illustration/art, broadcasting and content focused on wildlife conservation.
The Covers magazine issue that took home the first-place award was Spring 2022, which included articles on the RGS & AWS model of working forests, choosing the best shotgun, hunting dog tune-up tips and how beavers help diversify habitat, to name a few.
While at the conference, Covers Editor Britney Booth participated in an editors' panel discussion (the headlining event) with editors from Mule Deer Foundation's MDF Magazine, Strung Magazine/Tail Fly Fishing Magazine, Whitetails Unlimited Magazine and Concealed Carry Magazine.
"It was an honor to represent our organization during the POMA conference. I'm so, so proud of the work we do every day for conservation, and the amazing team we have! From the top down, RGS & AWS is filled with people who truly care about habitat creation and the future of the upland birds we love to hunt. I'm honored to help share our mission through Covers, and to be recognized for excellence in my craft," said Britney.
The image used on the cover of the Spring 2022 issue is titled "Woodcock Hen" and was photographed by longtime RGS & AWS supporter Tim Flanigan. Tim received the 2022 Pete Greer Memorial Award for Best Published Outdoor Photograph by the Mason-Dixon Outdoor Writers Association for his image on that magazine cover.
Additionally, Covers received an APEX Award of Excellence from Communications Concepts, Inc. The APEX Awards are based on excellence in graphic design, editorial content and the ability to achieve overall communications excellence. The magazines submitted for this award can be about any topic and are open to the entire nation. Covers was among winners, such as AARP, American Journal of Critical Care, Oncology Nursing Society, Society of Women Engineers and West Point Magazine.
The magazine issue that won this honor was Spring 2023 and included articles on tips for creating a complex forest, woodcock banding, and West Nile Virus study results from Canada, among others. This issue featured photographer and book author Jim McCann's cover image of a drumming grouse. RGS & AWS graphic designer and avid upland hunter Rob Thoresen did the layout and design work.