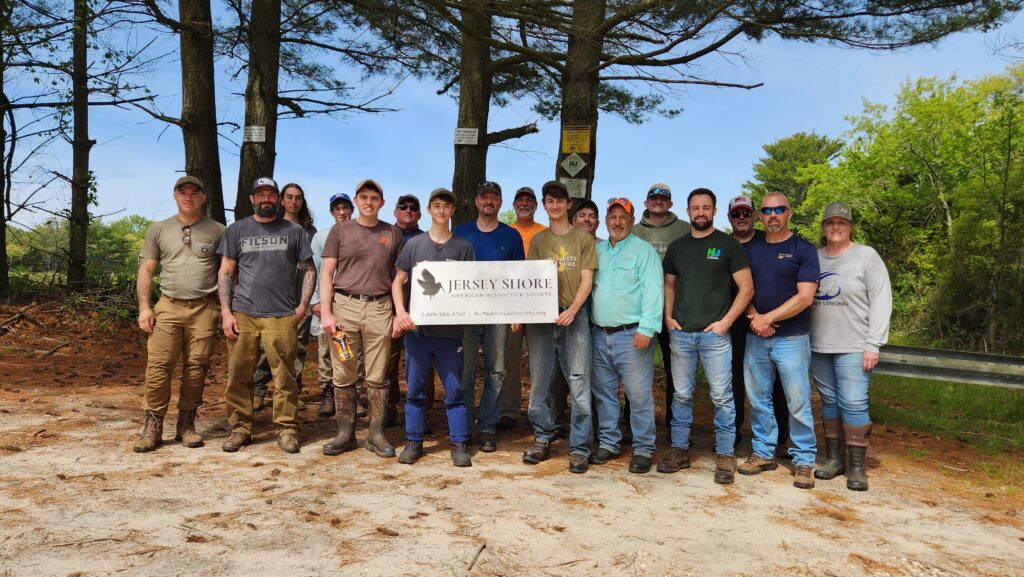 The Jersey Shore chapter of the American Woodcock Society and the New Jersey Fish & Wildlife team have completed the third habitat project partnership on New Jersey Wildlife Management areas during the past three years.
The New Jersey Fish & Wildlife team had begun the reclamation of a series of fields at the Dennis
Creek WMA in Cape May County, New Jersey. First, they hydro-axed six acres in the winter of 2022. Then, the Chapter assisted by providing 17 volunteers to plant Northern bayberry seedlings in May 2023. The Chapter volunteers then applied seedling protector tubes, bamboo stakes and wire ties to protect the seedlings as they mature.
The Chapter will continue to monitor progress this summer, and the New Jersey Fish & Wildlife team will review the option to mow the areas to help reduce competing growth.
Thank you to Animals and Gardens Unlimited in New Egypt, NJ, for their continued support as a local chapter sponsor. They provided a donation to offset costs for supplies. They have a great family-run store for pet/livestock food, farm supplies and a large hunting/fishing section with live bait.
This project is an excellent example of how AWS and New Jersey Fish & Wildlife can partner to create habitat for the American woodcock, demonstrate how AWS supports local New Jersey projects so our chapter can grow, and show how local donations are helping right in our members' backyards.
We thank the New Jersey Fish & Wildlife team for providing the 100 Northern bayberry seedlings and their commitment to being great partners. We look forward to another project in the future!