by Jared Elm | RGS & AWS Forest Wildlife Specialist
Covers Magazine – Spring 2019
We say hawthorn, thornapple, whitethorn, hawberry – or maybe even an occasional expletive when it tears at your favorite hunting coat. Whatever you call this shrub species under the Crataegus genus umbrella, hawthorn is one of the most common shrubs throughout the entirety of the North American grouse range and is a favorite late-season snack for ruffed grouse and other forest wildlife. They're a member of the Rosaceae family that contain other notable species like apple, plum, almond, cherry, raspberry, blackberry and its namesake, rose.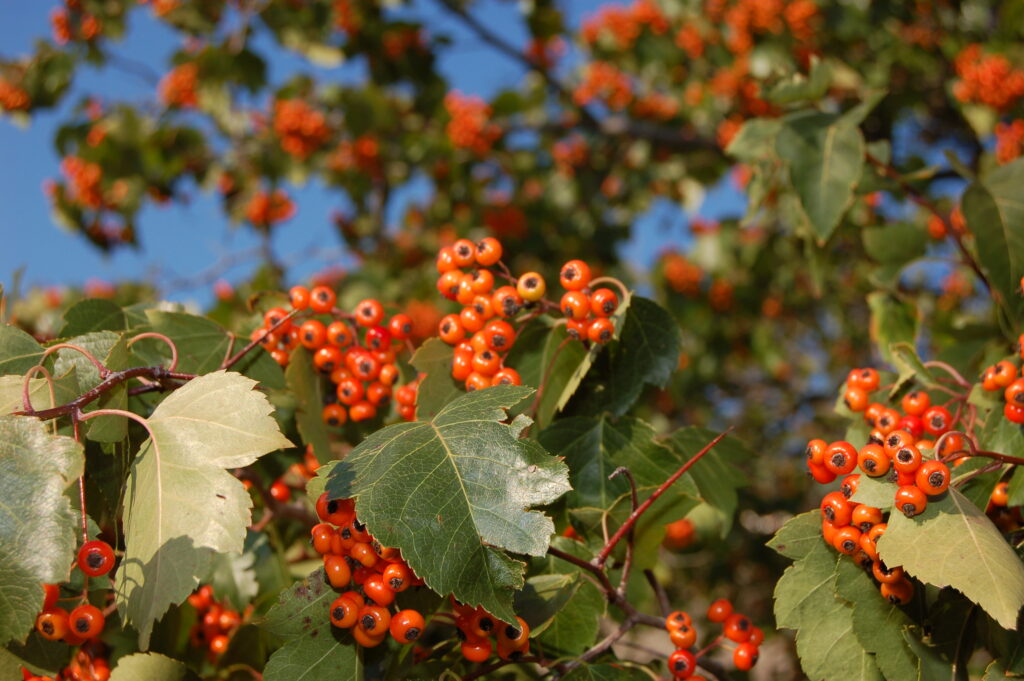 Hawthorn is a common early invader of abandoned farmland and forest edges, thriving in conditions with well- to moderately-well drained soils. While it's a native shrub, hawthorn has cross-hybridized with a plethora of species existing in Europe over the years. Its prevalence on abandoned farmland and hybridization is due to hedgerow planting by homesteaders. Blooming in the late spring, flowers are white and bloom all at once, making it a popular ornamental.
The easiest way to spot this species while afield is the menacing thorns that are up to 1 inch in length, accompanied with a rusty orange or red fruit. They often look like a small rose hip or apple. The leaves are tapered at the base and have coarse teeth coming to a round point. The bark is gray, especially on the thinner branches – like that of an aspen. Hawthorn can grow in dense thickets, but in a forested environment, it typically is opportunistic and grows intermittently in the understory where a little bit of sunlight allows.
While grouse are opportunistic, deer browsing often greatly reduces the amount of soft mast (fruit) going into fall and early winter as the leaves drop. Hawthorn commonly reaches heights of 25 feet when grown in full sun, which puts much of the fruit above the browse line. Fruit is put on later than other shrubs and can be found with relative abundance well past first frost, making it an ideal food source for a browsing grouse. The next time you're afield, keep a lookout for the mighty hawthorn. There's a good chance there is a grouse flush waiting just around the corner!