by Ben Larson | RGS & AWS Forest Conservation Director – Mid-Atlantic
& Jake Tomlinson | RGS & AWS Forest Conservation Coordinator – Pennsylvania
Those of us working on game habitat in the East face a dilemma: Because most forestland is privately owned, it's critical to work on private as well as public lands. But what about hunting access on private lands?
Luckily, numerous states have programs that provide hunting access to lands owned by participating private landowners. The Pennsylvania Game Commission's (PGC) Hunter Access Program includes more than 1.8 million acres.
Beginning in 2022, RGS & AWS has been partnering with the PGC and others to provide interested Hunter Access landowners in priority areas with additional technical and financial assistance to improve habitat through good forest management.
Broadly speaking, this is another way we're implementing the RGS & AWS Model of Working Forests, whereby sales of pulpwood and sawtimber support the costs of managing forests and creating habitat.
We're pleased to be partnering with Domtar, the nation's leading manufacturer of "free sheet" paper (the kind used in printers and copiers). The company owns a paper plant in Johnsonburg, Pa. Not only does Domtar financially support our collaboration with the PGC, American Bird Conservancy, Indiana University of Pennsylvania and Audubon Mid-Atlantic, but the company preferentially purchases pulpwood from the habitat-oriented forest management projects that come out of our collaboration, which helps get the work done by commercial loggers.
Strategically, we're prioritizing areas that are in Domtar's sourcing regions, and have existing Dynamic Forest Restoration Blocks (DFRBs), which are landscape-scale focal areas for habitat improvements, usually on PGC State Game Lands (SGLs). We've identified seven such public "anchor" properties where landscape-scale habitat mosaics exist or are being established.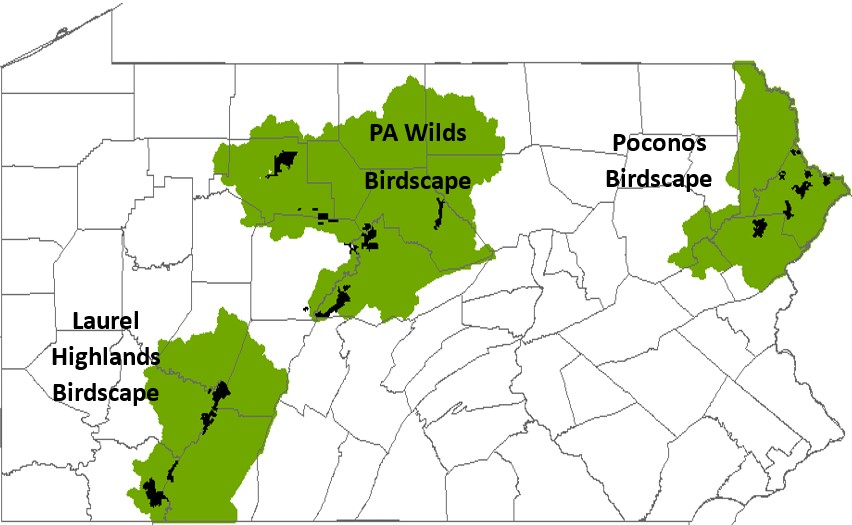 Then, to expand on the landscape-scale habitat work done on the SGLs, we're recruiting nearby Hunter Access landowners to participate in this effort, with the PGC sending letters and follow-up postcards.
When landowners respond, an RGS & AWS forester has a brief call with them to learn more about their interest and forestland and to describe working with a consulting forester.
Then, we connect interested forest owners with one of our cooperating consulting foresters or a PGC diversity biologist. Landowners are under no obligation to work with the consulting foresters or PGC diversity biologist or to sell any pulpwood to Domtar. But most landowners appreciate the opportunity to talk with a forester if they don't already have one.
Thanks to funding from the National Fish and Wildlife Foundation (NFWF), we're pleased to be able to provide some financial assistance to help landowners implement noncommercial management practices that otherwise would be out-of-pocket expenses. With $200,000 in funding from a 2020 NFWF grant, we improved 813 acres of habitat, including 171 acres of SGLs and 642 acres of private lands, greatly exceeding our target of 484 acres.
In 2022, we received $500,000 in NFWF renewal funding to continue our private lands work in north-central and southwestern Pa. for three years. (See map.) With our NFWF funding, we'll improve more than 1,200 acres of private lands in priority areas.
And, thanks to NFWF funds raised by our partners at the American Bird Conservancy and Indiana University of Pa., we're beginning to work with Hunter Access landowners in the Poconos.
Our Pa. private landowner work will complement the wildlife forester and joint Natural Resources Conservation Service (NRCS) Working Lands For Wildlife (WLFW) positions that RGS & AWS has in many states. With wildlife foresters and WLFW foresters, an RGS & AWS staff forester works directly with private landowners, writing forest management plans, accessing available NRCS and other cost-share funds and helping implement management.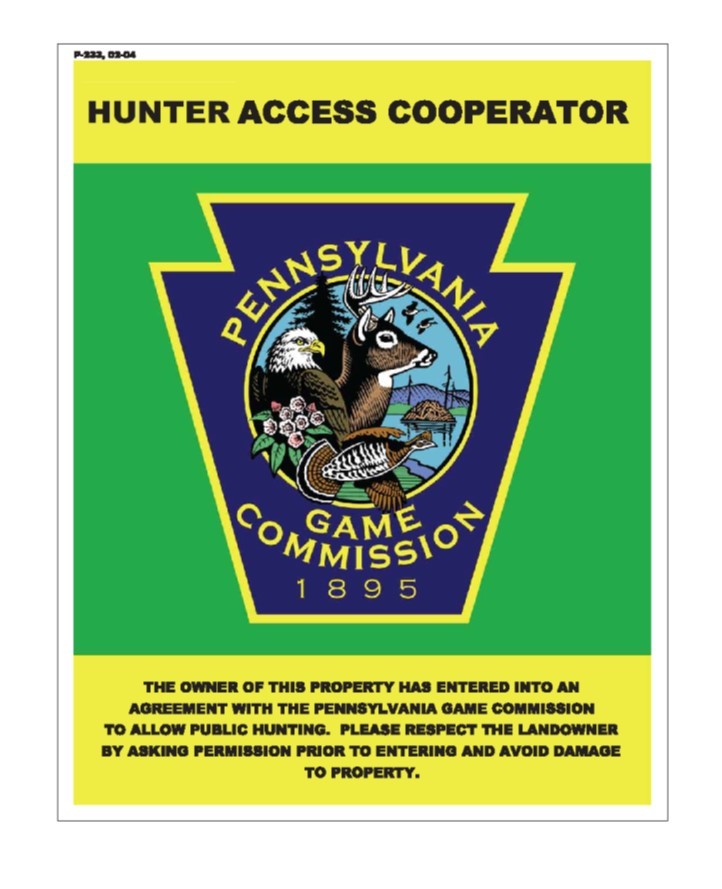 And in Pa., our work with Hunter Access landowners will augment the newly awarded Allegheny Plateau Habitat Restoration Project, funded through the Joint Chiefs' Landscape Restoration Partnership. This project involves the U.S. Forest Service and the NRCS providing additional funding for numerous partners to improve habitat for ruffed grouse and cerulean warblers in the Allegheny National Forest and on nearby private lands.
As we build out our private lands program in Pa. and hopefully expand it to other states, RGS & AWS appreciates the assistance of our many partners, particularly the PGC and private landowners who improve their habitat and provide public hunting access.