by Stefan Nelson – RGS & AWS Forest Wildlife Specialist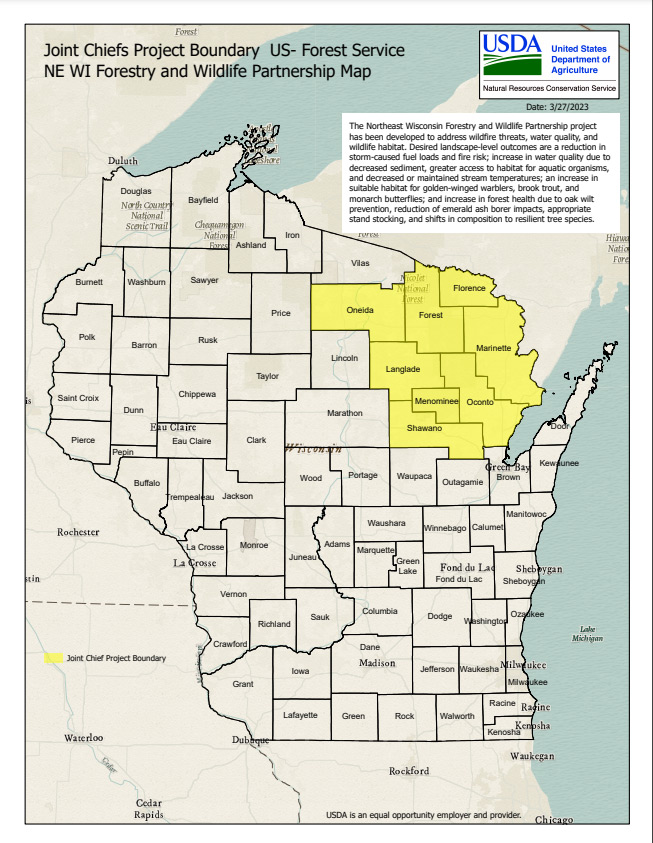 Private forest landowners within the Northeastern portion of Wisconsin now have an additional funding opportunity available under the Environmental Quality Incentives Program (EQIP) to address conservation concerns. This additional EQIP fund pool is available to landowners within Oneida, Forest, Florence, Marinette, Oconto, Langlade and Shawano counties. Landowners still need to follow all normal eligibility and application procedures under EQIP for this project. Farm Bill grants provide funding for landowners to carry out the work or hire a contractor to do so.
The chief of the U.S. Forest Service (USFS) and Natural Resources Conservation Service (NRCS) agreed to collaborate on this $1.5 million Northeast Wisconsin Forestry and Wildlife Partnership project, which aims to address wildfire threats, forest health concerns, water quality, and wildlife habitat across the NE Wisconsin landscape scale. Like many states, Wisconsin has a high proportion of its forestland owned by private owners, which makes it especially important to work across both public and private lands on a large scale to positively address conservation concerns and maintain and manage wildlife habitat. On public lands, the USFS is ramping up project work on the Nicolet National Forest. On private lands, NRCS and partner staff from RGS & AWS are making forest management project funds available for targeted projects.
Examples of items available for funding under this fund pool include:
Forest management plans
Oak wilt and emerald ash borer mitigation
Tree/shrub planting
Invasive species treatment
Stream crossing improvement for brook trout
Alder/aspen shearing for golden-winged warbler, American woodcock and ruffed grouse habitat
Pollinator plantings for monarch butterflies and other pollinators
Wildfire hazard reduction/storm damage cleanup
Numerous other conservation agencies and organizations, included Ruffed Grouse Society, are partnering on this project by assisting with outreach, technical expertise, employee time and/or cost-sharing.
More information can be found here: https://www.nrcs.usda.gov/programs-initiatives/joint-chiefs-landscape-restoration-partnership/wisconsin/joint-chiefs.
Contact Stefan Nelson at StefanN@RuffedGrouseSociety.org if you have questions or are interested in the project or funding process.