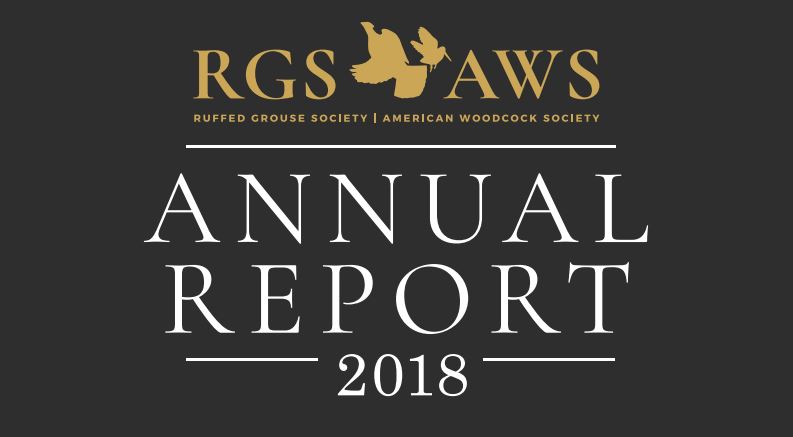 Last April, the Ruffed Grouse Society and American Woodcock Society Executive Board and I had our first conversation—the first of many. Initially, the CEO interview brought us together. By the end of that discussion, it was clear we were converging on much more in our conservation pathways.
The RGS is a pioneering group. With a 60th anniversary approaching, our reputation is built on unwavering support for fact-based, pragmatic approaches to forest and wildlife management. The need for such an organization has never been greater! Indeed, there are hurdles, but there are opportunities in lock step with today's challenges. That tenet was the core of our discussion a year ago—seize today's opportunities and realize our full conservation potential.
Therein lies the road ahead.
In review, 2018 was a year of taking stock. It was a time to review our culture, strengths, weaknesses, and our finances.
I heard it said during my first few months, "No margin, no mission." Truer words were never spoken for a conservation nonprofit. Fiscal sustainability is vital. To date we have allocated over $18M to habitat projects—a testament to the incredible mission support of our members and donors! With more conservation work to do, we are finding new ways to strengthen mission capacity. Increasing grant funding and growing corporate partnerships are two examples of our focus in 2019 and beyond.
Events, particularly banquets, have been a centerpiece for RGS/AW fundraising. The passionate work of our volunteer banquet committees is absolutely incredible. To maximize their efforts, we must ensure all the best tools are in place and at their fingertips. A survey was issued last summer asking our members, and potential members, how to improve event offerings. The results were enlightening. Banquets were in the mix, in addition to new ways we can gather as upland enthusiasts. Keep an eye out for exciting things to come.
So, what about the main reason many of you support RGS/AWS? Our mission's soul: Habitat! Over 700,000 acres have been enhanced through RGS/AWS programs—nearly three-quarters of a million acres are proof of what can happen when we join as members, volunteers and RGS/AWS staff. Personally, it makes me want more—more habitat where wildlife can thrive, and new conservationists can be recruited.
As leaders in forest conservation, we often engage in management planning. The first step, whether for a million-acre national forest or a 50-acre woodlot, is what foresters call the "inventory." The inventory reveals where you are at and where you should go. Such was the case for RGS/AWS in 2018.
Taking stock of 2018 shows notable success and vast potential for the future. Most importantly, I believe it is a testament to what is possible when we join and turn our passion into action.
To read and review the full version of the 2018 Annual Report, click here.