Sam Snyder, Regional Engagement Coordinator for RGS & AWS in Minnesota and Iowa, reflects on her recent visit to the Upland Bird Camp based in northern Minnesota.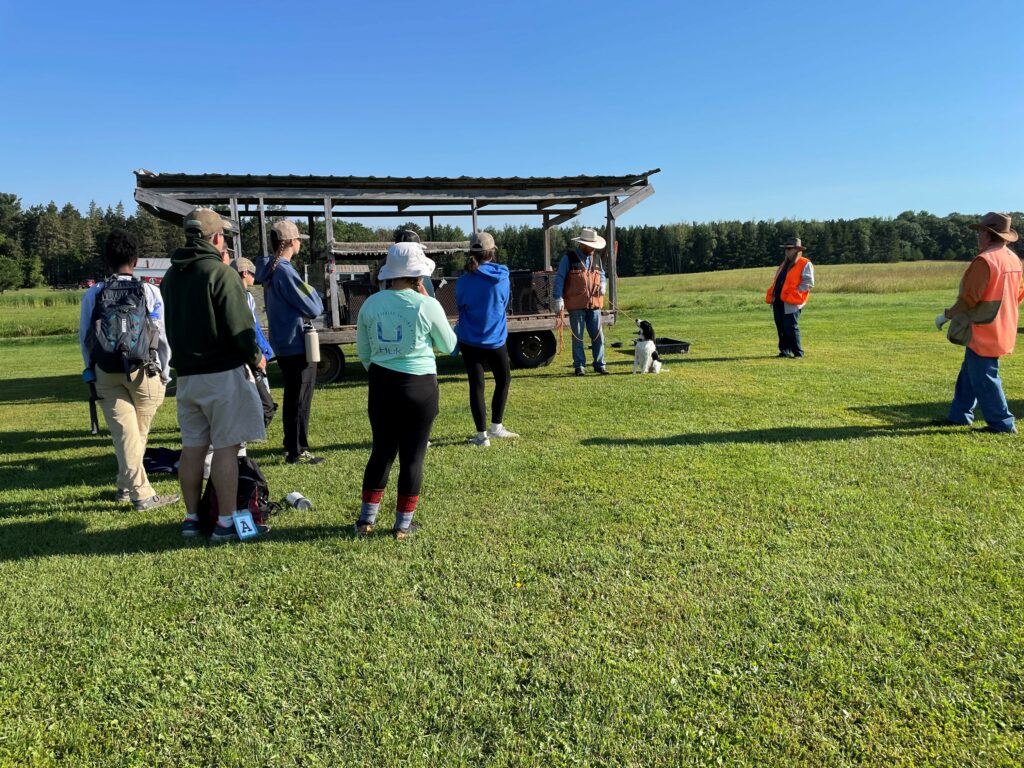 Shortly after starting with RGS & AWS, I learned about this amazing week-long camp held every summer near Hackensack, MN. Upland Bird Camp has been available to youth since the early 1990s.
The Deep Portage chapter of RGS was part of the inception of the event when the Deep Portage learning center offered a Fork Horn Camp. The Camp was to teach youth the skills to be a successful and informed deer hunter, but the chapter felt there should be a venue for youth to also learn about upland hunting. 
To have a upland bird camp, they needed to be able to simulate shooting wild birds. A sporting clays course was the answer, and the Deep Portage chapter was instrumental in getting this installed. Local legion and lions club also helped in supporting the course.
The camp hosts 30 to 45 youth per year, and there are usually some youths that come multiple years in row. The camp runs Sunday through Friday and the youth get to learn about habitat, safe hunting, wing shooting (including eye dominance), wildlife management, fly fishing, orienteering, canoeing, bird dogs, game care and safe hunting.
I stopped by the camp this year and got to visit with some of the incredible chapter members; Jerry Lamon, Larry Olson, and Norm Moody, that helped get all of this started. It's clear, even today, how proud and passionate they are about what this camp brings to the youth and their community. When I asked what the most rewarding part of the camp was, the committee and other volunteers had similar answers: getting to see the happiness in the kids for the whole week and excitement to tell their parents when they're picked up at the end.
I also spent the day with the campers at Pine Shadows Kennel in Brainerd, MN. On the Thursday of the camp the youths are transported to the kennel for a day of learning. Mark and Sophie Haglin were a part of the Deep Portage chapter and have been involved in the camp for as long as it's been going on. They offer their facility for the campers to come and learn about having bird dogs. The campers get to learn about different firearms, shoot skeet, puppy imprinting, field first aid for dogs and get to see flushing and pointing dogs work on live birds. The kids are engaged the entire day and you can see how much they enjoy the experience.
This camp is such an incredible opportunity for our youth. It really makes me wish something like this was an opportunity for me growing up. The other great thing about this camp is kids can be fully sponsored by other RGS chapters to attend. If this is something you know some youth who would like to participate be sure to check back to this site for next years' dates!  https://www.deep-portage.org/upland-bird-camp