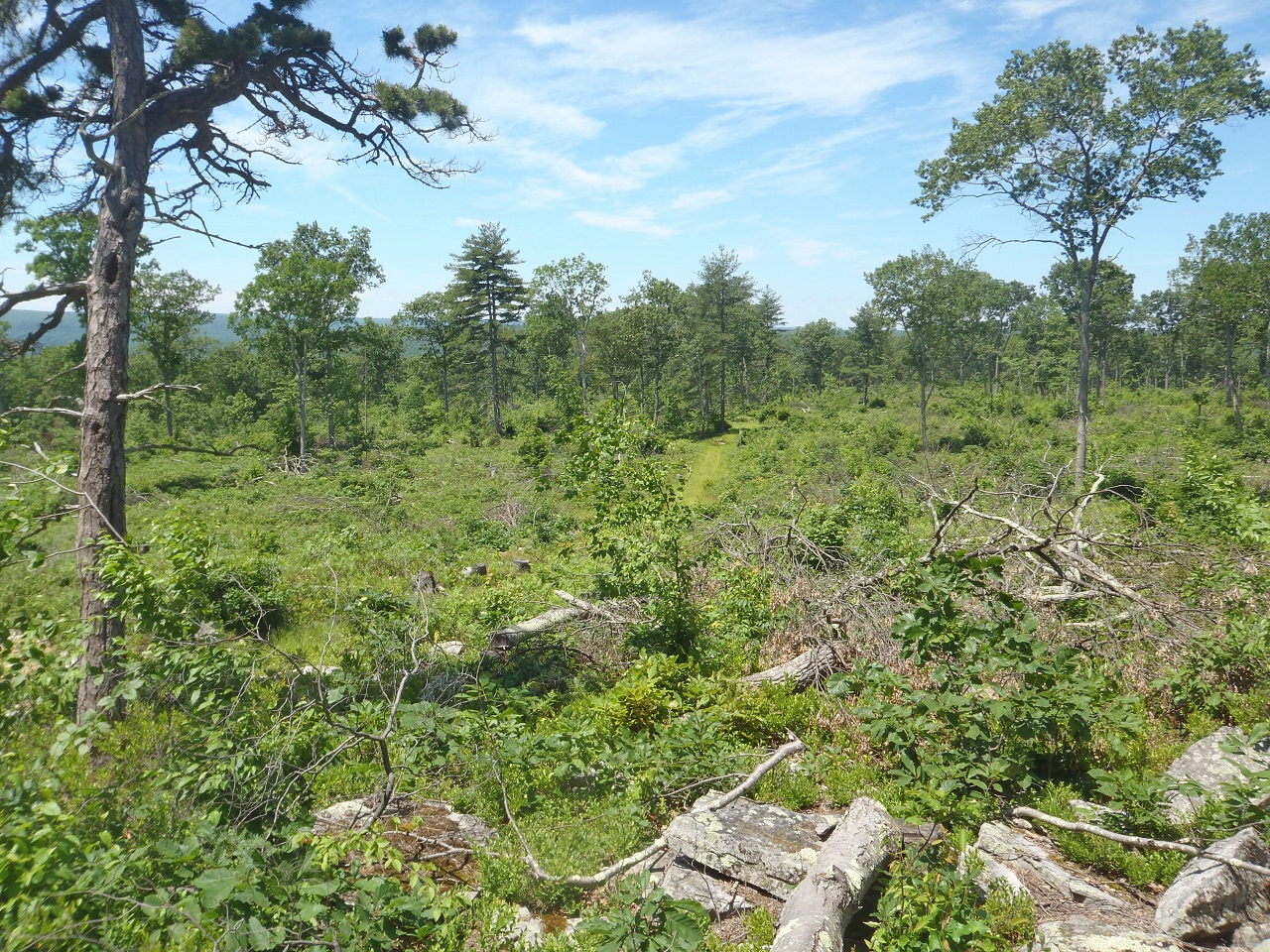 Young Forest Initiative in New York Creates Habitat for Ruffed Grouse and Woodcock
Mongaup Valley Wildlife Management Area (WMA) is nestled against a part of the Delaware River that slithers between New York and Pennsylvania. In 2016, the New York State Department of Environmental Conservation (DEC) completed a project to create new wildlife habitat at Mongaup Valley as part of its Young Forest Initiative (YFI), an ongoing effort launched in 2015 to increase habitat within 93 WMAs for species dependent on early successional forests and whose populations are in steep decline.
The ruffed grouse and the American woodcock are two of the YFI eight target species. On a particular forty acres of forested land in Mongaup Valley WMA, you can see an ideal snapshot of intentional forest management that applies disturbance to improve wildlife habitat and is largely funded by the sale of hunting, trapping, and fishing licenses and equipment.
From Deforestation to Age Class Uniformity
To get to Mongaup Valley from New York City, you might drive north on the Saw Mill River Parkway. Lumber was a substantial part of the economy in colonial New York, and many of the first mills in America were constructed in the Hudson Valley, like the one in Yonkers along the Saw Mill River from the 1650s. Those mills, and others through the nineteenth century, were active in production forestry, an approach that treats trees as crops rather than a part of complex ecosystems.
As a result of New York's aggressive logging and repurposing of land, rapid deforestation occurred, leaving New York State only twenty-five percent forested by 1900. This prompted officials to create the state forest system to preserve remaining trees and provide havens for new ones to grow. Today, New York State is sixty-three percent forested.
A hundred years have passed since the sawdust settled, and now the majority of New York's forests are composed of mature trees. We know that a landscape that houses a wide diversity of wildlife will have forests spanning a range of successional classes. Young forests in particular help increase biodiversity. According to Dr. Jerry Franklin, preeminent forester and lead author of "Ecological Forest Management", "Biodiversity during early succession on forest sites will often surpass that of the later stages of forest development."
Disturbance-Based Forest Management
Without human intervention, natural disturbances, like wildfires, insect infestations, flooding, and wind events, maintained healthy and diverse landscapes by creating a shifting mosaic of forest types. Native Americans recognized this and set fires to forests in order to enhance plant production and attract prey, among other reasons. In creating young forests, the DEC is removing older trees to mimic natural disturbances.
The DEC's primary methods for the Young Forest Initiative are even-aged regeneration systems, including clearcuts, seed tree cuts, and shelterwood cuts. The agency also employs uneven-aged management systems, a method that selects individual trees or small groups of trees for harvest while maintaining continuous forest cover. According to Katherine Yard, a DEC Wildlife Biologist, "The best method depends on the habitat needs of the target wildlife species and the existing and desired forest conditions." Andy Weik, a biologist with the Ruffed Grouse Society who partnered with the DEC for the initiative, said, "For shade-intolerant hardwood species, felling in an even-age system is usually the most effective way to naturally regenerate the stand by stump sprouts, root sprouts, or seed."
At Mongaup Valley WMA, one of the first locations where work was completed, the DEC chose to do a seed tree cut, a method in which a new age class develops from seeds after removal of the previous stand except for a remainder of trees left to provide seed. About the Mongaup Valley project, Yard said, "The objective was to make habitat for grouse and Whip-poor-will, and also to try to get some oak regeneration. Oak is a very important tree species for wildlife because acorns it produces are a significant food source."
Even-aged regeneration systems, clearcutting in particular, are often considered taboo by preservationists. In an opinion piece for Albany's Times Union, Moisha Blechman of the Sierra Club wrote, "Clearcutting is a major disruption to the complex forest ecology that benefits us all. It will negatively impact forest and wildlife still recovering from the logging that occurred over 150 years ago for sheep grazing and industrial-use charcoal." Blechman urged the DEC to "save every tree."
The logging that took place 150 years ago was not well planned or intentionally implemented to consider and sustain wildlife habitat. According to Yard, "The difficulty in applying a preservationist approach to forested landscapes and associated wildlife populations is that forests are inherently complex, dynamic, and in some cases disturbance-dependent." Rather than wait for a natural disturbance to occur and hope it happens in a location suitable for habitat growth and forested landscape diversity, "natural resource managers agree that a proactive approach is needed to improve forest health and resilience, to bolster wildlife populations, and to maintain New York's incredible biodiversity," Yard said. Saving every tree now will be no more successful at sustaining quality wildlife habitat over time than was cutting virtually every tree 150 years ago.
Wildlife Driven
The DEC's proactive approach involves choosing specific locations to create young forest growth based on the needs of the target species, site conditions, access logistics and avoidance of sensitive natural or cultural resources. This approach is not based on profit. The strategic plan for the YFI states, "Although the sale of timber and wood products may generate revenue to the Conservation Fund, the YFI effort is not about generating revenue. If we can't sell it, we'll still cut it." The DEC has also made a commitment to monitor the YFI to determine whether its efforts are effective and whether the public will support them.
The DEC posted its initial findings in February 2019. Figures within the report indicate the population of American woodcock on WMAs was higher in 2018 than in 2017 and 2016. The ruffed grouse drumming survey showed the highest number in 2016, though 2018 was higher than 2017. Of those figures, Yard said, "We don't expect to see a measurable grouse response until five to ten years (depending on site growing conditions) after treatment."
What do New Yorkers Think?
Though a fuller picture of the wildlife population response remains to be seen, enthusiasm for the YFI among New Yorkers is measurably high. In December 2018, the Cornell Center for Conservation Social Sciences published an evaluation of the public response to the YFI. The report, which surveyed landowners, woodcock hunters, and other hunters who lived near four WMAs participating in the YFI, found that "support for management to create habitat for wildlife on public lands was strong among the general public, with ninety-two percent indicating some level of support."
Woodcock hunters were the group most supportive of the YFI, "with seventy-five to eighty-eight percent strongly supporting DEC's efforts to restore young forest habitat." Considering that the Ruffed Grouse Society and American Woodcock Society's website states that habitat management "is essential to the future of grouse and woodcock hunting," it might not be surprising that woodcock hunters are in favor of the YFI. And given that the YFI is funded from both state and federal programs that derive their income from sales of hunting permits, shotguns, ammunition, and other hunting lifestyle needs, bird hunters might feel confident that some of the money they spend finds its way to people like those at the DEC who are building habitat for beloved species.
Sources: