Through this non-timber, short-form stewardship agreement, the U.S. Forest Service is providing RGS & AWS with Bipartisan Infrastructure funding of $50,000 to evaluate and assess no-bid timber sale payment units on the Great Divide Ranger District of the Chequamegon National Forest. RGS & AWS will add matching funds of $12, 585.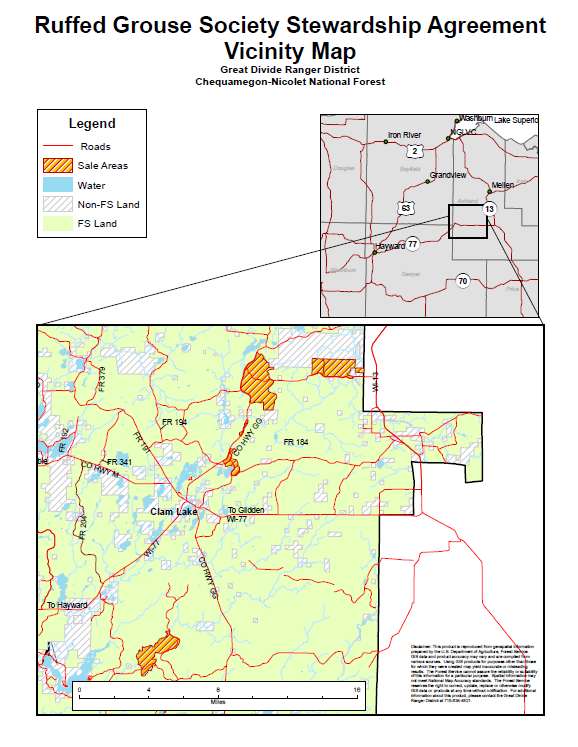 Using this funding, RGS & AWS will complete the assessment of Forest Service timber sales that have gone no-bid. RGS & AWS will do this with the help of to a consulting forestry company and develop an implementation plan to present to the Chequamegon-Nicolet National Forest. That implementation plan will include acres to be treated commercially, acres to be treated non-commercially and the recommendations for road maintenance/rehabilitation to move non-commercial acres towards being commercially treated.
"This is a major step forward for our forest conservation program in Wisconsin. This agreement represents a small dollar amount, but the 1,230 acres of work represents big acreage potential. The project will begin this fall with RGS & AWS conducting assessments of 1,230 acres of Forest Service timber sales that have previously gone no-bid. After RGS & AWS concludes our assessments, we will develop a joint plan with the Forest Service to move these sales towards being bid out and sold commercially to logging contractors. This is everything good that can come out of shared stewardship," said Jon Steigerwaldt, RGS & AWS Great Lakes/Upper Midwest Forest Conservation Director.
Stewardship agreements are one of the primary tools that RGS & AWS is utilizing to help the US Forest Service increase capacity for active forest management and achieve objectives in individual Forest Plans. A stewardship agreement allows RGS & AWS to assist the Forest Service by helping with timber sale establishment and administration. Because the habitat project is administered through a stewardship agreement, 100% of the forest product revenue stays local within the project area to help cover costs and pay for additional habitat treatments completed by service work contractors. Since 2020, RGS & AWS has established similar agreements on the Chippewa, Superior, Ottawa, Hiawatha and Huron-Manistee National Forests in the Great Lakes Region.
RGS & AWS promotes healthy forests, abundant wildlife, and conservation ethics, and envisions landscapes of diverse forests that provide homes for wildlife and opportunities for people to experience them. Ruffed grouse and American woodcock are bellwethers of forest condition; they can only persist in healthy, diverse forests. These same forests clean the air, filter water and support local communities.
For further information about this project, contact Jon Steigerwaldt, RGS & AWS Forest Conservation Director – Great Lakes & Upper Midwest.
About the Ruffed Grouse Society & American Woodcock Society
Established in 1961, the Ruffed Grouse Society unites conservationists to improve wildlife habitat and forest health and promote a conservation ethic, all grounded in the tenets of science-based management practices.
###
Media Contact:
Britney Booth
Owner, Booth Media Group
Britney@BoothMediaGroup.com