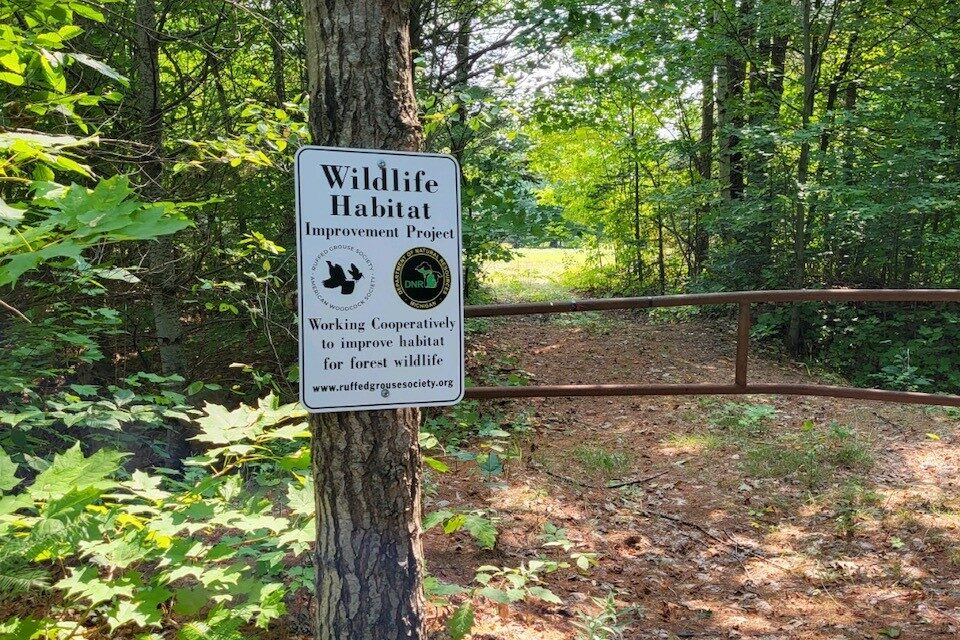 The Ruffed Grouse Society & American Woodcock Society (RGS & AWS) recently secured $93,500 from the Michigan Wildlife Habitat Grant Program with $5,000 of matching donation from the Roger Moore Chapter of RGS and $6,000 from Jim Juries, totaling $104,500. The money will be put towards the ongoing Big Wild Habitat Improvement Project on the Pigeon River Country State Forest (PRCSF) in Michigan. The project, a continuation in a long-standing partnership between RGS & AWS and the PRCSF, will directly impact 160 acres of habitat on the 109,000-acre property – the largest block of undeveloped land in Michigan's Lower Peninsula.
"We hope Roger Moore is looking down and smiling because the chapter is looking ahead," said Kevin Stewart, Roger Moore RGS Chapter President.
Multiple cover-types and access issues will be improved with a variety of different strategies. By enhancing and maintaining forest openings and trails, introducing wildlife forage with the planting of soft-mast trees, creating early successional habitat and working with the PRCSF to aid their prescribed burn program in a large area of dry forest openings, multiple levels of wildlife use/habitat concerns will be addressed, while also working towards making these areas more easily accessible for outdoor recreationists.
The project will include 26 acres of upland forest opening management (mowing/maintenance), 2 acres of forest/hunter trail management (mowing/maintenance/re-seeding), 125 mature soft-mast trees planted in conjunction with opening/trail management, 20 acres of upland wildlife opening creation, 14 acres of early successional aspen stand creation and a 100-acre prescribed burn to maintain upland and dry-forest openings.
"This is a great collaborative project between RGS & AWS, the Michigan Department of Natural Resources and the Roger Moore Chapter. Our conservation team is excited to see it become a reality," said Jon Steigerwaldt, RGS & AWS Forest Conservation Director – Great Lakes/Upper Midwest
RGS & AWS promotes healthy forests, abundant wildlife, and conservation ethics, and envisions landscapes of diverse forests that provide homes for wildlife and opportunities for people to experience them. Ruffed grouse and American woodcock are bellwethers of forest condition; they can only persist in healthy, diverse forests. These same forests clean the air, filter water and support local communities.
For further information about this project, contact Jon Steigerwaldt, RGS & AWS Forest Conservation Director – Great Lakes & Upper Midwest.
About the Ruffed Grouse Society & American Woodcock Society
Established in 1961, the Ruffed Grouse Society unites conservationists to improve wildlife habitat and forest health and promote a conservation ethic, all grounded in the tenets of science-based management practices.
###
Media Contact:
Britney Booth
Owner, Booth Media Group
Britney@BoothMediaGroup.com