Written by:
Linda Haugen
Plant Pathologist
State and Private Forestry
US Forest Service – Eastern Region
RGS & AWS is committed to developing and maintaining healthy forests, including involvement in the restoration of tree species that have been affected by invasive pests. In 2020, RGS & AWS supported the determination of the nonregulated status for the Darling 58 American chestnut, a blight-tolerant American chestnut that could maintain all of its natural traits, 100% of its original genes, and resume its original ecological niche since the destruction wrought by chestnut blight. Without human intervention, the American chestnut was on the brink of extinction, and its reduced representation on the landscape has had cascading effects in eastern forest ecosystems.
A similar restoration effort is currently underway with the restoration of stately American elm, with a slightly different approach. The USDA Forest Service is working with partners, professionals, and individuals to identify "survivor elms" that may have natural genetic resistance and hold the key to restoring American elm.
Recognizing that partners are key to this program being successful, in the summer of 2021, RGS & AWS Forest Conservation Director Jon Steigerwaldt worked with Linda Haugen, a USDA FS Plant Pathologist, to gather samples from an elm Jon identified in the course of forestry work. The article below includes more information on the initiative, and how partners and RGS & AWS members can be part of the network of finding the rare survivor elms
---
The giant that was.
Although the number of "Elm Streets" in the Midwest is testimony to how abundant and highly valued American elm was in cities and towns, we often overlook how important the elm was in the natural forest. "Old timers" tell stories of massive elms, and of massive mortality events. I was just a kid in northeast Iowa in the 1970s when the giants that shaded our farmhouse succumbed. A Dutch elm disease (DED) pathogen first arrived in the US as a stowaway on shipments of logs shortly before 1930 and began spreading; the more aggressive species of the fungus (Ophiostoma novo-ulmi) arrived to the Midwest forests in the 1940s and began causing devastating losses.
American elm was once considered a foundational species as it held an important functional role in many forest types, particularly floodplain forests and along the rivers of the prairies. It was a long-lived tree that often attained dominant and codominant canopy stature. The abundant seeds of American elm that ripen in late spring provide important soft mast/food for birds and small mammals. With the demise of American elm, perhaps the saving grace for wildlife was ecological redundancy, as the green ash and red maple that replaced the elm have similar functional trait of providing spring seed. In addition to mast, the American elm provides a favorite nesting tree for many songbirds.  Its niche and importance are synthesized in an article written by Christian Marks (2016) about the ecological role of American elm in the floodplain forest. https://www.fs.fed.us/nrs/pubs/gtr/gtr-nrs-p-174papers/10marks-gtr-p-174.pdf.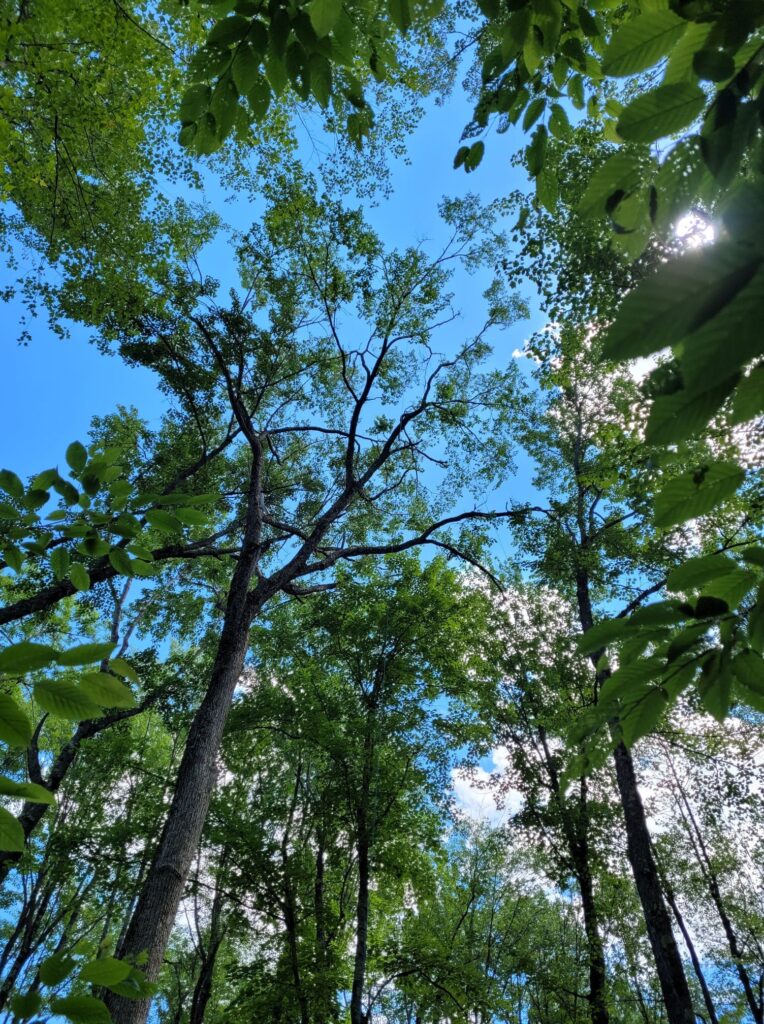 Not really gone.
Although DED has been around a long time and has killed massive numbers of elms, we still have a lot of American elm in our forests. In fact, inventory data (from long-term monitoring by USDA FS Forest Inventory and Analysis [FIA] https://www.fia.fs.fed.us/) shows that there are more stems of American elm in our forests now than there were before DED, but the size distribution is very different. 
American elm is somewhat precocious, producing seed at a young age before they succumb to DED, so the species is not at risk of extinction. But elms no longer persist to large diameter size before they die, leading to a very different ecological role/niche. We often observe American elms growing up to 12" diameter or larger, but there is not a high level of resistance to DED in the population. Waves of Dutch elm disease have continued to kill elms for decades, with ebb and flow of outbreaks caused by fluctuations in the populations of vectoring insects and susceptible hosts. Populations of the insects (elm bark beetles) that carry the DED fungus are always around at some level. When stress events allow the elm bark beetles to get a foothold in the ingrowth of elms, the wave of DED begins. Like a firestorm that creates its own weather, the disease kills elms, giving a place for more beetles to breed, and they carry the disease to more trees. The repeating cycle kills most of the elms before they can attain a large size. However, even with the impacts of DED, there are still a few large trees still out there that we can study and learn a lot about. We refer to them as "survivor elms".
---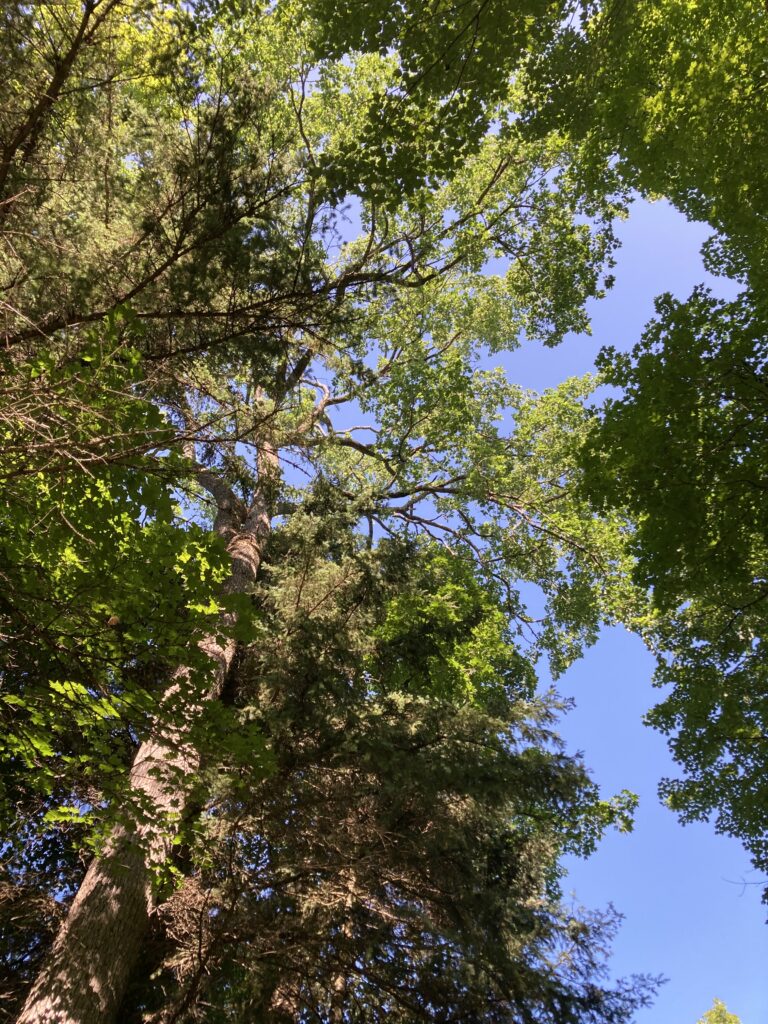 What can we do?
The USDA Forest Service is working with partners and collaborators to help bring elm back to its former ecological role. We want to find elms that can persist on the landscape, despite the presence of DED. "Survivor elms" may have rare genetic makeup that makes them resistant to DED, or they may just be lucky. A tree that is over 24" in diameter and is persisting in an area that has had multiple waves of DED is considered a survivor elm. The more waves of DED an elm survives, the less likely it is luck and the more likely it is resistance. These trees may be able to pass this along to their progeny, especially if they can breed with other resistant elms. In the wild, it takes a long time to build a resistant population. One strategy to overcome this is to capture clones of these survivor elms and bring them together into a breeding population.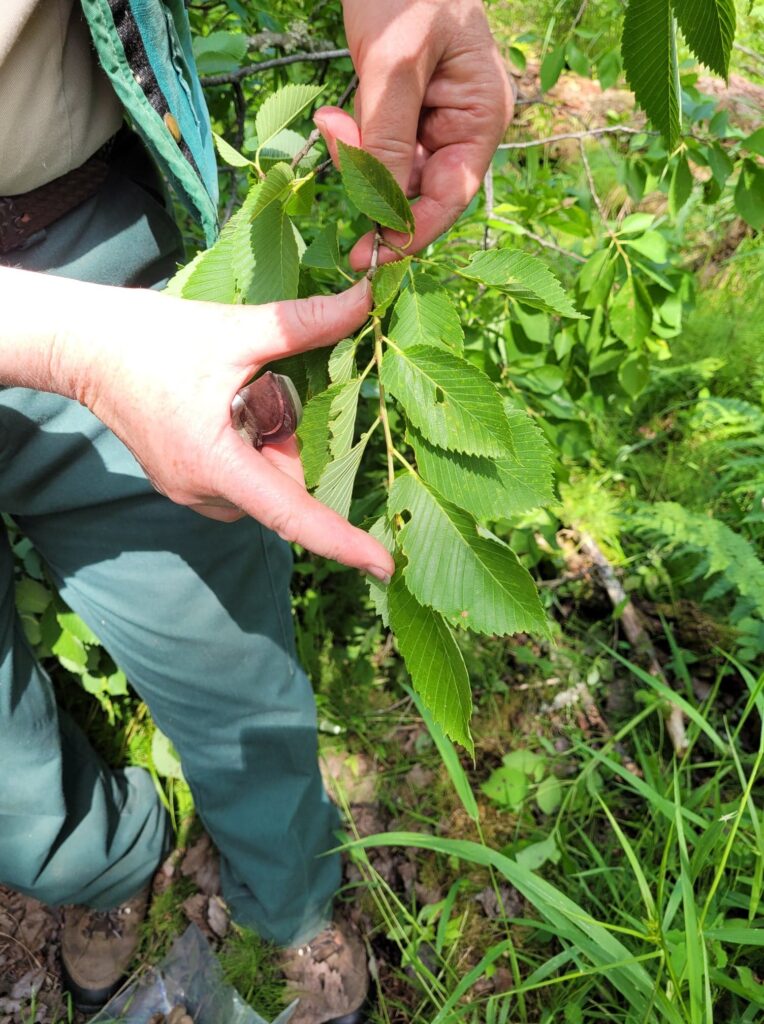 The first step in "capturing" an elm is to find it. Thanks to the interest of the public, we have a database of hundreds of reported elms that potentially qualify as survivors. To get the elm into culture, we can collect dormant buds in late winter and graft them to elm rootstock, then take cuttings to root from the new growth. Or we can collect green shoots in late spring/early summer and go directly to rooted cuttings. Some trees don't take well to rooting, so it may take multiple attempts.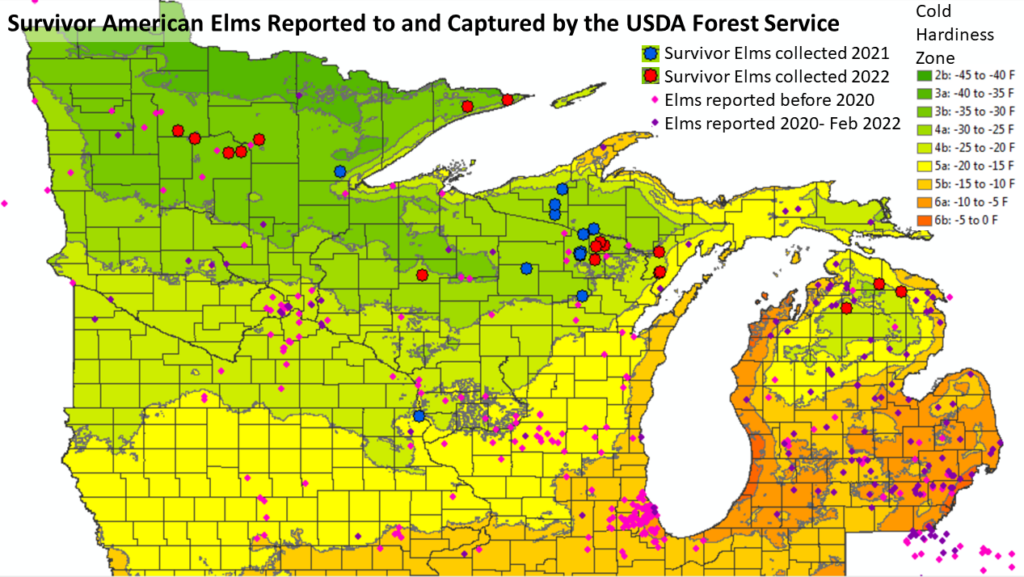 Collection of plant material can get complicated, as many desirable trees do not have low branches and are in remote locations. We have been using an arborist slingshot to pull up a rope saw to cut out branches from 60' to 80' up in the canopy. Once we have a clone, we need to make multiple copies of the tree and outplant them, then let them grow several years before challenging them with the DED fungus to see if they can survive. The clones that we capture and that also prove to be resistant can then be used in a tree breeding program to produce seed for forest restoration. It is a long process, but the good news is that with the help of many partners we are making progress. By the end of 2022, we hope to have captured over 35 survivor American elms from cold hardiness zones 4b and colder. And as we are able, we will start working on other populations, like the Upper Mississippi River Valley.
But what can you do now?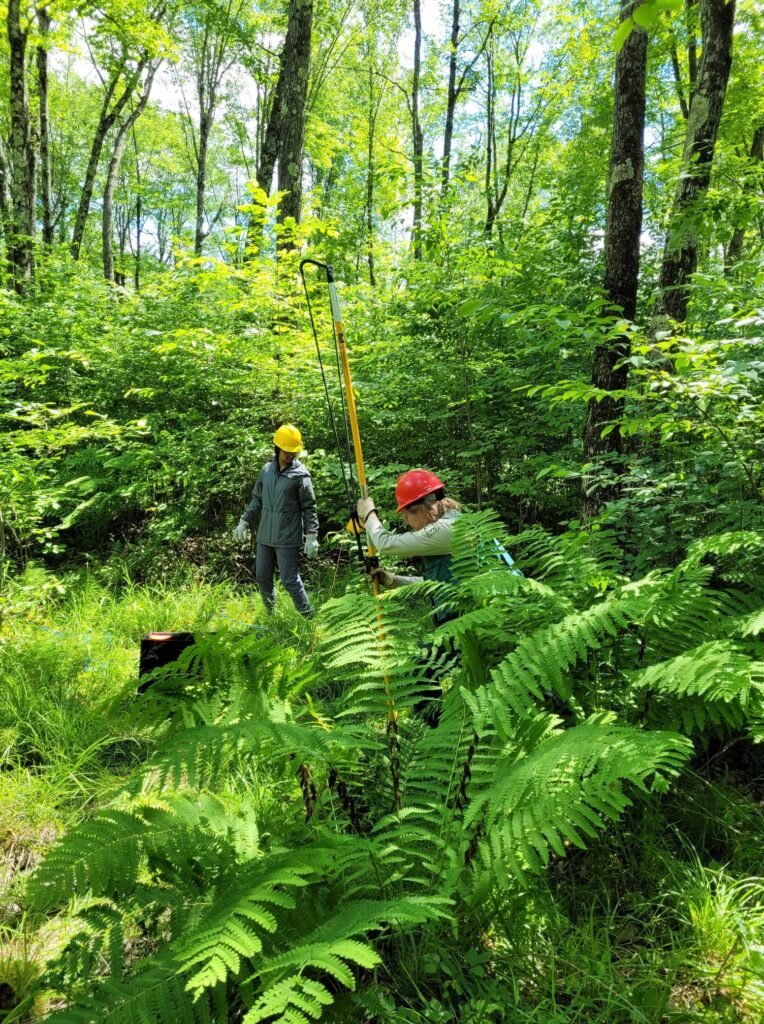 One thing you can do now is to keep what you have. If you have large American elms persisting in your forest, consider keeping them during logging operations, as they may be classified as survivors. If you have an amazing wild American elm, consider reporting it to the online survivor elm database. https://www.nrs.fs.fed.us/SurvivorElms
One of the management recommendations to help protect our forests from catastrophic losses due to invasive pests (like EAB and oak wilt) is to maintain a high diversity of tree species. Eventually we hope to have American elm seed that can be used as part of a diverse mixture of trees for reforestation in forests impacted by EAB.
Keep learning, keep watching your forests.  Learn how prevent the spread of unwanted pests, learn how to recognize them, learn how to intervene to keep your forest healthy. The informed diligence of landowners is the best protection our forests have.
---
Linda Haugen is a forest pathologist with the USDA Forest Service, in the Forest Health Protection program in St. Paul, Minnesota. This staff provides support to the State forest health programs in MN, WI, MI, IA, IL, IN, and MO; they also provide direct forest health technical assistance to federal land managers within those states.