by Joe Schwenke
For most of us, a quick lunch during the season involves packaged snacks and whatever we can quickly toss into a vest or cooler. Accounting for the necessities of a trip: dog, collars, bells, vest, first aid, water bottles, gun, boots, GPS, batteries and spares of nearly everything, it's understandable that lunch will only get the attention that remains after our preparations are complete. However, looking forward to the season, there are a few special days where extra preparations lend importance to companions and covert. This recipe, which I tested on my family, is meant to get your hunting party fed, fellowshipped and hunting again in under an hour. The preparations took a little over an hour for me the evening before and were certainly worth the extra time. These recipes will feed four hunters.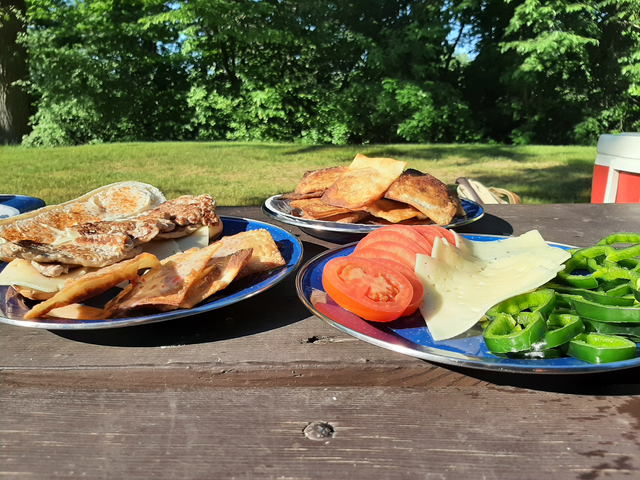 Pork Tenderloin Sandwiches
Ingredients:
4 hoagie style buns about 8-inches long
1 pork tenderloin sliced diagonally (1/4 to 3/8 thick, pencil width) across the grain and tenderized with a meat mallet
2 large Roma tomatoes sliced
1 poblano pepper cut into rings
8 cheese slices; I used Havarti
Mayo
Old Bay seasoning
Dumpling Fries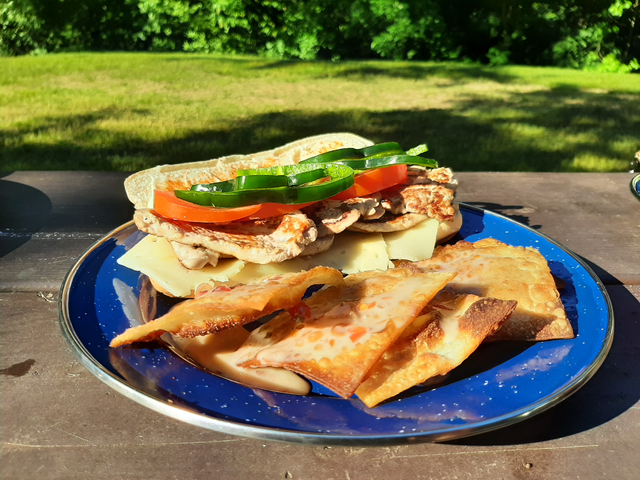 Ingredients:
12 egg roll wrappers, cut in half to form rectangles
1 cup chicken thigh meat, chopped fine
1 cup finely shredded smoked gouda cheese
1/4 cup sour cream
1/2 cup red pepper jelly
Chinese five-spice blend
Ground red pepper (optional but recommended)
At-Home Preparation
For the dumpling fries, combine the chopped chicken and shredded cheese in a small pan over low heat. As it warms, add Chinese 5 spice seasoning to taste and optional red pepper. It will take a little forceful stirring to combine the ingredients, and the cheese doesn't necessarily need to melt entirely.
Allow the mixture to cool. I used this time to slice the tomatoes and pepper for the sandwiches and cut the wrappers for the dumpling fries.
Combine sour cream and pepper jelly in a small, sealable dish. It should become slightly runny. This will be a dip for the dumpling fries. Refrigerate until your hunt.
Using a teaspoon, place a scoop of chicken and cheese filling onto a prepared egg roll wrapper, wet the edges, fold and press together to seal. Place completed dumplings in layers between wax paper. Store in a 9/13 plastic container with a sturdy lid and keep cold until use.
In-the-Field Cooking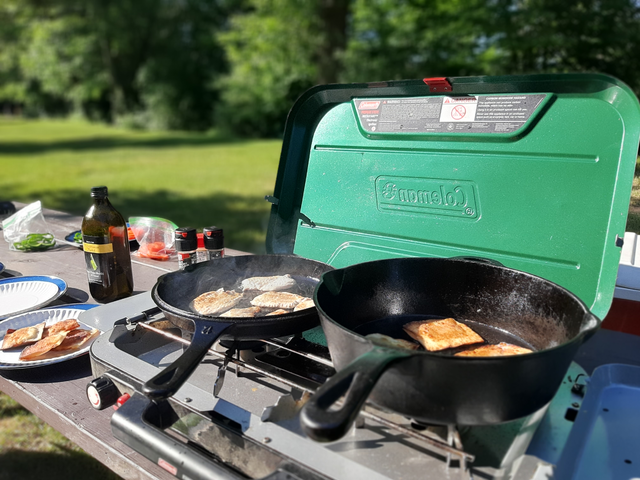 A two-burner camp stove and a pair of 10-inch skillets work great, but a single burner and skillet would also work; you'll need to cook the pork tenderloin first and then the dumpling fries. Heat both pans to medium heat, add 1 TBSP of olive oil to the pork tenderloin pan, and a 1/4 inch of olive oil to the dumpling pan. Use tongs to flip ingredients. The dumplings don't take long to cook, and you'll be doing fast work on the tongs. The pork should show a nice brown sear and crisp edges. The dumplings should be golden on both sides. Assemble your sandwiches and give a quick shake of Old Bay to complete the dish. Dip dumplings in the pre-made sauce. Enjoy!