by Anthony Giattino
Your flight to London arrives at 8 a.m. After clearing Her Majesty's Revenue & Customs, you head to the Regency Café in Westminster for a hearty English breakfast before your appointment at J. Purdey & Sons in Mayfair, and from there to the West London Shooting School for a fitting so your custom shotgun will fit you perfectly. Later, you slip on your finally-finished, bespoke shooting coat from Savile Row while puffing a chocolate-dark Nicaraguan cigar with a taste of Venezuelan rum.
If only this could be a true story for all tradition-minded grouse hunters. In the U.S., the spirit of grouse shooting on the moors lives deep in the subconscious. The British royal family, to this day, vacation at Balmoral Castle – a Scottish estate on which gamekeepers facilitate the age-old sport of grouse shooting. Do you think the Queen uses an off-the-rack shotgun or one custom-made for her body type, eye dominance, arm length and hand size? The answer is obvious.
Part of the fun of upland hunting is the gear – the boots, the clothing, the gadgets and, of course, the shotgun. If you strip to the absolute basics, you can forego much of the gear, but without a shotgun, you aren't hunting. Unfortunately, for such an essential item, American hunters often skip a step in the process of shopping for a shotgun: a fitting. A reasonable person wouldn't buy boots without making sure they fit, so why not get fitted for your shotgun? Since most hunters cannot fulfill the fantasy of buying a bespoke shotgun at J. Purdey & Sons or Holland & Holland, a fitting is the next best thing.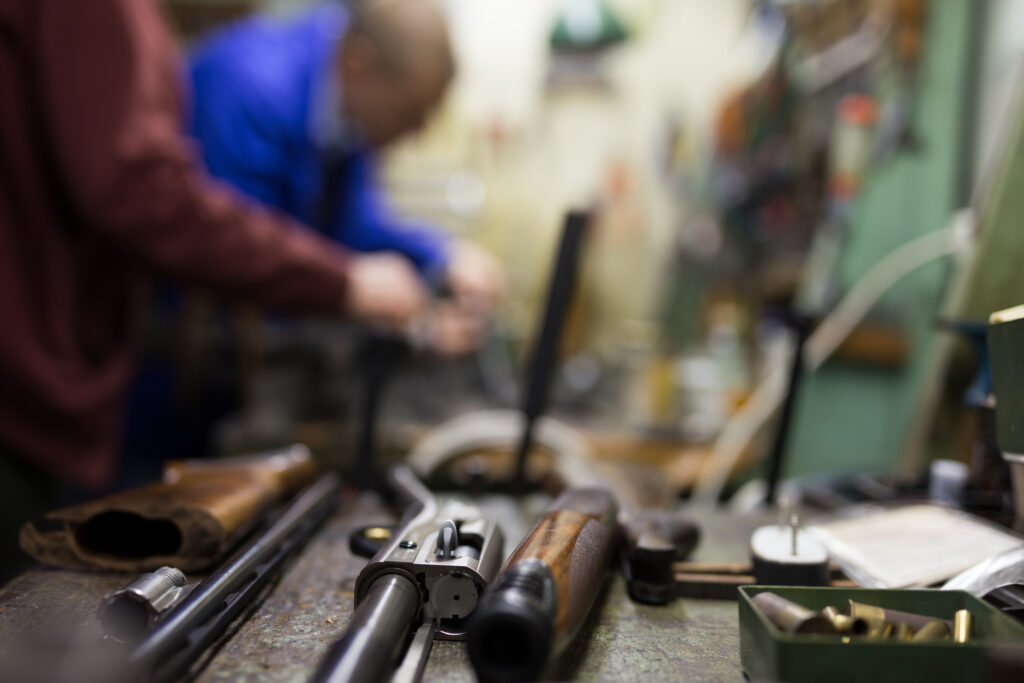 Bryan Bilinski is a writer, shooting instructor and master gun fitter who has been in the industry since 1980. As a manager at Orvis in 1982, he designed one of the country's first sporting clay courses near Houston, Texas. Bilinski created Countrysport Press, where he published hunting and fishing books before founding Fieldsport, a purveyor of fine guns and sporting equipment for wingshooters in Traverse City, Michigan. Bilinski's reputation and popularity have earned him the nickname "Doctor Shotgun." He is the author of a new book called "Wingshooting: The Art and Science," and he's done thousands of gun fittings during the course of 40 years. Because no two people are alike, he insists that your life as a wingshooter will be positively changed if you get fitted before your next shotgun purchase.
"We're not a bespoke country; we're a production line country," Bilinski told me. Europeans still call production line manufacturing with identical replaceable parts the "American system of manufacturing." Shotgun manufacturers in the U.S. consistently design their shotguns with an average person in mind. Having done fittings for over 40 years, I know Mr. and Mrs. Average American are out there; I've just never met them," said Bilinski.
Chris Batha, a master gun fitter and shooting instructor with more than four decades of experience, has worked with major, bespoke gun companies in the U.K. like Holland & Holland, E.J. Churchill, Atkin Grant & Lang and Wesley Richards. Batha, an award-winning competitive shooter, was a London firefighter before making a career out of his love for shooting. He told me that gun fitting has more of a history in the U.K. and continental Europe because in the early 20th century, "the only people who shot, really, were the ultra-rich, landed gentry and royalty. It was always thought that a gentleman should be a good shot." Since money wasn't a problem for that sort, they would get their shotguns, as well as their clothing, custom-made. After World War II, many European arms producers could no longer manufacture military-grade weapons. Instead, they started making rifles and shotguns for hunters and selling them at competitive prices. So, despite their longer history of bespoke gun making, European companies also craft shotguns for the "average" person. Every shotgun is made for Mr. 5'10", who weighs 185 pounds.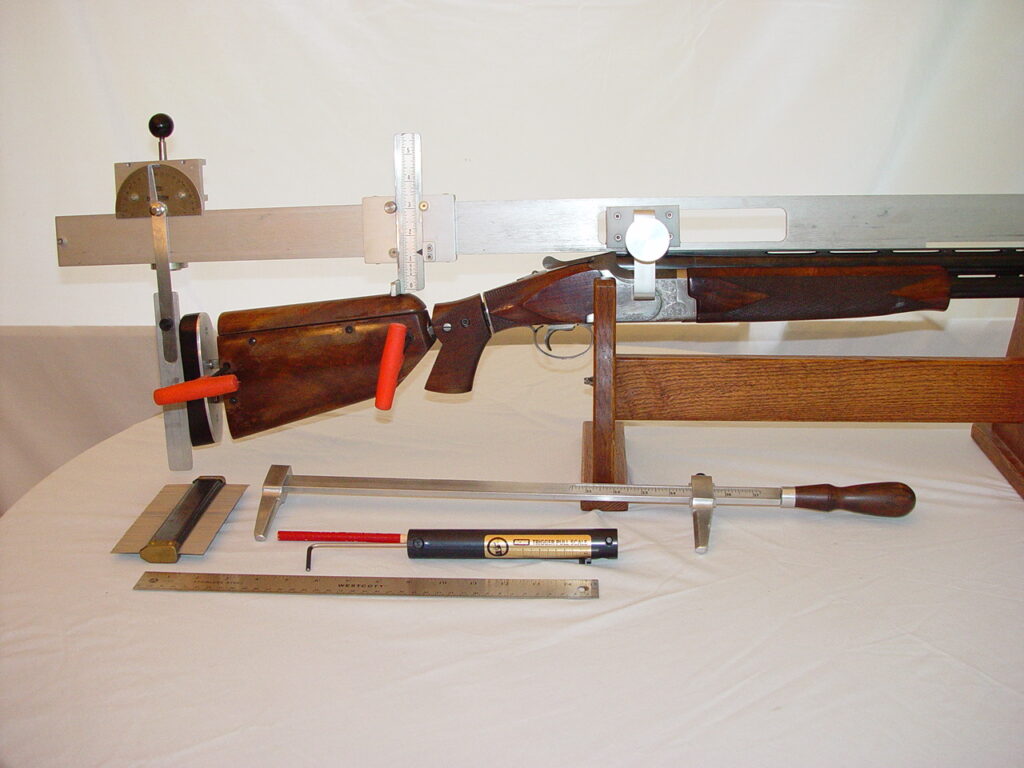 The average fitting with an expert like Batha or Bilinski takes about four hours but can get up to five hours for unskilled shooters. The process isn't simply taking measurements. Batha and Bilinski spend time with beginners to ensure they're correctly mounting the shotgun. Once that's accomplished, a try-gun is introduced. A try-gun is a shotgun with an adjustable stock that a client uses to shoot at a steel plate to observe the patterns of the shot. "The steel plate never lies," said Bilinski. The gun fitter adjusts the try-gun's stock as the shooter gets closer to the mark. You can see how being an unskilled shooter can lengthen the process. To better prepare for a gun fitting, Bilinski suggested that someone inexperienced with shotguns should take a shooting lesson first. The gun fitter who also teaches the client will know more about what to look for while using the try-gun.
In Bilinski's words, the gun fitter's objective is to perfectly align the shooter's dominant eye over the center of the shotgun's standing breech and relative rib. When the gun mount is near perfect and anchored, the ultimate goal of the gun fitter is to make the gun shoot exactly where the shooter is looking and focusing. This is the heart of the legendary Churchill Method of shooting: to hit what you are looking at. In his famous book "Game Shooting," Robert Churchill wrote, "[The shooter's] eye, or rather his attention, should be fully occupied with the bird, and, if he holds his gun properly, he will hit whatever he is looking at." If the size of the shotgun isn't right for the shooter, the handicaps mount. Churchill, again, wrote, "Where a man's gun-fit will find him out is in a hot corner at driven partridges or in the coverts, when pheasants come taller than the trees."
A gun fitter is similar to a tailor. Both take measurements as a scientist would, but the artistry comes into play when making the material work better and more comfortably for the wearer or user. They match those measurements, which, by themselves, are lifeless, to the shape and style of the person. And just as a person doesn't go to a tailor only once, since body measurements fluctuate, you want to visit a gun fitter if it's been a while since the last fitting. The idea is to walk away from a fitting armed with the correct measurements to look for during shotgun shopping. Of course, it would be ideal to give those measurements to a gunsmith who can make your shotgun, but, as noted, that trip to London will be costly.
Women will significantly benefit from a proper gun fitting, as most off-the-rack shotguns are designed for the average-sized male shooter. Bilinski states, "The in-depth study of female wingshooters seems to have been almost an afterthought." The average woman tends to be shorter and has lesser neck extension, so the chances of that off-the-rack shotgun fitting well are even less likely than for the imaginary Mr. Average American. In Bilinski's experience, many women are cross-eye dominant or have a central-vision eye anomaly. A gun fitter can determine if that's true for you and how to adjust for it. If there's doubt about how helpful it is for a woman to be fitted for her shotgun, Churchill himself wrote, "The proper fit of a gun is even more important to a woman than to a man. Silhouettes may change with the march of fashion but the exact setting of a stock to fit perfectly, yet allow for changes in figure and fashion is rather a skilled art. It may take a little longer to get a woman fitted to perfection; but it is really vital to her success in the field."
If you already purchased a shotgun before having had a fitting, you might choose to have an expert make modifications to your gun. One method is stock bending. The gunsmith will typically use hot linseed oil, which is run over the stock until the heat penetrates the wood, thus making it bendable. The stock is then placed in a vice, and pressure is applied to bend the wood slightly. The goal is often to adjust the cast, which is the bend in the stock. A stock that's "cast-off" is bent to the right for right-handed shooters. A stock that's "cast-on" is bent to the left for left-handed shooters. Stocks can be shortened by trimming the wood or lengthened by adding an extension. Even if you modify your shotgun, you won't know what instructions to give the gunsmith unless you have been properly fitted. Grouse hunters are known for being able to produce creative excuses for missing their shots. Still, you're doing yourself a disservice if the one non-negotiable, utterly necessary hunting tool you use is working against you. As Bilinski told me, "All too often, American shooters are stuck with a gun that doesn't fit them well." Though these shooters can grope their way toward accuracy while target shooting, "When you get behind a bird dog on point, you go on autopilot," he said, "and if the gun doesn't fit well, it's not shooting where you're looking." A shotgun is created to be a tool of precision. Just as your boots should fit, so should your shotgun.