by Lisa Rossi | RGS & AWS Eastern Engagement Director
On April 4, 1998, the Ruffed Grouse Society registered a new member – Mary Hosmer. Mary has a long history with conservation. As a young girl from the Upper Peninsula (UP) of Michigan, she would spend Sunday afternoons after church with her father, driving on the sand roads looking for grouse in the cutover aspen. Little did she know what an asset she would be to these birds and our organization years later.
Upon graduating from college in Fish and Wildlife Management, she obtained her first bird dogs, two springer spaniels. After that, Mary began bird hunting in the UP – grouse, woodcock and the occasional sharp-tailed grouse ended up in her game bag.
Several years later, Mary made her way to Northern Pennsylvania as a forester for Allegheny National Forest. She then became a federal spokesperson for the Allegheny National Forest's administration. She spent her free time grouse and woodcock hunting with her dogs.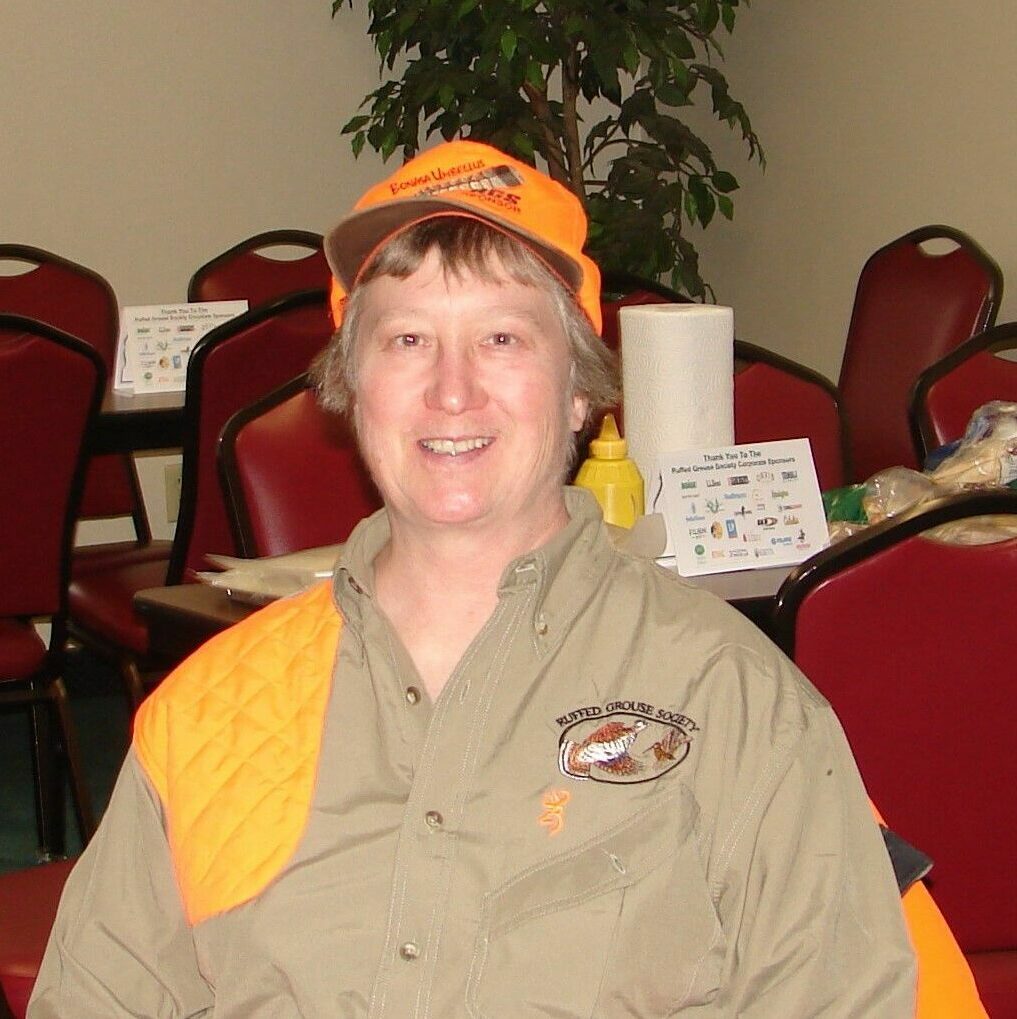 According to Mary, her life was transformed when she took the Forest Stewardship Course in the early 1990s. Mary managed an old farm consisting of 79 acres for small game, grouse, woodcock and rabbits. The course gave her the background to communicate with other private landowners who wanted to improve their land holdings.
In 2006, Mary made further commitment to RGS and became a Life Sponsor! That year RGS gained not only a Life Sponsor but a fantastic ambassador.
In 2009, I had the privilege to work with Mary on developing a special event called The Upland Bird Hunt in the Pennsylvania Wilds (UBH). This was a concept that Mary made a reality. According to Mary, the UBH is an event to share what "The Wilds" have to offer for upland enthusiasts not fortunate enough to live in northern Pennsylvania. Fast-forward 13 years, Mary Hosmer is the cornerstone of this event.
In 2012, Mary was appointed to the Governor's Advisory Council for Hunting, Fishing and Conservation where she helped ensure the concerns of hunters, anglers and others were heard at the highest levels of the Pennsylvania government. Mary is active with the Upland Bird Hunt Chapter and the Allegheny Chapter, helping organize grouse drumming and woodcock peenting surveys throughout the spring. She's an active part of the New Hunter Mentor program each May. Not to mention her participation in Chukar Challenge events, Volunteer Habitat Planting Days, Women's Introduction to Wingshooting and Future Hunters and Handlers events with the UBH Committee. She's been active with all of these events pre and post-pandemic. As you can see, her dedication doesn't slow down.
Mary's an integral part of the past, present and future of RGS & AWS. For the past 24 years, we've had the privilege of Mary being an active part of RGS & AWS and a steward of our mission. We've benefitted from her insight, knowledge and generosity, and I trust she's not done yet. I want to thank Mary on behalf of RGS & AWS for all she's done and will continue to do for our organization. It's a pleasure to work with her, and it's an honor to call her my friend.