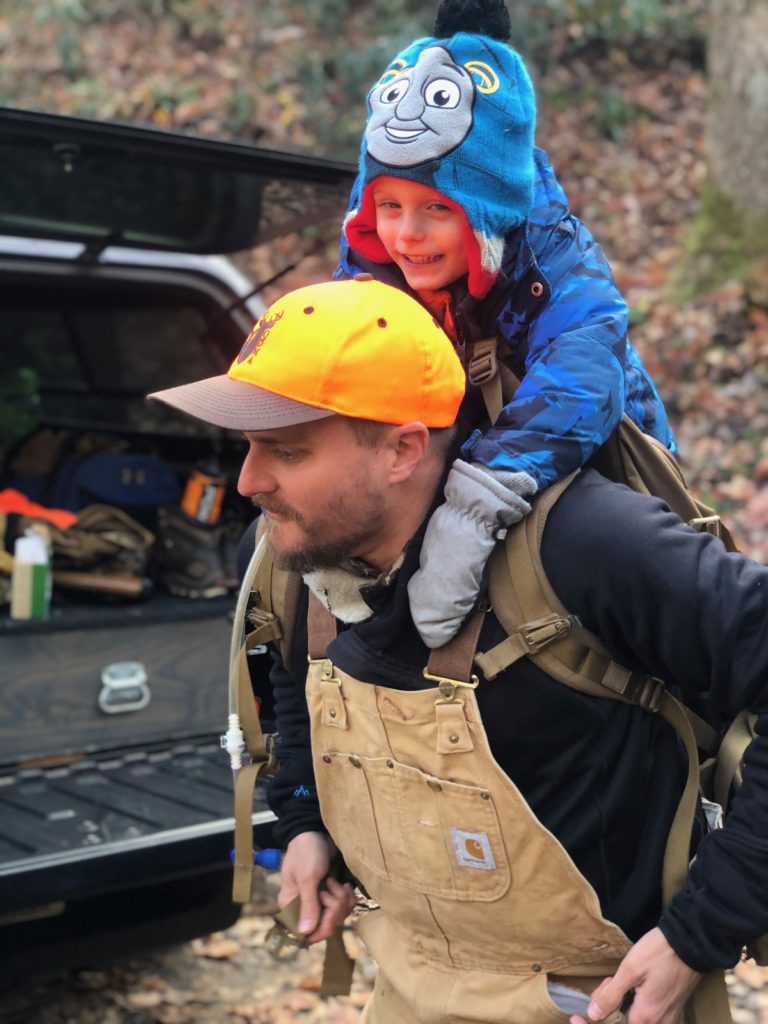 The above photo showcases one of my favorite memories from this past hunting season and I'm so grateful to Durrell Smith, host of The Gun Dog Notebook Podcast, for capturing it. Durrell, Tyler Ross (featured along with his son, Brennon), and I gathered for a day of ruffed grouse hunting in western North Carolina. Wil Sensing tagged along with his two cameras in tow to film the southeast segment of Public Grouse. That morning Brennon knew his dad was headed out to follow a few bird dogs and refused to stay home. His smile in the photo is the result of a breakfast of the few oreo cookies I slipped him, an homage to the diet coke and powdered donuts of my childhood. Treats reserved only for hunting Saturdays.
Within minutes of cutting dogs loose in the Pisgah National Forest Durrell's young pointer bumped a woodcock. None of us saw it except for Brennon, perched in Tyler's backcountry hunting pack as we began our climb. He was elated, as were we, at seeing a bird so early in our morning, albeit out of season at the time. All five of us took time to enjoy the moment, dogs working cover, the sun coming over the mountain, five relative strangers brought together by our love for birds, dogs and the spaces they meet.
Tyler and I knew each other a bit by that point, as much as you can know someone through conference calls and email chains as we served on a local conservation non-profit board together. But you know a person differently when you slip through young forest habitat in pursuit of wild things and share time learning from one another along the way. You learn their values, beliefs and the ethics that drive them forward. 
Tyler is a veritable encyclopedia of information surrounding forest habitat and wildlife, particularly in western North Carolina. His faith guides his immense conservation ethic, the epitome of leave it better than you found it. In conversation, I spend far more time listening than I do contributing when Tyler's around. And, I'm far better off for it.
As hunters, we all have memories of hunts past, friendships formed in spaces near and far. While many of us enjoy the solitude of a long walk with our dog, alone, bird hunters are also a communal lot. Road trips and bird camps bring us together from all over.
Habitat and access make that possible. Quality habitat makes it even better. Whether you're chasing grouse or woodcock, there is no doubt that here in western North Carolina these birds need help. Quality habitat is few and far between, as are the birds that utilize it. On our hunt that day the lone woodcock was all we saw.
The opportunity to give feedback on the importance of that quality habitat in our National Forests here in western North Carolina is now. The Nantahala-Pisgah Forest Plan Revision is open for public comment until Monday, June 29th. The Ruffed Grouse Society and American Woodcock Society have compiled a Fact Sheet & Position Statements for easy reference.
Since that hunt in November, I learned more than I knew possible about the forest plan revision process. Almost all of that is thanks to long conversations with Tyler, patiently educating me along the way.
Tyler broke his arm a few weeks back. As a result, he learned he has osteosarcoma, a form of bone cancer. He is giving it his all, and true to his conservation ethic, he is currently working up his own comments using 'talk to type' on his laptop from a hospital bed while undergoing chemotherapy.
If you knew Tyler, like many of us at the Ruffed Grouse Society and American Woodcock Society do, you would not be surprises in the least by his efforts to make his voice hear, our voice heard. 
Please comment on the Forest Plan Revision. Comment in support of healthy, resilient forests. Comment in support of abundant wildlife. Use the fact sheet and position statements. Write in support of Tier 2 levels of young forest and a modified Alternative D plan, a plan and  objective agreed upon by not only RGS/AWS, but the North Carolina Wildlife Resources Commission and the Fish & Wildlife Conservation Council, a local, grassroots organization that has worked with the Forest Service on this plan for the past 7 years. 
As hunters and conservationists we all know the power of getting outdoors and the connection we gain to the land and those around us. Comment in support of these efforts. Without the work done by those who came before us, my favorite hunt from last fall may not have happened. Here is our chance to make an impact not only for us, but those who come after. Selfishly, I want many more hunts with Tyler and his boys in the mountains of western North Carolina in the years to come. By the time those boys hit hunting age, the work we do now should be just about prime.
Read the RGS/AWS Nantahala-Pisgah Forest Plan Revision Fact Sheet & Position Statements for more information on how to make the most impact with your comments.