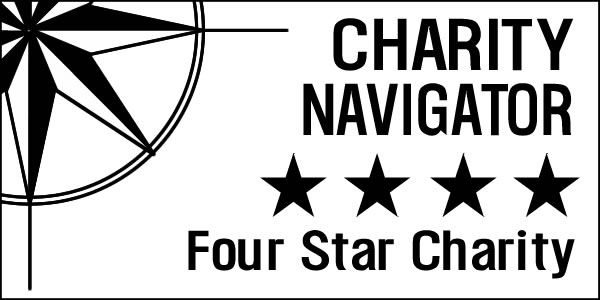 PRESS RELEASE
451 McCormick Rd
Coraopolis PA 15108
412-262-4044
For Immediate Release
February 7th, 2020
Coraopolis, PA – The Ruffed Grouse Society (RGS) was honored to maintain a 4-star rating from Charity Navigator, America's largest independent charity evaluator. This is the 5th consecutive time that RGS has earned this top distinction. The 4-star rating is a result of RGS continuing to maintain sound fiscal management practices and a commitment to accountability and transparency in efforts to unite conservationists to improve wildlife habitat and forest health.
"For all of us at RGS/AWS, wildlife conservation is a passion. In that light, we see every dollar as an expression of that same passion from our members and donors. That motivates us. We strive to ensure every dollar is mission-maximized," said RGS President and CEO Ben Jones. "We pack bag lunches for long road trips, share hotel rooms, and crash on friends' couches or hunting camps along the way. I even drive a 2008 Toyota Yaris because it gets over 40 miles per gallon. My wife calls it the Flintstones car, but on a given trip, driving it means that 50% more money goes toward habitat, not the gas tank."
Since 2002, Charity Navigator has awarded only the most fiscally responsible organizations a 4-star rating. In 2011, Charity Navigator added 17 metrics, focused on governance and ethical practices as well as measures of openness, to its ratings methodology. These "Accountability & Transparency" metrics, which account for 50 percent of a charity's overall rating, reveal which charities have "best practices" that minimize the chance of unethical activities and whether they freely share basic information about their organization with their donors and other stakeholders.
"We are proud to announce that the Ruffed Grouse Society has earned it's fifth consecutive 4-star rating," said Michael Thatcher, president and CEO of Charity Navigator. "This is our highest possible rating and indicates that your organization adheres to sector best practices and executes its mission in a financially efficient way. Attaining a 4-star rating verifies that Ruffed Grouse Society exceeds industry standards and outperforms most charities in your area of work. Only 15% of the charities we evaluate have received at least 5 consecutive 4-star evaluations, indicating that Ruffed Grouse Society outperforms most other charities in America. This exceptional designation from Charity Navigator sets Ruffed Grouse Society apart from its peers and demonstrates to the public its trustworthiness."
The RGS rating and other information about charitable giving are available free of charge on www.charitynavigator.org.
About Charity Navigator
Charity Navigator, www.charitynavigator.org, is the largest charity evaluator in America and its website attracts more visitors than all other charity rating groups combined. The organization helps guide intelligent giving by evaluating the Financial Health and Accountability & Transparency of more than 8,000 charities. Charity Navigator accepts no advertising or donations from the organizations it evaluates, ensuring unbiased evaluations, nor does it charge the public for this trusted data. As a result, Charity Navigator, a 501 (c) (3) public charity itself, depends on support from individuals, corporations and foundations that believe it provides a much-needed service to America's charitable givers. Charity Navigator, can be reached directly by telephone at (201) 818-1288, or by mail at 139 Harristown Road, Suite 101, Glen Rock, N.J., 07452.
Established in 1961, The Ruffed Grouse Society/American Woodcock Society is North America's foremost conservation organization dedicated to preserving our sporting traditions by creating healthy forest habitat for ruffed grouse, American woodcock and other wildlife. RGS/AWS works with landowners and government agencies to develop critical habitat utilizing scientific management practices.
Information on RGS/AWS, its mission, management projects and membership can be found on the web at: www.ruffedgrousesociety.org.
Media Contact:
Sean Curran
(412) 874-8702
seanc@ruffedgrousesociety.org