Written by: Mark Forabosco
Bruce County, Ontario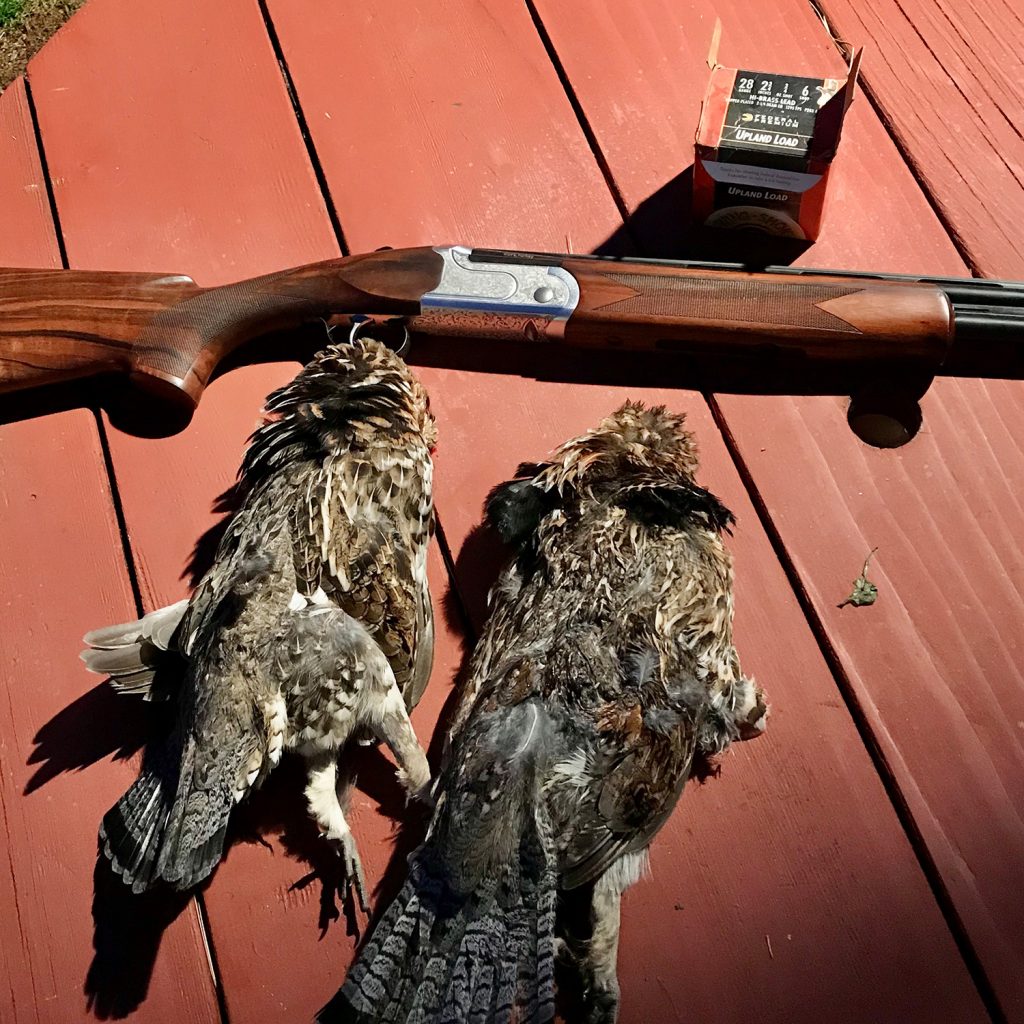 There are those that say he is amongst the savviest of all game birds, and I am inclined to agree. His dexterity in flight is unequaled. Much like a spider spins a web he can weave complex patterns in between the cedars and birch trees with minimal effort. He has earned his PHD in survival and his spirit is intertwined with the forest floor, alder tangles and ancient apple orchards that were left long ago to grow wild. He can frustrate well-bred pointers and flushers and make quality marksmen appear to be nothing more than novices carrying stylish side by sides. Upland bird hunters dream of pursuing him, all the way from Maine, across the border eastward through New Brunswick into Newfoundland. When I was a young man, I avoided this fine bird strictly because those located in my neck of the woods where hunted with some regularity, and because of this I was rarely offered an easy shot and generally all too quickly went through a box of shells which did not endear me to grouse in the least as my funds where limited. Therefore I concentrated on easier prey such as rabbits and waterfowl.
With the passing of time, I began to appreciate the challenge that this little brown and grey bird presented. Not to mention, the numerous hunting books with stories handed down from Gene Hill and other related authors which filled my head with visions of my very own magic woodlot to hunt on a grey autumn day. Savouring those precious moments as I made fine passing shots without missing a step and then admiring my stylish retriever all the while savoring the scent of fine blackberry pipe tobacco. If anything, at best it is a romantic notion and does paint a lovely picture and about once every decade a day like that may take place, but they are rare. There are really two distinct types of grouse hunting. The first are birds that are less schooled, you know the ones that hang around the ATV trails used by moose hunters who wouldn't know a human from a porcupine. They'll pay the human interlopers no never mind until we are within a few yards where a single shot 22 or 20guage shotgun is all that you will need to fill the stew pot. The second type as I already mentioned are those educated birds heavily pressured and pursued by target challenged antagonists such as myself. 
Double your Pleasure
There is and always will be something special about grouse hunting with a side-by-side shotgun. One old double that I have a certain affection for is a 1926 Ithaca 20gauge NID. I came across it at a gun store just outside of Toronto. The wood was worn, the barrel pitted, and the bluing all but gone. It reminded me of a simpler time and with a little bit of determination and a lot of elbow grease, and the experience of an old school color case hardener doing the receiver she looks the same as she did almost one hundred years ago. I have often wondered what the gentleman was like that previously owned it. What kind of dog did he hunt over, a flusher or a pointer, did he hunt grouse in the cedar swamps, or did he prefer old apple orchards and birch forests? By the look of the gun, it had been used often, of which every scratch told a story of its day in the field. 
Whoever coined the phrase "With age comes wisdom" clearly did not have a passion for upland bird hunting or side by side shotguns. Upon my retirement I felt I was entitled to a special reward, and after I explained to my wife how much money I had saved over the last fifteen years from quitting cigarettes she nodded her head and slowly replied, "Well you can't take it with you, might as well enjoy yourself now." No sooner were those words out of her mouth when I placed an order for a Replica Parker 28guage. I wasn't sure if I did the right thing ordering a 28gauge, because I had been swinging a 20 gauge for the last twenty-five years. But occasionally, fortune shines on the luckless. By the end of the season, I stated to my wife that from now on I would only answer to her if she referred to me as Josie Whales. I made shots with that little gun that I had no business making and that gun was the demise of some very savvy grouse. 
Developing a taste for old doubles guns can lead one down a costly path with some poor results. I recently came across a lovely 16gauge Bernardelli in dire need of a facelift. Again, I took care of the checkering and the woodwork. Sadly, I lost my shirt when I placed my blind faith in a gunsmith who insisted that he could do a color case hardening job on the receiver that would make Davinci take a second look. To say expectations fell flat would be an understatement. But I rebounded a few months later when I came across a stunning Spanish made Garbi 20gauge. I recited to my wife the entire history of this maker from Terry Wieland's book "Spanish Best" fine shotguns of Spain. After agreeing to sell my Bernardelli, I brought home my lovely custom made Garbi. Well, as things turned out, I cannot shoot that gun nearly as well as that little Parker replica, but fortunately, my fifteen-year-old son can clear 19 out of 20 clays without a sweat. As for that Bernardelli it's still in my gun case even though there have been some very tempting offers. Recently while hunting a local swamp, I took a break on a log for a moment, then for whatever reason I decided to add up all the costs from the guns, the gear, the dogs, and divide it by the number of grouse harvested. I realized that from a monetary standpoint it was shocking to say the least and a poor return on the financial investment. But from the heartfelt memories made over the years, it was priceless.
Iron clad October days
If ever the almighty created a day for hunting grouse this, was it. The forest floor was an artist's dream, now blanketed in leaves, rich oranges mixed with deep reds golds and overlapping with amber hues. The smell of the rich black earth beneath my feet was a welcomed fragrance. The high pines and maples along with pockets of ancient birch trees hid me from the ashen sky above. Molly settled in and got down to business, her nose tight to the ground trying to detect any scent of a nearby grouse. Like most English labs Molly never rushed, though determined she pushed forward at an even pace.
Through eight seasons her fine nose and desire has made her a joy to hunt with. It's funny how quickly time passes, I fondly recall the first time I ever took her out. She was exactly one year old, a dog full of promise but still trying to find her place within the family dynamic. My old lab was on her last legs which left me with a heavy heart, and Molly at times could be spirited which did cause some discourse. But at the end of the day she performed flawlessly, a trio of grouse in the bag I rushed home to call the breeder to thank him for selling me this fine dog. He laughed and replied "That's what you get when her father was a Canadian field trial champion and you take the time to properly train a pup."
It did not take long before Molly surprised a woodcock giving me an easy straightaway which I managed to flub. She stopped just long enough to give me one of those "how did you miss that shot" looks and quickly returned to business. I reloaded and followed my diligent companion. I find that as I get older I worry less about filling my game bag and appreciate more the quiet stillness of a Canadian forest. We are incredibly fortunate to have been blessed to grow up in a place were at a moment's notice we can simply grab a shotgun and head out into the heart of our natural surroundings. In a place where time stands still, a place where you can leave your worries behind. An explosion of feathers immediately snapped me out of my trance. I swung to me left and aimed ahead between the opening of two cedars, as if scripted the grouse emerged, a blur from the tangles, the smell of gunpowder filled the air, and I ejected the spent casing as I watched my quarry do a quick exit stage left and sail off into a deep valley swamp. Sometimes even the best laid plans can go astray. I shook my head and muttered something under my breath that is best left out of print, undaunted I headed to a special spot with my slightly dejected retriever in tow. Every step was a challenge as I struggled through waist high grass; it was a gauntlet of tangled dogwood and sumac reminding me that I was no longer the young man I once knew.
Five paces in front of me a black tail rose out above the fauna, a moment later three grouse erupted in unison one to my left and the other two branching off to the right. I swung out after the first bird and fired, a puff of feathers indicated a hit, then pivoted back to my right and let go with another round at the nearest bird. Luck was with me as it too tumbled out of the sky. Molly quickly returned with the first bird, and I lined her up as best as I could, confident that her nose would do the rest on the second grouse, and she didn't disappoint me. I gently held each bird in my hands, admiring them, savouring the moment. It was the first double that I had ever made on grouse; it took me back to a long faded memory when a nine year old boy was following his father through a cedar swamp. Two birds rose up with fury, my father's Zoli barked twice and with that two birds fell. He looked over his shoulder at me as I struggled to catch up, with a twinkle in his blue eyes and chuckled "Now that's the way it's done" and continued on without missing a step.
Later that evening back at the cabin, I reflected on the morning's events. I was thankful for my moment in time, a perfect fall day, a good dog, a lucky shot, a rekindled memory and a brace of grouse. How could any day be a greater success?