Western Great Lakes: Project Details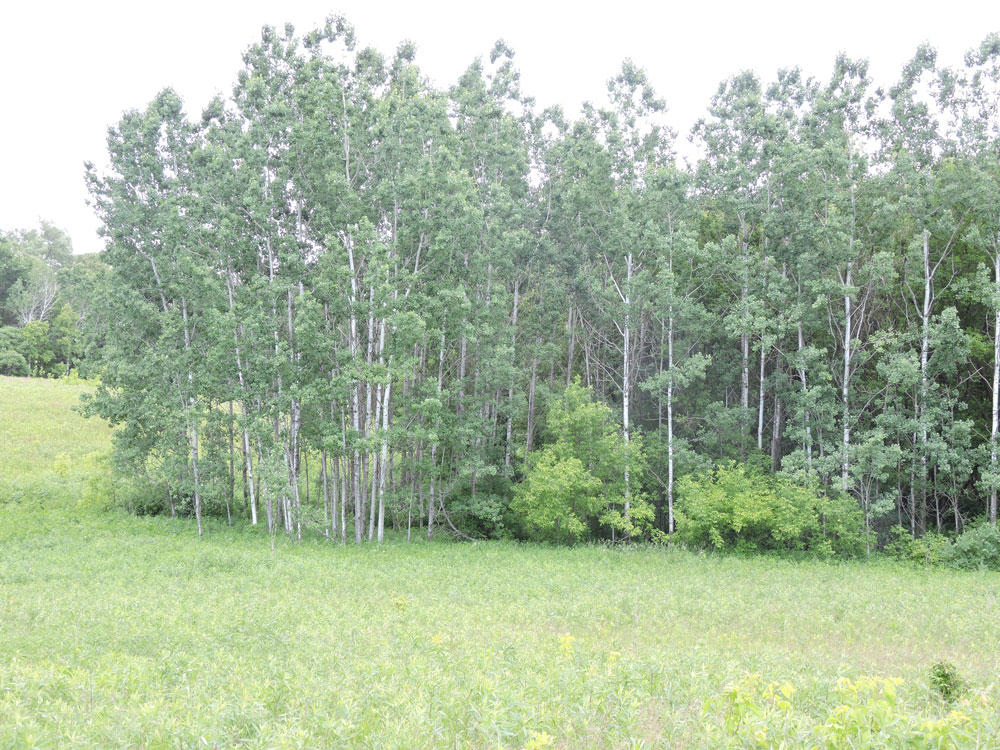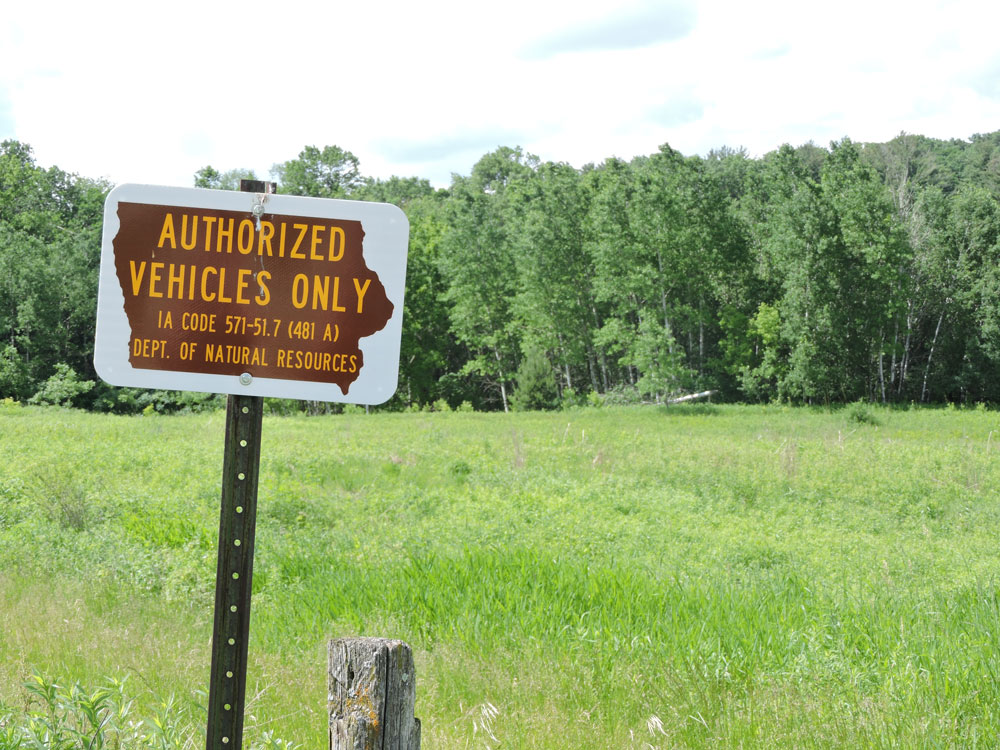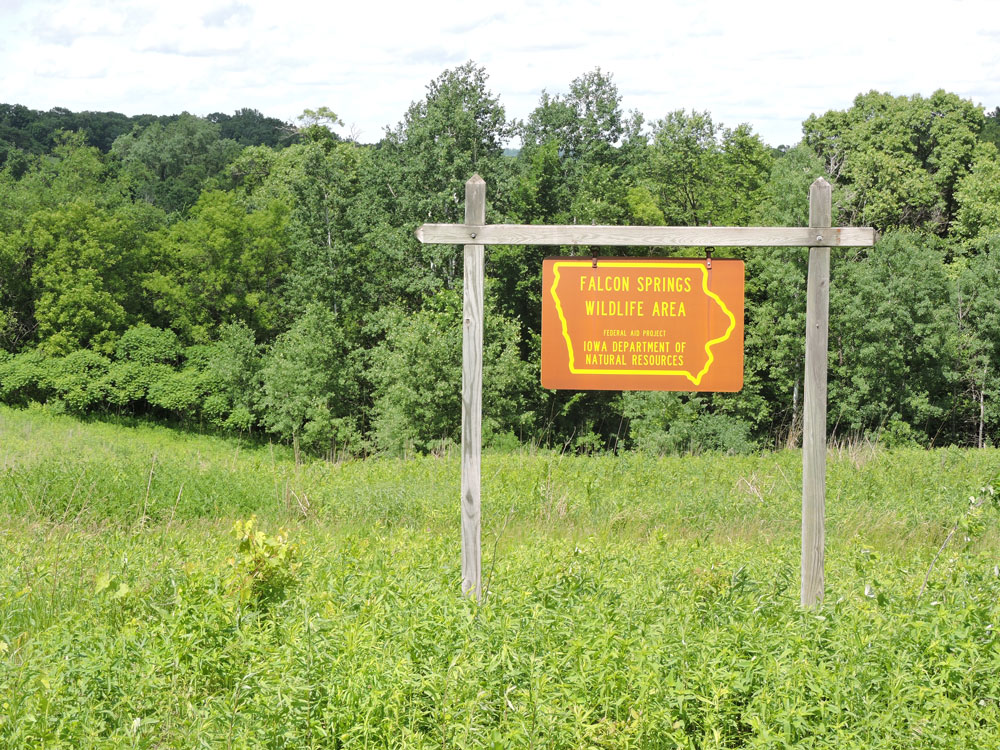 Falcon Springs Wildlife Area Land Acquisition
RGS is continuing to support public land acquisitions in Iowa.  Iowa is commonly ranked towards the bottom of all states in terms of acres of public land open to hunting.  Today, excluding public roads, only 2% (or about 750,000 acres) of Iowa is under public ownership.  Even fewer acres (about 380,000 of that 750,000 acres) are under Iowa Department of Natural Resources management that has specific objectives of managing for things like wildlife and timber.  In 2019, RGS members decided to do something about it by raising $5,000 in match to acquire a 120 acre property adjacent to Falcon Springs Wildlife Area.  In total, 10 partnering groups and non-profit organizations helped raise a combined $215,750.00 that will be combined with Iowa DNR Pittman and Robertson dollars to purchase the property and help move the needle on public hunting opportunities in Iowa.  With additional land acquisitions planned for 2020 and beyond, this land acquisition was the start we need as hunters/conservationists to accomplish the RGS/AWS goal to unite hunters and give them a unified voice to improve hunting and wildlife habitat where you live.
Tiffany Wildlife Area Habitat Project
In 2019, RGS/AWS Forest Conservation Director Jon Steigerwaldt sat on the selection committee for the Cherish Wisconsin Outdoors Fund (a habitat fund made possible by Wisconsin hunters who volunteer to donate to an endowment while purchasing hunting licenses).  That committee looked at funding one of ten different projects throughout Wisconsin and eventually agreed to fund a 278 acre project on the Lawrence Creek Fish and Wildlife Area using the public endowment.  However, the second-place project the committee agreed was a high value project wasn't going to get funded due to a lack of available funds.  Working with chapter members to rally and gauge support, RGS funded the second-place project on the Tiffany Wildlife Area in 2019.  That 194 acre project aimed to create woodcock habitat by maintaining open vegetation for singing grounds, as well as combat a growing woody invasive problem and manage oak woodlands nearby.  "Building on the hundreds of acres of oak-hardwood salvage from a recent blowdown event on the Tiffany, this project was a no-brainer to augment existing habitat and capitalize on additive benefits from that blow-down timber harvests to have a property-wide impact on the 5,000 acre property." – said Forest Conservation Director Jon Steigerwaldt.  "This property will be a real woodcock hotspot in the near future, but with only one project slated to get funded through the Cherish Fund, it highlights the desperate support wildlife managers and habitat organizations have to make meaningful impacts."  
Update: Since initiating this project on the Tiffany, the Miss-Croix RGS chapter across the Mississippi River in MN has adopted the WI Wildlife Management Area in 2020.  Delayed from doing a project in 2020 due to COVID19, the chapter was safely able to meet on site with Regional Director of Development Dave Johnson in the spring of 2021 to conduct habitat maintenance work.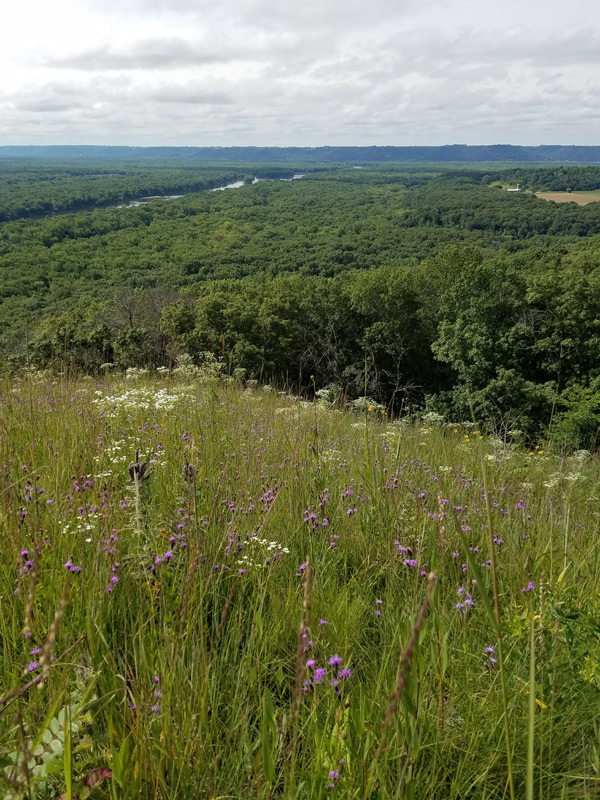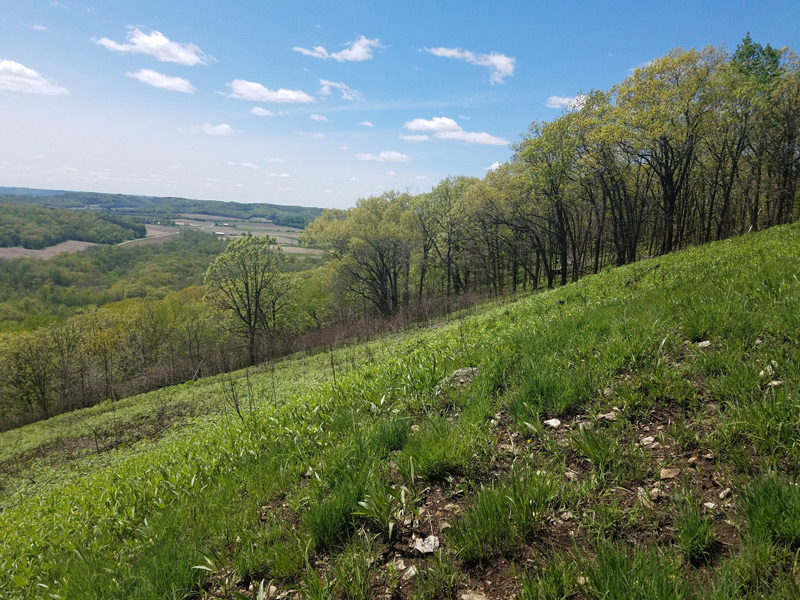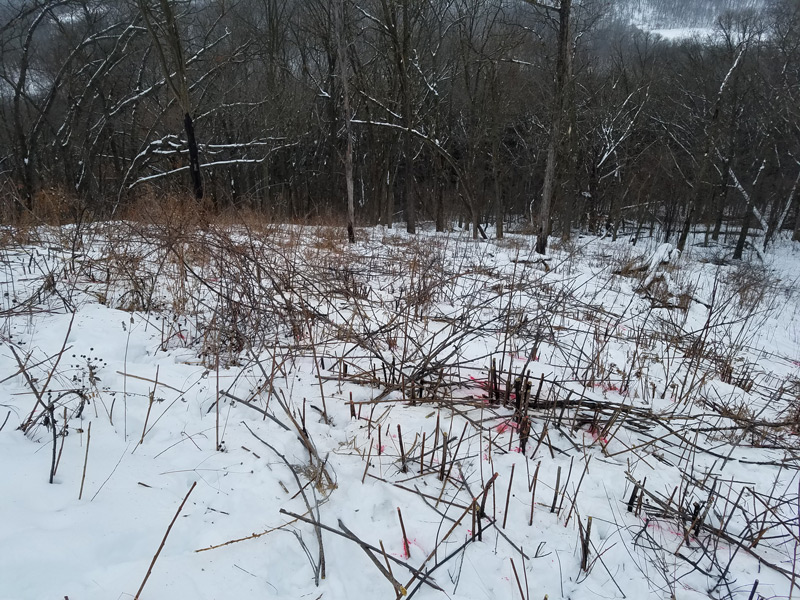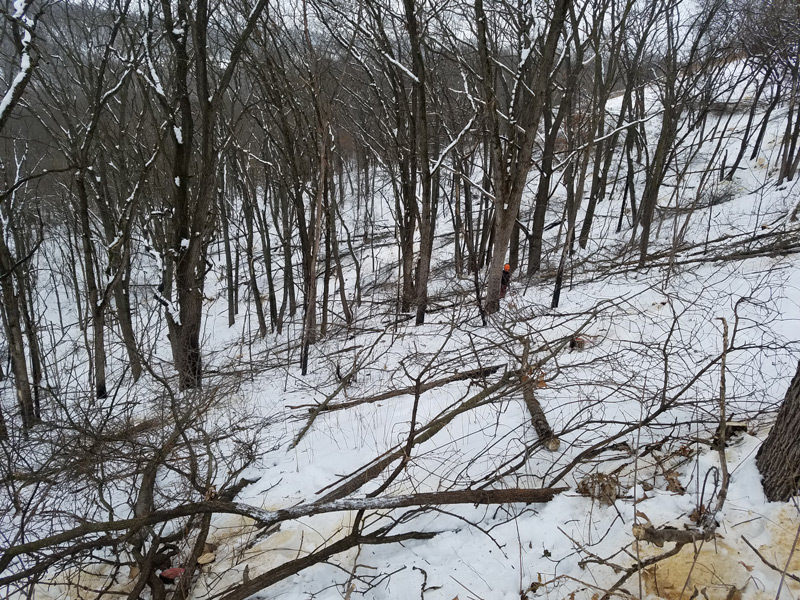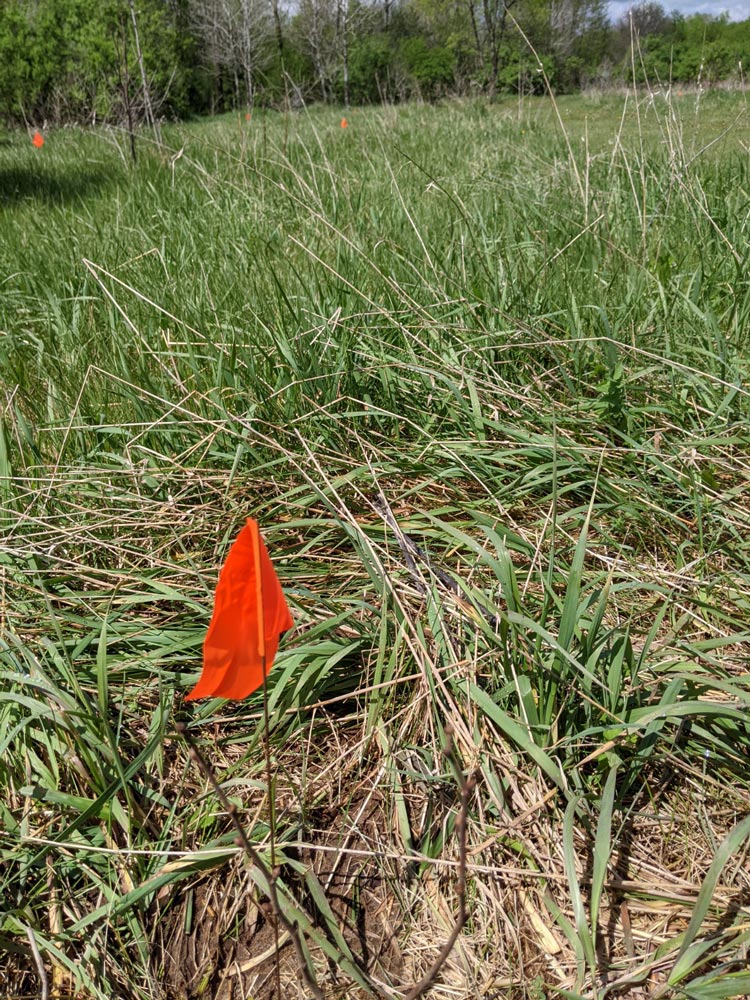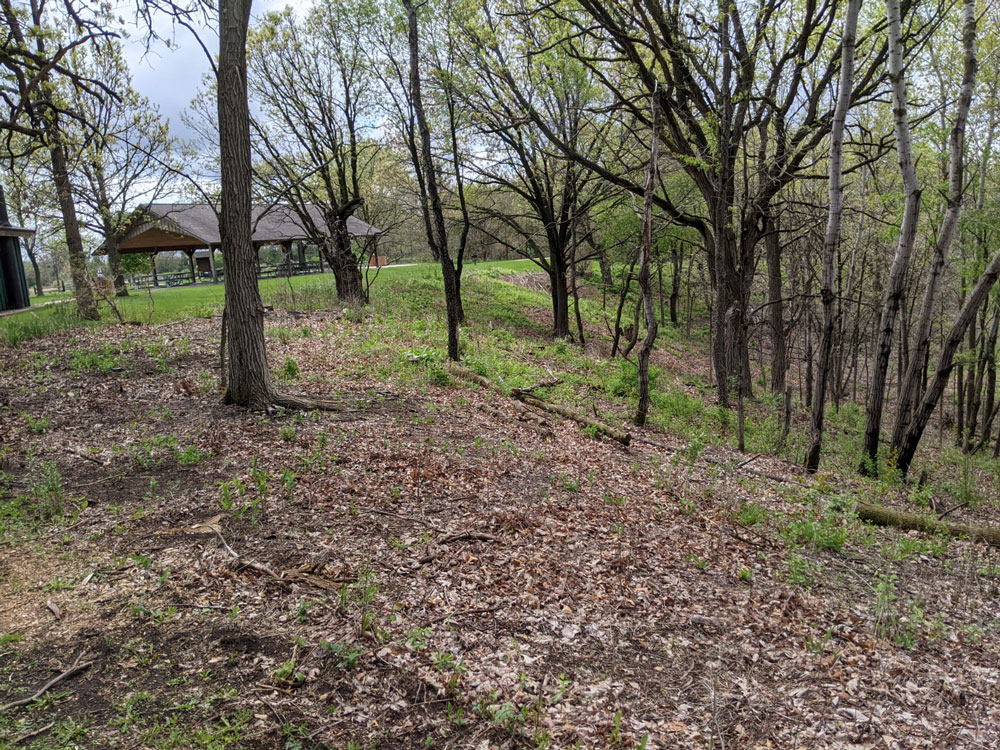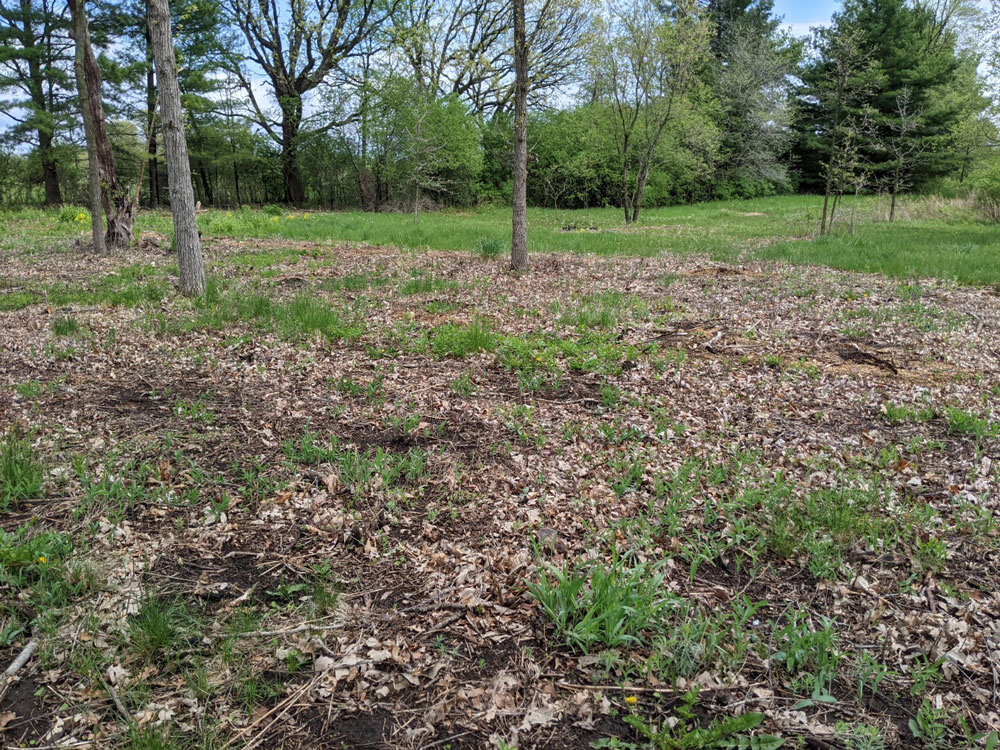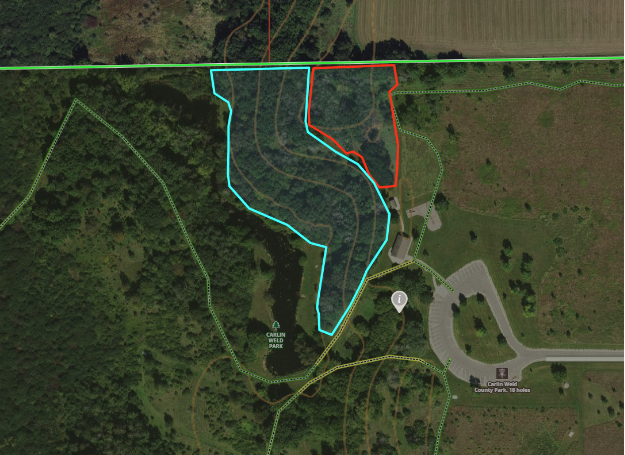 Carlin-Weld Habitat Improvement Project
Thanks to a donation from a passionate RGS/AWS supporting foundation, the Jefferson County Parks and Forestry Dept. received a $1,000 project contribution for habitat restoration at Carlin-Weld County Park in Jefferson County, WI. Carlin-Weld is an 80-acre public park and wildlife area just west of the Kettle Moraine State Forest. This project was funded in late 2019 and wrapped the spring of 2021 with positive results.
The restoration project took place on 2 separate areas, totaling ~4 acres. These areas were heavily infested with buckthorn, honeysuckle, and autumn olive as well as a variety of other invasive herbaceous species. These species were all hand-cleared, herbicide treated, and removed from the restoration area.  While the treatment area seems small, treating the invasive infested area will help protect multiple other acres on and off the forestry dept. lands from the spread of the source invasives.
After invasive species removal, a suitable seed mix of native grasses, forbs, sedges, and bare-root hazelnut were planted to help jumpstart the transformation of these areas into high-quality wildlife habitat. Watching this area transition into high-quality wildlife habitat over the years will continue to serve as a reminder of the positive impact of this generous donation.
Ashland Co. Ruffed Grouse Management Area
In 2019, RGS began a partnership with the Board of Commissioner of Public Lands (BCPL).  BCPL manages 77,000 acres of school trust lands across northern WI.  Because of their unique nature, being managed in trust to benefit public education, these lands largely get ignored from a wildlife habitat perspective and public funding perspective.  Working with BCPL Foresters, a 10-year backlog of forest inventory was identified across the ownership.  Simply put, without forest inventory, forest management doesn't happen.  Looking beyond the small dot on the map habitat projects that don't lend well to landscape level impacts, RGS/AWS decided to do something about this backlog that was hindering forest management and timber harvesting.  In the summer of 2019, RGS funded 2 part-time foresters that made a 6,000 acre dent in the backlog of inventory work.  One of those foresters, Kevin Bolder, is a now graduate of the Wildlife Management program at UW-Stevens Point and an active RGS chapter member who can commonly be seen volunteering at both the Stevens Point and Tomahawk Banquets.  Part of Kevin's internship assignment was planning a Ruffed Grouse Management Area on BCPL lands in Ashland Co and help to fold this 77,000 acre public land manager into wildlife habitat management, growing a landscape level impact.  More about BCPL can be found at: https://bcpl.wisconsin.gov/Pages/Home.aspx    The included map designates the cutting strategy on the 200 acre BCPL Ruffed Grouse Management Area in Ashland Co WI with timber harvesting starting this year.

View Map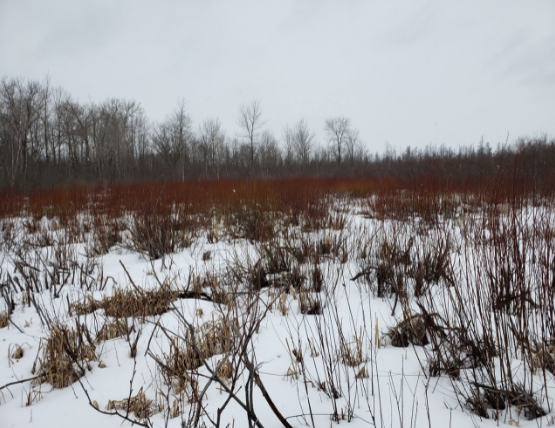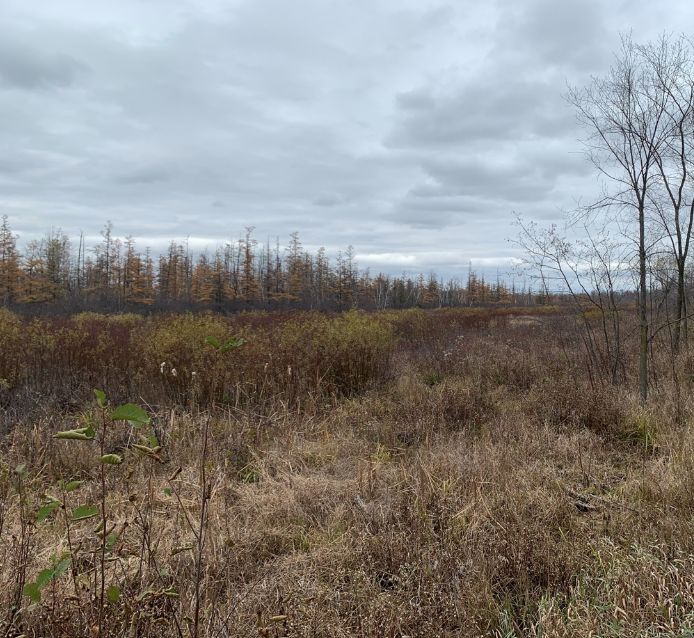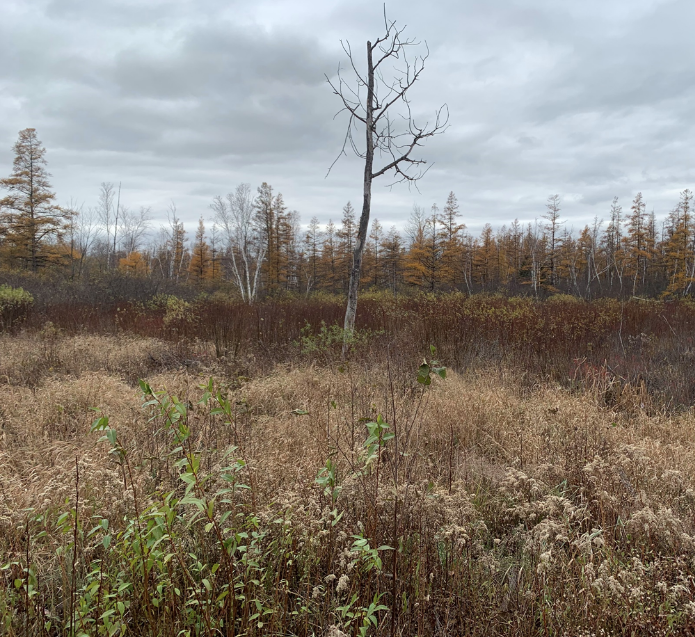 The C.D. Buzz Besadny Fish and Wildlife Area Grouse and Woodcock Habitat Improvement Project
The C.D. Besadny Fish and Wildlife Area Grouse and Woodcock habitat improvement project was initiated in February 2019 to regenerate swamp brush to support grouse and woodcock habitat adjacent to recent clear cut aspen stands. To date, 8ac of mixed alder, willow, and winterberry brush have been mowed in these locations.  These mature alder stands have not been managed in the past and are showing more horizontal stem growth and a decreased stem density than younger alder stands.  By creating a patchwork of younger growth alder amongst these stands, we will provide woodcock with optimal feeding habitat, especially in drier years. This feeding habitat will be further enhanced by adjacent young aspen stands and the continued management of nearby aspen clear cuts.  Until the recent cutting of nearby aspen stands, woodcock were quite rare in this area due to older growth vegetation. However, the habitat has improved and woodcock flushes are more common now. This project seeks to further enhance woodcock populations and hunting opportunity with future goals to include alder shearing on a 10-year rotation to continue appropriate alder management for woodcock habitat and coppice cutting of nearby mature aspen stands on this 2,600 acre Wildlife Management Area.
Silver Creek Hunter Walking Trail – Ashland Co
In 2019, RGS/AWS partnered with the Ashland Co Forestry and recreation Dept to rehabilitate the Silver Creek Hunter Walking Trail system.  This included mowing/brushing 2 acres of wildlife openings and 2.5 miles of trails that became overgrown with trees on this walk-in only trail.  After brushing was completed, openings and trails were planted to a mix of winter rye, clover, chicory, and brassicas.  Labor and equipment for this project was donated by the Ashland Co Forestry and Recreation Dept.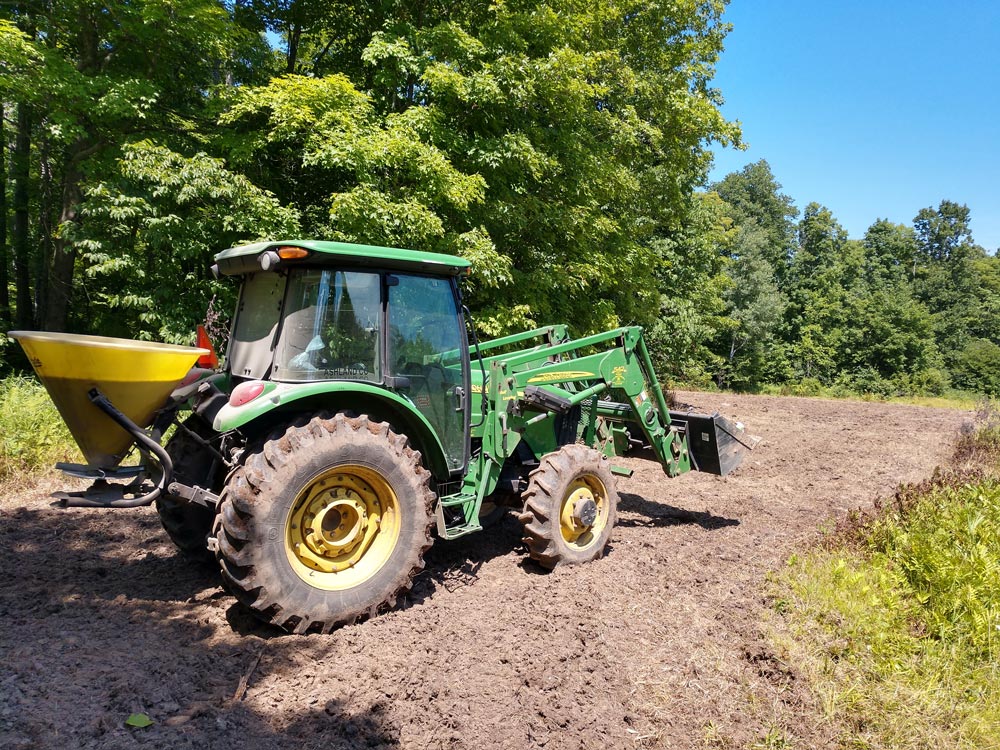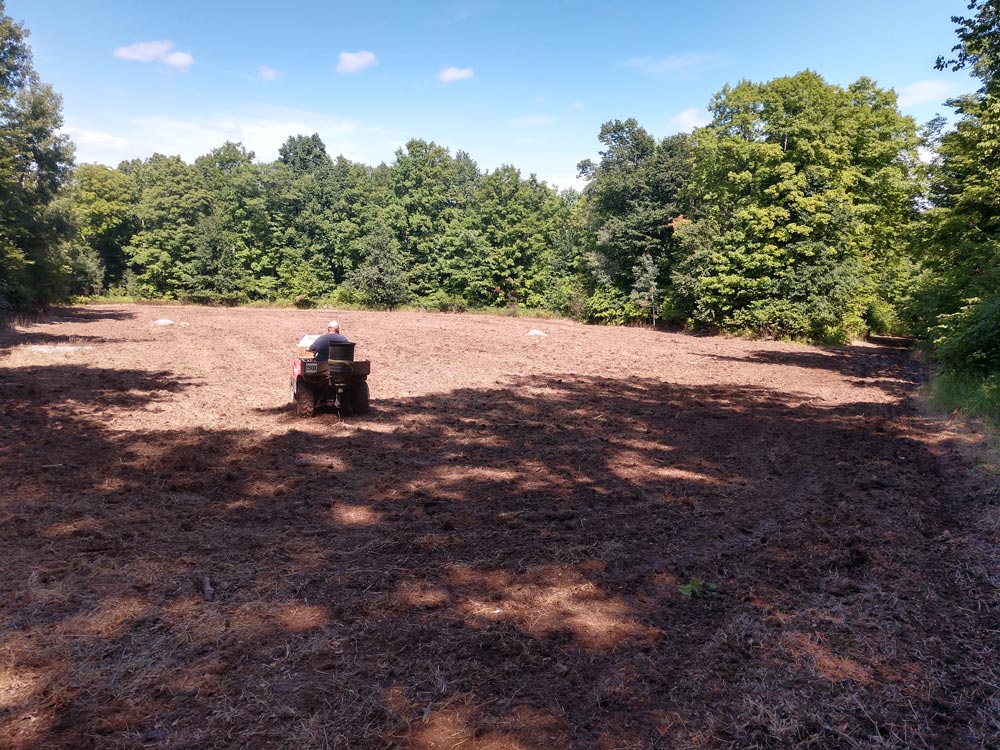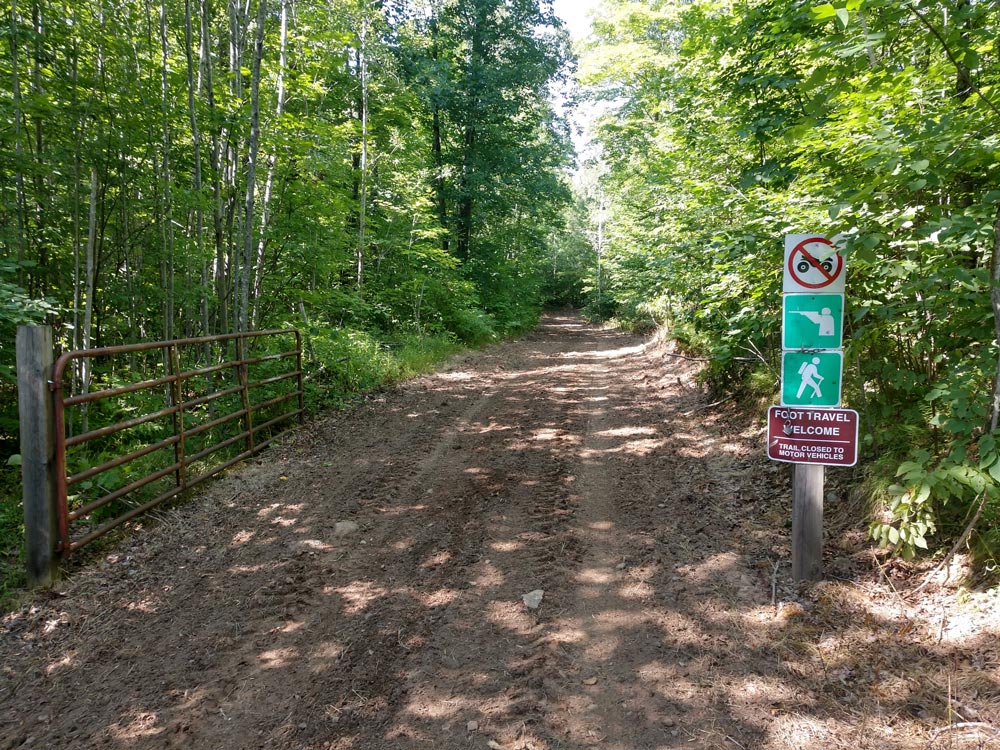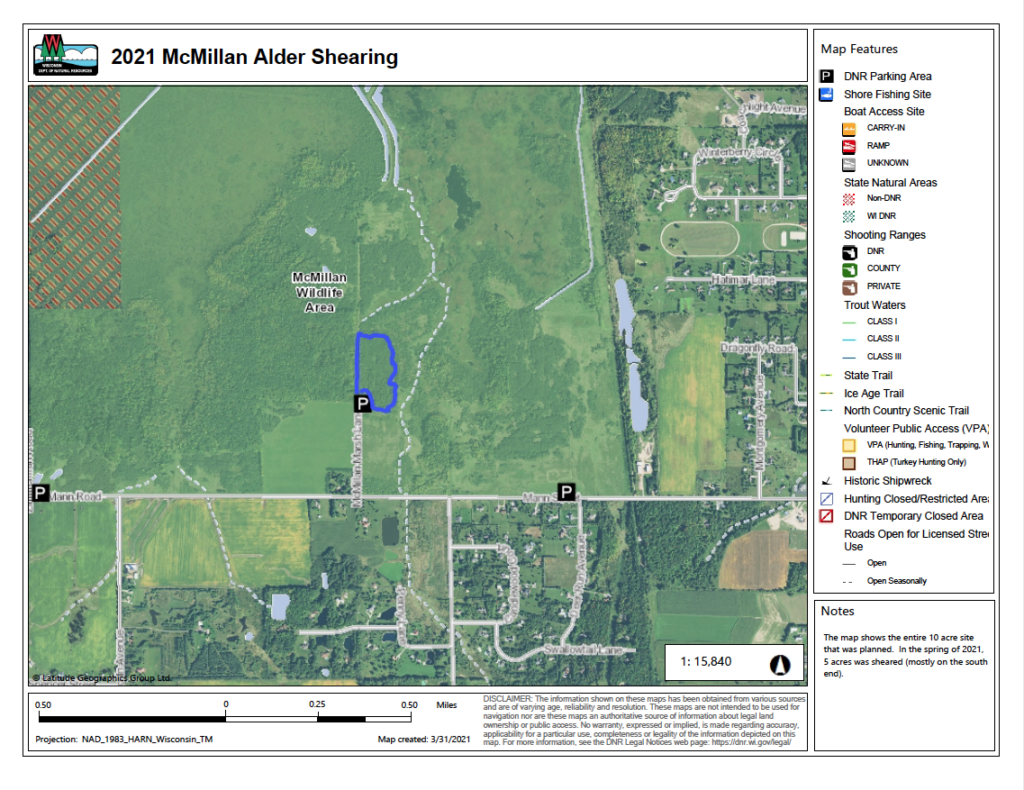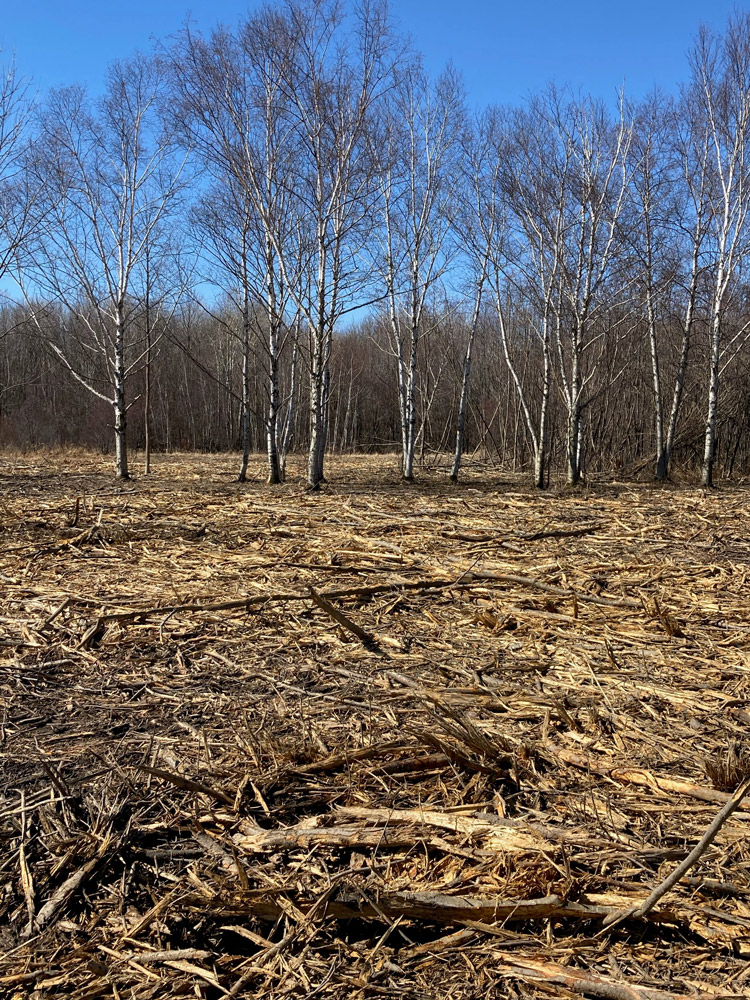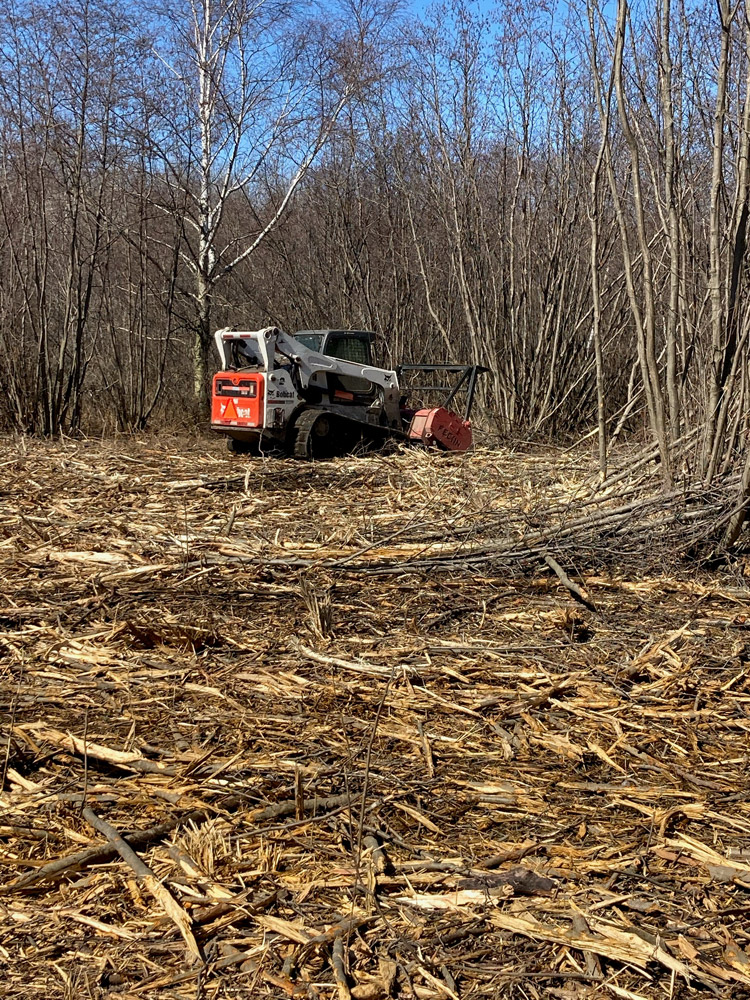 McMillan Wildlife Area Alder Regeneration
Project Map
Funded by RGS in mid-2019, but facing setbacks due to COVID19 restrictions, this sheering project at the McMillan Wildlife Area was completed in early 2021. In total, 5 acres of large, overly-mature alder was sheared by a contractor at the end of Marsh Road.  Coming in under budget, plans are in place to use remaining funds to accomplish more acres in the winter of 2021-2022. 
This area is heavily used by hunters and other outdoor enthusiasts.  It is directly next to a heavily used parking lot and adjacent to a hiking/biking trail.  As it regenerates and responds to the treatment, it will provide excellent habitat for woodcock, grouse and other young forest dependent wildlife species for many years to come.  Due to this project's proximity to heavily trafficked portions of the property, DNR/RGS/AWS intend to develop educational materials to be placed on site in the summer of 2021, describing the habitat treatment, benefits to wildlife, and partnership between RGS/AWS and DNR.
Background
The McMillan Marsh Wildlife Area is approximately 6,500 acres of heavily hunted public land with a wide array of habitat types.  McMillan Marsh is located directly north of Marshfield, in central Wisconsin. WI DNR has a cooperative agreement with the Marathon County Parks Department for mowing/brushing walking and hunter access trails on McMillan Marsh.  In addition, several woodcock surveys in the past several years have been conducted with the assistance of volunteers.
Mead Wildlife Area Alder Regeneration
Project Map
Funded in late 2019, this project is the sister project to RGS/AWS/DNR's 2019 McMillan Wildlife Areas project.  In the Spring of 2021, a total of 11 acres of large, overly mature alder was sheared by a contractor off of Rangeline Road to provide excellent habitat for woodcock, grouse and other young forest dependent wildlife for many years to come.  Due to the ease of accessibility off the road and location to multiple communities, this area is also a popular spot used by many types of hunters.
Background
The Mead Wildlife Area is approximately 32,000 acres of heavily hunted public land with a wide array of habitat types, located in three counties in central Wisconsin.  Grouse and woodcock are a highly sought-after game species on the property.  Mead staff are currently conducting a property wide recon of all non-forested (non-timber) lands.  Property recon will be loaded into the Wisconsin Forest Inventory and Reporting System (WisFIRS), the same system used by the Forestry Division to track forest management and timber sales.  WisFIRS will better allow staff to plan and track alder management on the Mead Wildlife Area into the future and better schedule regular habitat management treatments like those RGS/AWS helped complete.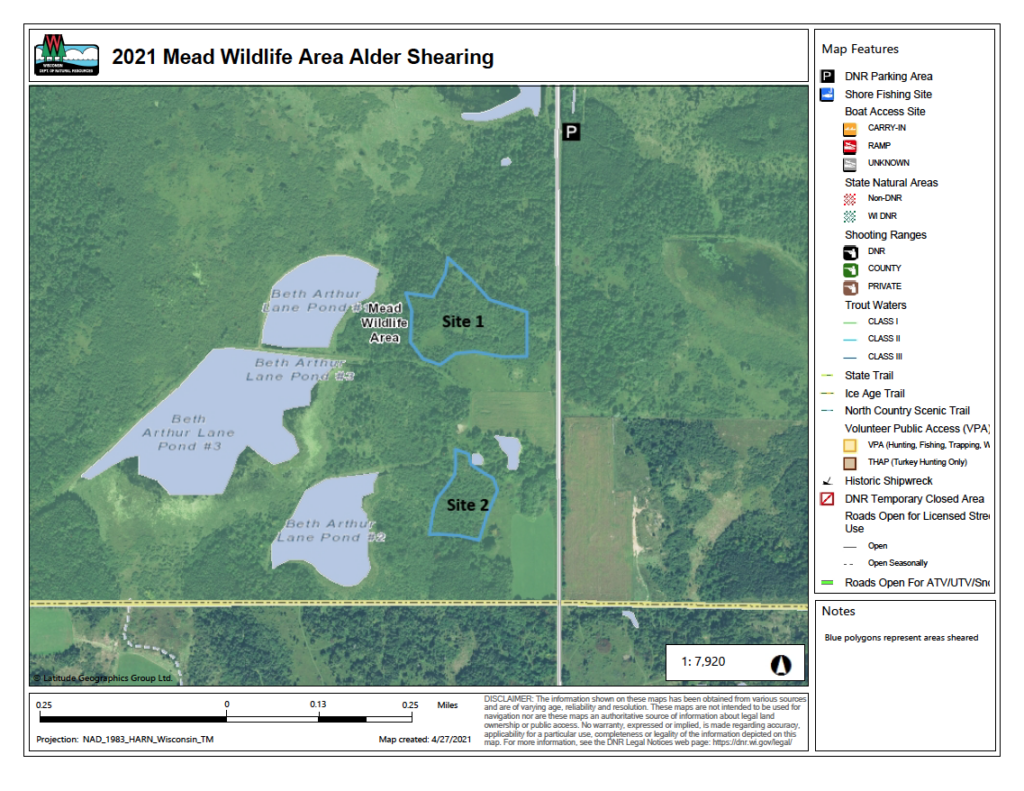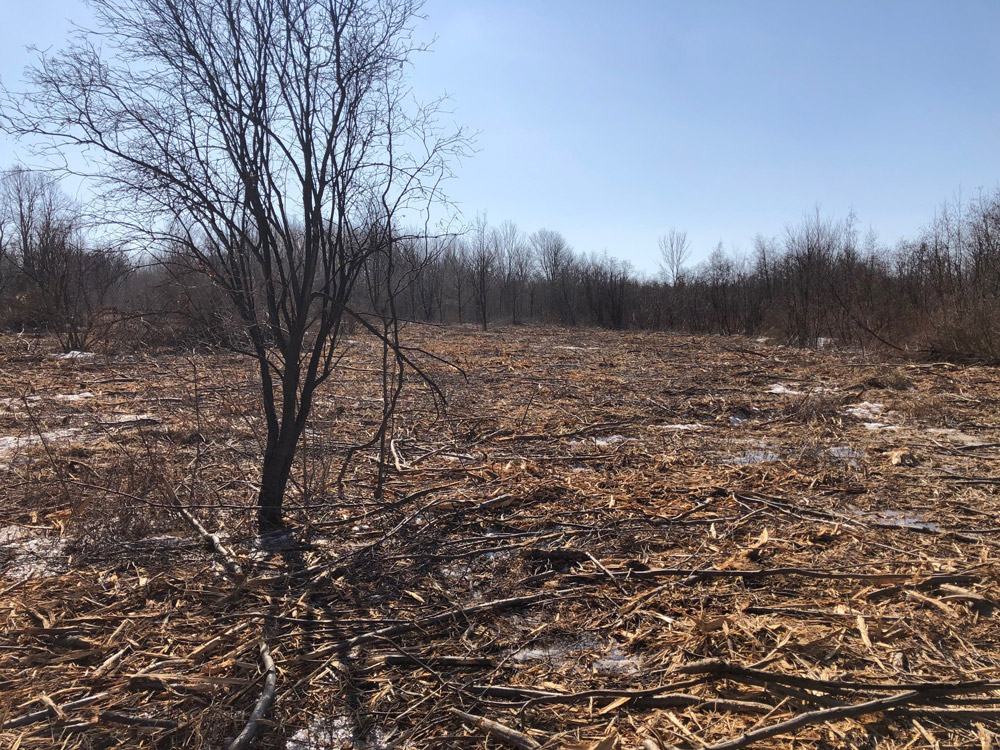 Explore our Operating Regions