Written by: David Gaither
Plymouth, MN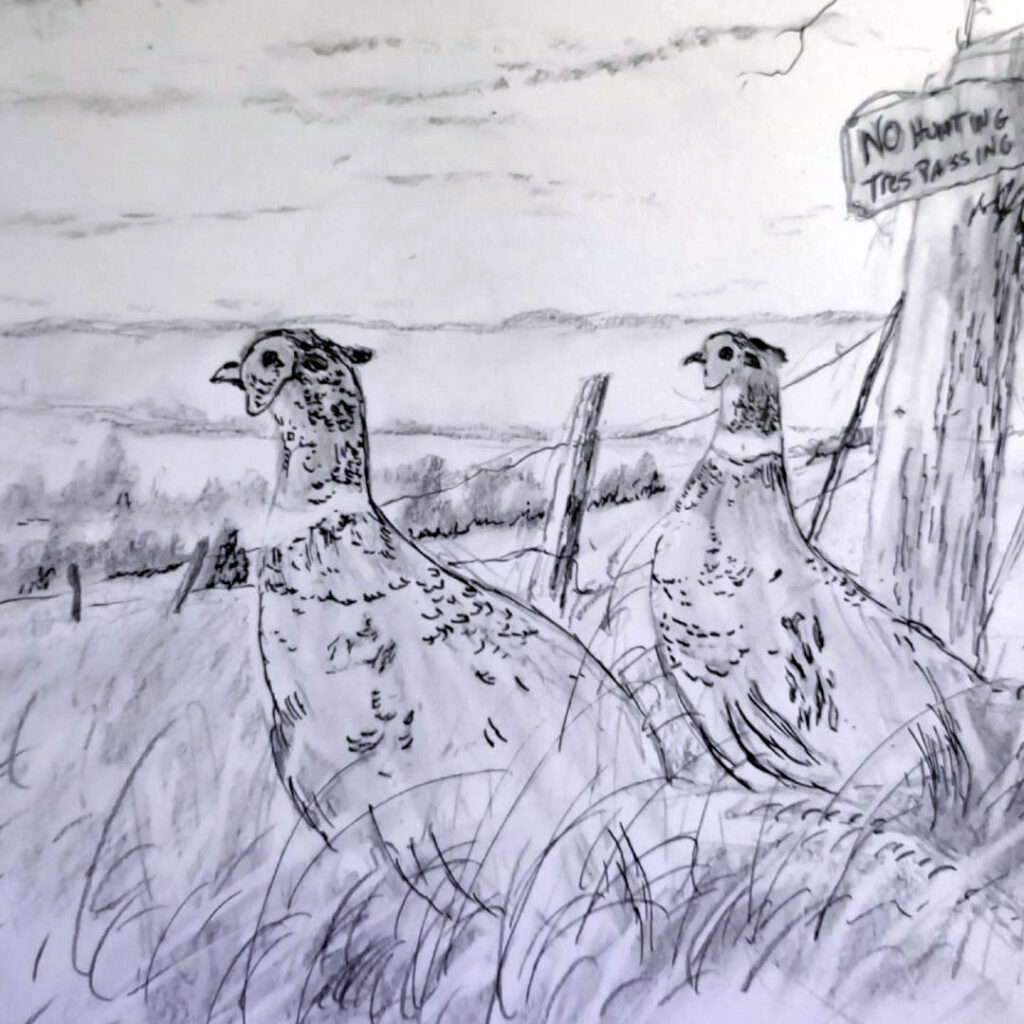 My gun and my dog saved my life.

No it's not what you might think, I wasn't attacked by a charging grizzly or would be car jackers. Rather it's because of what I learned about guns and dogs that came back to save my life.
I was hunting alone with my 4 year old English Setter, Rae, near Lisbon ND at the end of October 2020. The week before had been seasonably cold but not frigid. Nature had laid a light blanket of snow on the ground which had stayed for the past few days, portending ideal conditions for dogs and pheasants. High temps in the low 30's and evening cold would help keep the snow intact.

Towards the end of the day Rae and I had walked some public land that covered half a section of land. The land was a perfect rectangle 1 mile long and a ½ mile wide and in the center of the rectangle lay a potential rooster oasis of cattails and frozen marsh. Virtually impenetrable when warm but as the temperature fell and the ice thickened, it wouldn't be long before dogs and pheasants would be on equal footing.

Our excursion around the perimeter produced only pheasant tracks in the snow leading out of the marsh and no birds. As we ended our walk around the 3/4ths of the perimeter I noticed it was getting close to 4pm and with less than an hour of daylight remaining I faced the choice of retracing my steps and avoiding the recently frozen marsh or if I cut directly across the marsh, I only had a few hundred yards to where my truck was parked and I could still make one more walk before daylight faded. I've been hunting birds in this climate for 50 years so I weighed the options and I couldn't bring myself to not let the best bird dog I've ever known, not have one more walk today.

I headed into the wall of 7 foot high cattails so thick Rae had to follow the path I was busting.
It was a tough slog. Anyone who has ever ventured into this type of cover can appreciate the density of the vegetation. Not being able to see more than a couple of feet ahead of me through this virtual wall with the exploding cattail seeds filling the air around me.
As I continued to push forward the ice gave way under my left foot. No big deal, the water was less than 6 inches deep, well below the tops of my boots. Push on, gotta be less than 100 yards to the truck I told myself. I looked back to check in with Rae. She was 3 feet behind me, looking at me with the trust only a dog owner knows when she returns your gaze, saying to me, "I'm following you, we are a team, I hunt
for you, I trust you, I'll follow you anywhere". Push on I thought.

Again, I broke through the ice. This time the water was a foot deep. Still nothing to worry about. I have got to be close to the truck, I thought but because the cattails are so thick I actually had no idea where I was in relation to the truck, I just knew I was heading in its general direction.
Then it suddenly happened. The cattails became less dense, more ice between the stalks. I could see a little further and I pushed on confident I was just about there. A clearing in the wall of cane appeared. Odd I thought, this isn't the other side of the marsh. The clearing was just that, a clearing in the middle of the marsh. I then noticed the muskrat houses and all the open ice in front of me. I knew what this meant. I needed to very carefully retrace my steps and venture no further on what I knew was thin ice.

As I gently turned, slid actually, to go back where I came from, the ice suddenly gave way under my right foot. My right leg entered the water and stopped only when my butt hit the ice. Great I thought, this is inconvenient and now I'm wet, doing the splits with my left leg still standing on the ice and my right suspended in the organically dark and murky swamp water. Caught in an aquatic no mans land, balancing in a very delicate manner between hard and soft water.

In my left hand was my loaded Browning Citori 12 gauge. Instinctively, since this wasn't the first time I'd fallen through the ice, I extended my right arm in an attempt to both keep my balance and prevent me from going in further should the ice give way. I now realized a loaded weapon in these circumstances was a very dangerous thing indeed. With my left hand I released the action and flicked it open fearing that action alone would be enough to break the supporting ice, plunging me into the frigid water completely. It didn't and I wristed the weapon over to dump the 2 3" #4's onto the ice and more importantly emptying the weapon.

I now turned my attention to getting back on top of the ice and I mustered a combination of effort with restraint as I tried to "step up on to the ice" extracting my right leg from the water while not exerting too much pressure for the ice to sustain. And to my surprise, I was up and out. Standing there on the ice, cold but focused on getting back to where I knew the ice had supported me just moments ago.

Then in an unimaginably quick moment, seemingly faster than the physics of gravity would allow, I was crashing through the ice! Instinctively I thrust my arms out forming a human "T". With my arms fully extended still clutching my Browning, they caught the edges of the hole I created when I dropped, my chin getting to the top of the waterline.

I gasped aloud and at that moment time slowed. I realized from my lifeguard training and all that I've read that was how most people drown in cold water, the reflexive gasp: the involuntary sucking of water into one's lungs, game over.

I had now gone from being uncomfortable with a wet leg to being in a real crisis. The water was deeper than I was tall. Suspended in the water by my arms, and the water filling up my boots, hunting vest, and backpack. I tried to climb out of the water, but the ice kept giving way and I was getting heavier with water every second.

I look to my left and there's Rae, confused and coming towards me to help. She knows we are in deep trouble now. I look in her eyes and shout to "GO BACK"! God not this, if she comes any closer we will both be in real trouble. I remember the first rule of life saving, "it's better to have one drowning than two". Again I look at her and tell her "NO, GO BACK!" She stops backs up a few feet and stands there watching me struggle.

I continued with all my strength to try to climb out of the water and onto the ice, to no avail. I started to think perhaps if I held my breath and went under, hit the bottom and pushed off, I could porpoise my body onto the ice. But no, I knew the bottom was muddy, soft and the water was so black that once I went into it I could easily lose my bearings. That ceased to be an option. In fact I was out of options. I was exhausted, getting colder and heavier by the moment. I now knew this was it. This was how and where I was going to die. I had an out of body experience seeing the article in the paper announcing my death. My family telling others "at least he died doing what he loved". I saw the other members of my party locating my truck and following my tracks to the marsh, getting the cadaver dogs there to confirm and locate my body. I was out of gas, this was it.

Then I looked at Rae again. She's looking at me, like only those who have had the good fortune of having a great dog that loves you more than she loves herself. I realized she wouldn't leave me even I disappeared below the surface. She might jump in to try to find me. Or she would wait there waiting for me to surface and likely become coyote food during the night. This was too much for me to bear.

I was so angry I wanted to scream for help but I knew that was fruitless. Even by some miracle there was someone driving by with their windows open, I was surrounded by a 7 foot high wall of cattails. This was my problem, and it was up to me to solve it and to do it now. I gathered myself and I heard the voice that I have heard infrequently before in moments of "choice". It said, "work the problem". The voice was calming. I looked at my left hand still clutching my Browning with action still open.

Then it occurred to me, perhaps I could use the gun not as a firearm but as a tool. Maybe if I could use it as an extension of my arm I could reach out and "hook" a cattail that would provide an anchor to leverage to help with my efforts, pull me towards safety. So, I had to basically do a gymnastic Iron Cross to lift me up ever so slightly that I might snag the closest cattail. It was all I had left. And strangely I found the strength and more importantly the calm needed to try. It was slow motion as I rose a few inches, stretched and to my surprise the cattail I snagged in the action CAUGHT. There was resistance! God please don't let this slip, all I need is a few inches to get closer to getting my shoulders on the ice. I then repeated the motion grabbing another cattail a few inches further and more stable. This allowed me to both pull and lift my ribcage onto the ice. Please let this ice hold. Don't think, act! Keep working the problem. Again, I snagged more cattails, I'm going to get my hips onto the ice. God I'm tired. There, my hips are on the ice. Rae is in front of me, backing up while keeping me in site. I'm now spread eagle on the ice trying to "be little" – to weigh less, to spread myself out as wide as possible.

I begin to army crawl back towards my entry path. Back though the impenetrable wall of cattails but this time it's different. This time I see the path I made coming in. Rae turns and begins to head down our path, leading me. After a couple hundred yards of crawling on my belly through the marsh I find myself on solid ground. I can barely muster the energy to get on all fours. I suck in a lot of air, can't remember ever being this tired. Never as a Division 1 college athlete or in anything since. But now I know I'm going to make it. I reach for my key fob and cell phone wedged into the innermost pockets of my gear. To my surprise the phone powers on. I place it and my key fob in the only dry place remaining (under my stocking hat) I stand and begin the walk back to the truck. Rae senses we are out of danger and begins to hunt as we make it back to the truck. Her enthusiasm is not lost on me. Her context is the here and now with a singular focus on what she was born to do.

Getting to the truck I can only remove my backpack and gloves. My fingers have gone numb and I know I need to get these wet clothes off and get into some warmth. My FOB somehow still opens the truck. Rae hops in and we drive the 10 miles to the lodge and a warm shower.

In the shower, with Rae in her bed, the adrenalin dump wears off. My knees shake and reality set in how close to being "it" this was. After arriving back at home, I get to cleaning my Browning. As I remove the forearm, I notice there's something wedged in the metal springs contained in the forearm. I extract several cattail leaves which I set aside and preserve. What occurs to me at this time are two things and to paraphrase Bonnie Raitt" life gets more precious when there less of it to waste" and "my dog and gun saved my life."