Written by: Anthony Conte
Manhasset, New York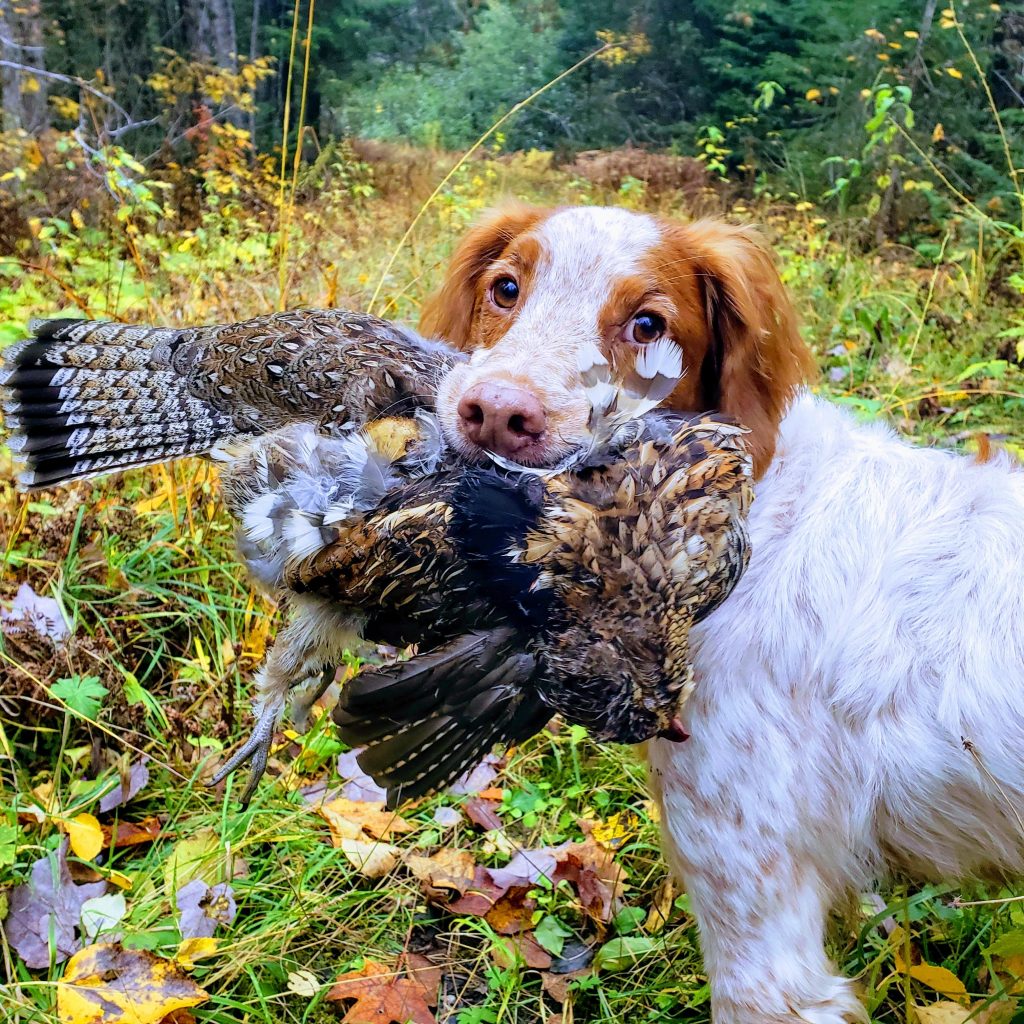 Buzz-Buzz – five AM- My Westclox alarm rang right on time. I was about to begin what I hoped would be an exciting and productive grouse hunting day with my new Brittany Spaniel, DUTCH. I pulled on my upland pants, added my orange LL Bean chamois shirt, slipped into my upland hunting boots and headed downstairs for a quick breakfast. Dutch slurped up his Purina Pro Plan and I snaped on his beeper collar and loaded him into his travel crate. I put my cased Browning A 12 and hunting jacket into the trunk along with my cooler and we were ready for the long drive to Delhi, N.Y. I whispered goodbye to my wife, Helen and she answered through half opened eyes "Be safe and have a good hunt with Dutch". We were on our way- would Dutch develop into a grouse hunting dog? We were about to find out.
It was mid-October and this would be my first hunt with Dutch, my third Britany Spaniel. My first two dogs, Duke and Britt, came to me from Mr. Ed's Brittany's. They were both orange and white males and I hunted over them for twenty seven total years. Mr. Ed passed away and I began to look for a new grouse hunting companion to replace my deceased Britt. My search led me to an outfitter and breeder located in South Dakota, who explained "I have an orange and white male that may just work for you. He has never seen a ruffed grouse, he has only hunted pheasants and a few sharptailed grouse. He is quite shy, but a hard worker with a good nose, he hunts close and responds well to commands. My problem is that he will only hunt for me. I run a camp for pheasant hunters and he ignores them and stays with me. This does not work out for paying guests. If you like, I can ship him to you and you can work with him for a month or so and see how he does. If you are not happy with him, ship him back to me. No problem."
I was skeptical, a little more than curious and intrigued by the idea of a new puppy that had never seen a grouse, never hunted grouse- WOW- this is exciting. Is it worth a try-maybe it might work- what am I thinking? Am I ready for this challenge -YES- YES. Let's do it. It's worth a try. When Dutch arrived, we seemed to bond instantly. He was warm and friendly and settled in quickly. We worked together all spring and summer with a forty foot check cord, grouse wings and basic commands like whoa, come, stay and fetch. He was quick to learn, eager to please and fun to train. Now our trip to Delhi was his test, his moment of truth. How will he handle these crafty grouse? Would he match up and perform as a grouse dog? As we approached Delhi, I turned off the main road and headed towards my favorite grouse cover, where both Duke and Britt had pointed their first grouse. "This is your chance, Dutch", I smiled as I petted his head "It's your time to prove that you are a grouse dog."
As we moved along the dirt road I spotted an old International Harvester Scout parked on the side or the road about a half mile from my hunting area. It had many dings on the body and some rust. What made me stop and park was the license plate that read "RUFF". I smiled as I approached the Scout and was surprised by someone sitting in the cab. This is weird, I thought, very weird. "Can I help you son?" the gentlemen asked. Startled, I stammered and answered, " Sorry to bother you sir, but your Scout and your license plate just brought back some very pleasant memories. My son, Dr. Charles Conte went to Dartmouth College and Medical School in the seventies and he drove a Scout, like yours and his plate read "GROUSE". We are both Ruffed Grouse enthusiasts and we hunted the Dartmouth Grant and all over New Hampshire while he was a student. It was just a very pleasant surprise to see a Scout with the plate "RUFF". I didn't think there were many Scouts in service." "They stopped making them in 1980," John remarked, "But mine just keeps running and serving me well, so I keep it." I answered, "My name is Anthony, call me Tony" I smiled as I extended my hand "I didn't mean to startle you." "Not a problem, my name is John" he smiled as he extended his hand. Are you from around here? Looks like you are going to do some upland hunting." "No and yes, I answered, "I live on Long Island how about you?" "I'm Delhi born and breed." I then told John the story about my dog, Dutch. "Sounds like a challenge, good luck" John answered with a smile. "Do you have a dog John" I inquired? " My dog, Molly, passed away about four years ago." "Sorry John, I know how sad it is to lose a dog." " Yeah," John replied, "I had Molly for eleven seasons and she and my wife, Polly -The Polly and Molly show- were real buddies. They were inseparable, two peas in a pod. Molly was my dog when we were hunting, but she was Polly's dog. Followed her around the house, cuddled by her feet when she was reading or knitting. They were a team. Then Polly took sick, pancreatic cancer, and passed five years ago. Molly just kept looking and never accepted the loss of her buddy. She slowed down and I hunted her the next season. She went through the motions but her heart was not into it. Our last hunt was on a cold, snowy November day. I harvested a grouse and Molly was worn out. She didn't eat much and slept by the fireplace. I found her there in the morning, peaceful in death." "I am truly sorry John, sorry for your pain and the loss of both Molly and Polly."
"Where are you heading," John inquired. " About a mile up the road where I hunted with my first two dogs, Duke and Britt. John smiled, "Why don't you hunt here with me?" "Well, thank you John, but this is Dutch's first hunt, he has never seen a grouse and I don't want to mess up your hunt." "Sounds like a challenge to me, I would love to see how he handles himself, lets do it," John smiled.
I unloaded Dutch from his crate, turned on his beeper and removed my Browning from it's case. "An old humpback", John remarked, "And it's showing some wear." I nodded in agreement. "Bought it in 1952 when a graduated college. I love this shotgun." John pulled his Parker Double from it's case and I was impressed. "Wow- a classic." John smiled, "My Dad's, it's an antique, like me." We moved into the cover slowly and John observed, "I always hunted with a bell. This is Hi tech I suppose." I responded, "So did I, but the beeper is better. It emits a sound as long as the dog moves. If he stops, it's silent for ten seconds and then the cadence changes. It works great in tight cover." Moving along slowly, we worked up a small stream and Dutch went on point. A woodcock flushed and John's Parker spoke. The bird folded. " A doodle," John smiled, "First one I shot in five years. I only shoot them over a point. I have nothing but respect for doodles. They migrate, riding the wind, looking for resting spots where they can feed on worms. I just love them." Dutch mouthed the woodcock, dropped it, then picked it up again and dropped it. " Well done John, well done." Dutch's first point on a woodcock. We moved into an area with aspen, grey dogwood berry and some apple trees. It was classic grouse habitat. Dutch went on point and a grouse exploded. Again John's Parker spoke and the bird tumbled as soft body feathers drifted down. " Nice shot, John, nice shot. You harvested the first woodcock and grouse that Dutch pointed." John smiled, "Thanks Tony," John added, "You know I have a rule that when I harvest a grouse in a cover, I leave. Kind of a "One And Done" rule. Are you alright with this?" "Absolutely John, I can respect that rule." John nodded, "You can stay and hunt. You don't have to leave." I smiled, "Thanks John but no, I will go to my cover up the road. I appreciate it, but no, I will leave with you." We headed towards the road and Dutch started making game, moving slowly through the cover. "A runner", John observed, "Be ready." Dutch stopped and the sound of exploding wings filled the air. My Browning roared and again soft body feathers fell around the grouse. My first grouse with Dutch. John Smiled, "Great job by you both. Dutch, you are a grouse dog." Back at the Scout, I thanked John for sharing his cover with us and how much I appreciated hunting with him. "My pleasure," he smiled and we shook hands. " Any time you find your way up here and you see my Scout, just blow your whistle three times and I will find you." " I will for sure John, it was a pleasure to hunt with you."
I moved up the road towards my cover. "Here we are Dutch. This is where Duke, Britt and I shared many days grouse hunting." I turned on Dutch's beeper and we moved into the cover slowly. My mind drifted as we moved through the cover, there were so many great memories here, so many successes and some failures. Suddenly the beeper stopped and the silence brought me back to reality. Dutch went on point and the grouse exploded swinging left to right. I swung ahead of the bird and snapped the trigger. The bird folded, a brown phase male. I put the grouse in my pouch, patted Dutch on the head and smiled -One and done Dutch, let's go home. You are a grouse dog.
EPILOGUE- The following evening, Helen and I each enjoyed a grouse, with wild rice stuffing, garlic mashed potatoes and asparagus. We toasted John, Dutch and the King Of The Game Birds – THE RUFFED GROUSE.