Written by: Warren Coleman
East Calais, VT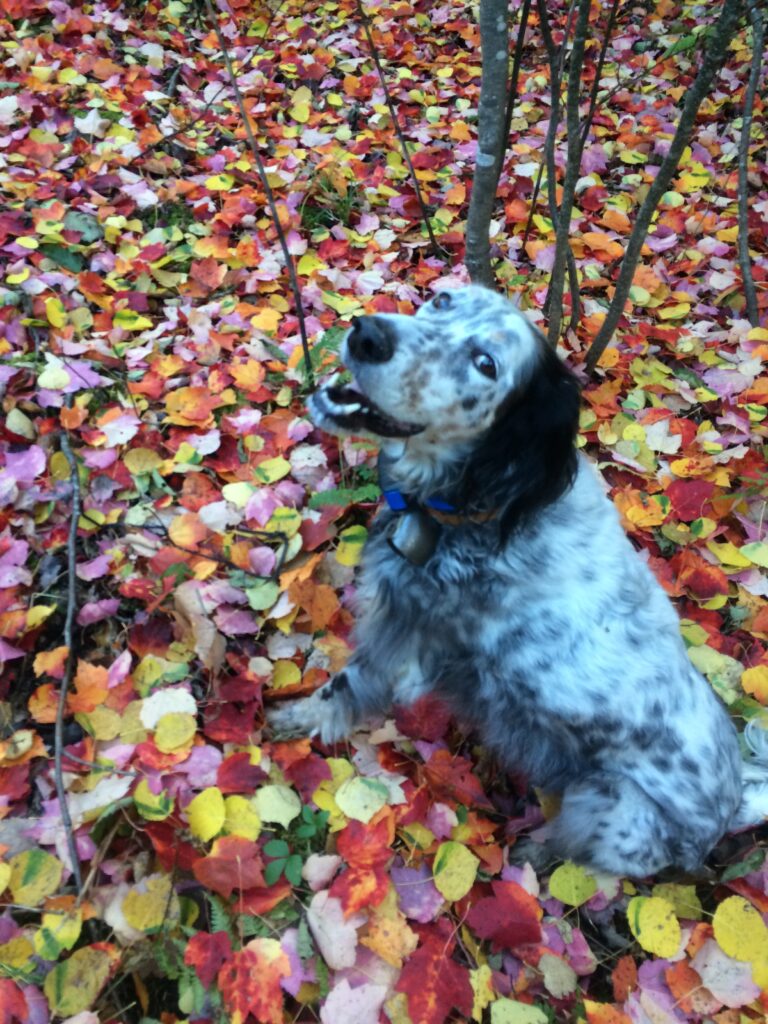 All the grouse and woodcock I've watched fly away are a distant memory now. Instead, when my friends and I want birds in front of the gun Boone gets to slip on the bell and we follow his lead.
Living only twenty minutes from the Vermont state capital I can walk out my front door and consistently find enough grouse and woodcock for training a young bird dog. In fact, the woods just beyond our vegetable garden reliably hold a few woodcock all summer long. With this as his puppy playground and plenty of wild birds to teach him, Boone showed all the early signs of promise I had hoped for.
Fast forward to his first October day afield as a one-year-old. He locked up in an open streamside alder flat, I shot the soft left to right banking woodcock, he retrieved it to hand as if he'd done it all his life, and I began to fantasize of the decade of Octobers before me with my once in a lifetime bird dog… As it turned out, that marked the highpoint for the next several years as things went downhill at breakneck speed for reasons still undeciphered today.
Boone's primary dysfunction looked like this – he would find birds, establish a soft unenthusiastic point, then begin wagging the tip of his tail anxiously, circle the bird and then quickly leave the area sometimes flushing the bird in the process. He wanted nothing to do with sticking around and I couldn't figure out if it was fear of the bird flushing, an aversion to gunfire, or something else. Boone was my third bird dog and I had never seen anything like this behavior, but I knew enough to be worried – very worried.
I recalled that once as a puppy he had a woodcock flush right under him and he was startled, but could that have scarred him so badly? As for gunfire, I had taken every precaution, slowly introducing him using tried and true methods. So I doubted he was gunshy, but then again I could recall occasions when he reacted to loud noises. Even today he turns to jello at the sound of thunder or the banging of a jar on the butcher block table to loosen the lid. He was and still is a "soft" dog.
I spoke with Boone's breeder in New York, one of the most respected in Ryman setter circles and the phrases "he might be gunshy" and "it sounds like he's blinking his birds" were uttered and confirmed my worst fears. He said my best course of action was to take Boone away from any gunfire and create greater drive for finding birds. The theory was that if he became excited about birds he would stop blinking and learn to eventually tolerate gunfire. So how do you infuse heavy doses of natural instinct and prey drive in a wild animal? Often you can't.
Picture an adult running through the alders and aspens after a flushed woodcock to convince his dog that chasing birds is THE most enjoyable thing in the world. Yes, for our second hunting season I became the bird dog teaching Boone that finding and chasing birds was so much fun that he should try it too. Forget the fact that an English setter is supposed to POINT birds and not chase them. If we ever reached the point (no pun intended) where he was interested in birds and wanted to chase them then we'd work on whether he would ever steadily point them again.
Over the summer and fall, I did my part rousting birds from cover and leading the way for Boone, but he made only moderate progress. After another call to the breeder, he recommended a dog trainer in southern New York that understood the soft temperament of these Ryman setters and could help. You see these dogs don't take kindly to electronic collars or a firm hand. For many people like me that's part of their appeal. Just put them into wild birds and they'll train themselves…usually.
My wife and I don't have kids, but I was as reluctant to leave Boone with a trainer as a father dropping his teenage daughter off at college for her freshman year. I explained Boone's blinking behavior to the trainer and also that based on earlier experiences he clearly did not like pigeons (which I learned after building a coop and raising homers for him). The goal was to give Boone copious amounts of bird exposure to see if it would light a fire where we could rebuild from there. Basically, we were starting at ground zero. The trainer assured me he would have pen raised quail for training and hesitantly I left him there and made the five hour drive home.
After several very mediocre weekly report cards the trainer suggested I come pick Boone up early. Not a good sign. When I arrived, the trainer put him in the dog trailer, and we took him out to one of the training fields where he planted some PIGEONS. With his tail hung low and unanimated, Boone found and pointed them, the trainer shot them, and Boone retrieved them as if he was being punished. I paid the sizeable bill, heard the trainer's assessment that he couldn't figure out what Boone's problem was and maybe he would do better for me. I cried as Boone and I pulled out of the driveway and onto the dirt road. Right then and there, I promised that I'd never put him in someone else's hands, that I was sorry for leaving him and that we'd be home soon.
When we arrived home in Vermont, I took Boone for a run behind our house and at the end of our yard where the forest begins, he slammed into a point on one of our resident grouse! After that there was unexplainable but steady progress the rest of the summer and into the fall. Was he staunch on his birds? Hell no. But was he running away from them scared? No, he was actually interested but unsure of how to handle them. He was no longer blinking.
So that began two years of hunting him alone and watching his bird contacts closely. If he handled them properly, I tried desperately to shoot them. If he moved, flagged, or bumped a bird, I would hold my fire even at the easiest of shots and bring him back to the place of the infraction and gently set him up on point and then move on. This meant very little shooting and lots of watching grouse and woodcock fly away unharmed. This was a form of torture, but patience paid off.
At some point Boone began to point his birds more consistently. In fact, there were a few covers he knew so well he would run with complete abandon….like a madman searching for birds. One place we call "the crotch" was really where Boone became a bird dog. It's a place in central Vermont that forms a crease up against the Green Mountains and it captures migratory woodcock and the hillsides funnel grouse down into the stream and alder bottom along this upper valley floor and it became my favorite place to hunt with Boone as he learned to ply his trade.
There were many memorable days that highlighted his progress. Could I explain it? No. I was just thanking the heavens we were headed in the right direction. My hunting partner and mentor joined us one unforgettable evening. We shot four grouse over Boone's points and missed several more. My buddy was just as bewildered at his transformation and when he calls me my phone flashes an image from that evening of Boone proudly posing with him and four Vermont grouse on the tailgate of my truck.
Since that evening Boone has become the dog I had always dreamed of from that first October woodcock. He's handsome, hunts efficiently and under control setting up the birds well for the gunner, retrieves everything, and still sleeps 22 hours a day when its not hunting season. For the past two years, his seventh and eighth, he has been exceptional. I would almost say that he points and handles grouse like a magician. Woodcock are too easy – like taking candy from a baby. Just put a bell on him, take him to good cover and start walking. He stays out front, you walk, he freezes, your heart races, a grouse or woodcock gets up, you shoot and he retrieves. It looks so simple, but you know it's not.
However, this is not to that say Boone is perfect. We ventured to Kansas in the fall of 2012, and he was utterly useless. The treeless landscape befuddled him and often he just walked by my side or behind me while the other dogs coursed the huge grassland landscape and creek bottoms. I didn't get upset. He's a fine grouse and woodcock dog, a specialist you might say that prefers his New England woods and stone walls, and I'm OK with that.
One of my best friends introduced me to bird hunting during our three years together in law school here in Vermont. He hunts behind athletic labs and gets his dogs from a trainer who specializes in flushers and he breeds and trains some great ones. The trainer and his young son have hunted with us the past couple of years. Last year we ran Boone in our favorite Northeast Kingdom cover that bursts with old apple trees and highbush cranberry bordered by open fields and softwoods. He pointed over a dozen grouse and half as many woodcock in not much more than an hour. It was an evening for the memory banks. I think everyone was amazed at the performance, not because they knew of Boone's trials and tribulations (they didn't), but because the "Professor," as my friends had nicknamed him, made it look so easy.
The next morning, we hunted a small aspen and alder hillside cover and took a grouse and a couple woodcock over one of their lovely springers, capping a successful end to our long weekend together. Back at the truck loading up for the drive home the trainer's son unknowingly paid Boone the ultimate compliment. He turned to his father and exclaimed, "When are we going back to that cover with ALL THOSE BIRDS WITH BOONE?!" We both laughed and his father explained how we all wished we could hunt just that one cover every day for the rest of our lives with Boone. At only nine, he has been asking his dad for his own dog since leaving Vermont – mind you, not a springer, not a lab – but a setter just like Boone.
Postscript: This was written many years ago and Boone passed away in November of 2019 at the age of 14. Presently, we have two more Ryman setters in our home. Nine year old Miss Dixie and her five year old daughter Penny. They are entirely different than Boone. They have incredible drive, not a fear in the world (except the vacuum cleaner) and were proven hunters in just their first seasons. My wife jokes that I deserve dogs like Dixie and Penny after my undying patience with Boone. I agree but I'm so lucky to have had Boone in my life. He tested me but rewarded me with many years of fine gunning, incredible companionship and cemented our love for these gentle Ryman setters. A portrait of the Professor painted by a friend sits prominently on a wall where we see him every morning during breakfast and dinner – he is sitting, looking over his shoulder at me smiling amidst a carpet of October maple and aspen leaves in a Northeast Kingdom cover bursting with confidence and at peace with the struggle of becoming a bird dog.