Written by: Dale Arenz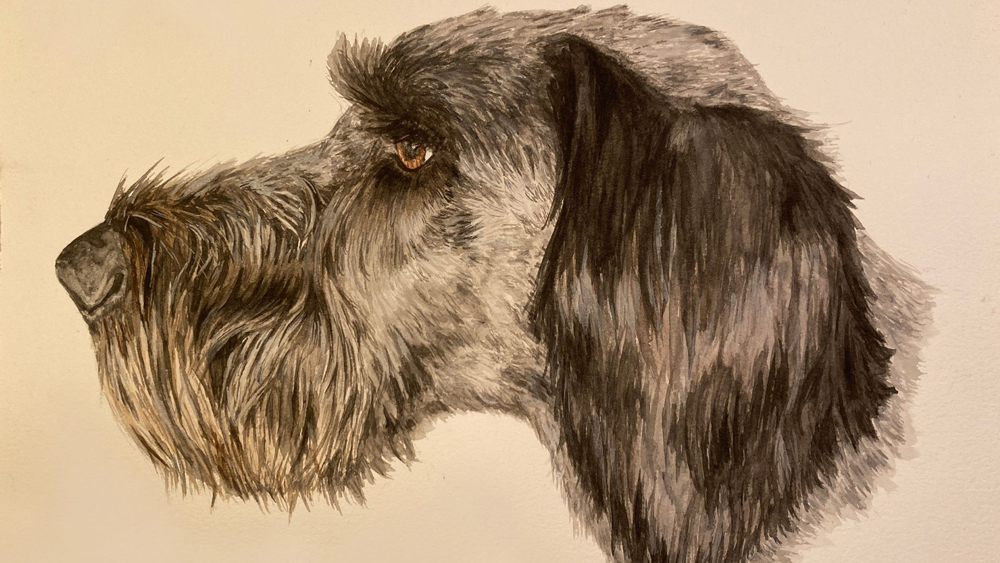 We once had a very smart German Wirehaired Pointer. Many people say dogs
can't reason, but we know better. Hans was a intelligent dog and you could tell
just by looking at him that he had wisdom beyond his breed. For example, one
time my son and I were grouse hunting up in northern Wisconsin west of the
City of Eagle River. There was a fresh layer of new snow on the ground but not
enough to make walking difficult so it was a enjoyable day to hunt both for us
and for the dog. We were walking along this old logging road when suddenly in
front of us clearly emblazoned in the fresh snow were a clear trail of a grouse
crossing our path from left to right. Because the snow was fresh we knew that
that grouse had been there very recently so we started following the track of the
grouse. We didn't notice it but dog Hans had disappeared. We followed that bird
for probably 200 yards and suddenly the tracks disappeared and we were unable
to locate where we lost them. At this time we discovered Hans was missing and
although we called him, there was no response so we started back-tracking where
we last had contact with the dog.

When we got back to the logging road where we first encountered the tracks
we discovered the tracks of our dog back-tracking the grouse to the left and after
following Han's tracks about 50 yards in the woods, here was our dog on a solid
point and upon our moving in on the point a grouse flushed out of a clump of
hazel nut bushes. We were so supprised that there was a bird there since the
grouse tracks led away from those bushes that neither of us fired a shot.
Then we stood dumbfounded for several minutes until it suddenly dawned on
us that that wily grouse was in his overnight spot, before the fresh snow, to the
right of the road when he heard us coming. That rascal bird then walked back-
wards, crossing the road in front of us and continued for that distance to where
he hid in the hazel nut bushes.

But that smart dog wasn't fooled by that grouse's cagy tactic of walking back-
wards to throw us off the trail, he went right to where that grouse stopped and hid
in his effort to elude us. I bet you thought this was a true story?