RGS expands its habitat efforts through workshop intended to enhance young forest habitat on private lands.
The Ruffed Grouse Society has developed a short course, Habitat Management Strategies for Ruffed Grouse and Woodcock, which is an outreach program designed to educate forestry and wildlife professionals about grouse and woodcock habitat on private lands. "The objective of the course is to provide professionals with additional forest management skills to work with private forest owners interested in developing or improving habitat for ruffed grouse, American woodcock and other forest wildlife," said RGS President and CEO John Eichinger.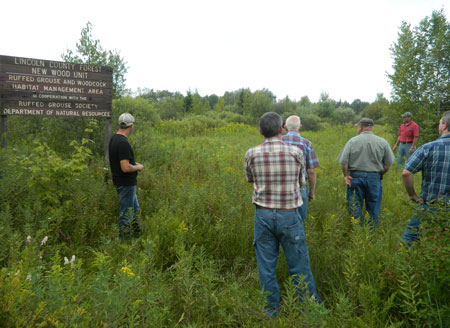 The 3 ½- hour course will be presented by RGS biologists at a cost of $25 per participant, which includes supplemental materials participants can share with forest owners as well as add to their own reference libraries. Forestry professionals will receive Society of American Foresters continuing education credits for attending the course.
For $60, participants receive an additional one-year membership to RGS and will have their name (and company's name) listed on the program's participant list page of the RGS website noting they completed the course and are proficient to assist landowners with habitat improvements.
By providing these professionals with the knowledge of grouse and woodcock ecology and the forest management techniques necessary to implement these practices, participants should be better equipped to improve habitat conditions for these species on private lands.
Forestry and wildlife professionals interested in the course can contact (412) 262-4044 or rgs@ruffedgrousesociety.org for more information.