Written by: Vaughn Paul Jones
Odessa, FL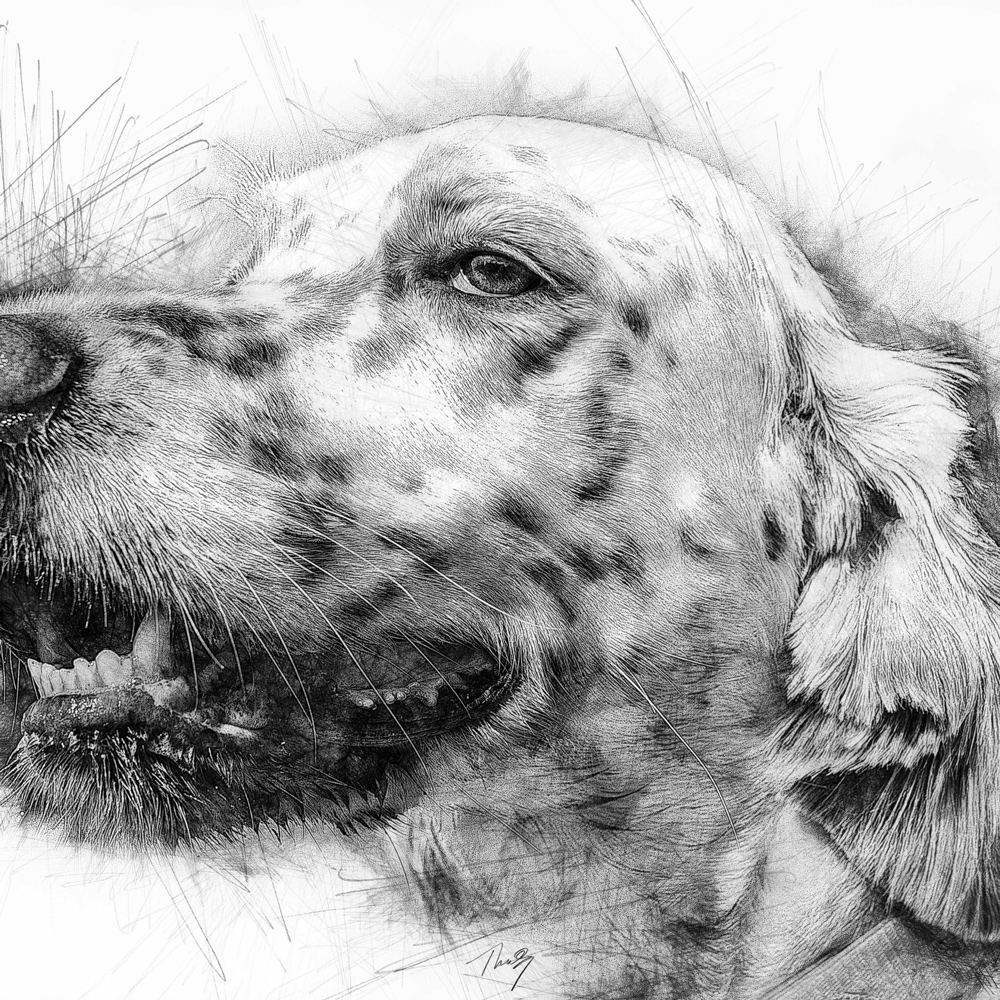 If the goal of mankind is to find true happiness, we should forego looking for ways to extend our own lives and find ways to extend our dogs' lives. The Author
A child born since the beginning of the millennium has probably been photographed hundreds of times before he or she reaches school age. This is a recent phenomenon brought on by the electronic revolution. In the middle of the twentieth century, cameras were common, but the film and processing they required was costly. Photos were often saved for special functions, the first and last day of school, the day you wore a new suit or dress, proms, weddings and the like.
In retrospect, the cost and resultant custom of the time became a barrier to the recording of the day-to-day portion of our lives, for those of us past our seventh decade on this ever-shrinking planet. Many of us feel a loss at this dearth of our recorded history.
One such period of my life that has no photo commemorating it took place over three hunting seasons. During this time, I was accompanied by my first bird dog, an English Setter named Amy. Of all the unphotographed parts of my childhood, this is one of those I miss the most.
My association with Amy started during the summer of my fifteenth year when I received a call from my Uncle Earl. He was a quiet, but jovial, man with great skill, who could fix almost anything. In subsequent years, he would teach me to re-build starter motors and generators in a bid to keep my old cars on the road during my college years. "My sister's husband has a hunting dog he can't keep no more, are you interested?"
I explained to him I would be, except I didn't have any money. Between my musical instruments and saving for college, I never had any spending money. "Oh, he'll give her to you, he just wants to be sure you'll take care of her." I assured him I would give her the best of care.
I hastily arranged to meet the owner and see the dog. I had no illusion about what this dog would be like. No one would part with a truly fine animal, I thought, not without some dollars changing hands.
When I knocked at the door, the owner directed me to the back of the house where a handsome kennel stood. Five beautiful setters cartwheeled and howled at the sight of a visitor. "They are eating me out of house and home," he confided, as he let one of the smaller dogs out of the kennel into his spacious yard. Her coat was predominately white with black ears and black on the margins of her face. Black ticking graced her back and sides. "This is Amy." The owner was a soft-spoken man, with a gentle manner befitting the most gracious country gentleman. The dog ran figure eights at breakneck speed as I marveled at her agility. "Just getting rid of the vinegar," he said.
Suddenly he raised his voice just a little and said "Amy!" She skidded to a stop and looked directly at him. "Come!" he said. The setter dashed toward him, stopped at his feet and looked into his eyes. This man never used a whistle, bells or other devices with his dogs.
Amy went home with me that day. We quickly embellished her name, calling her Amelia Earhart Jones, and soon we were in the woods together. We would cruise through the wild grape vines and fallen trees with weeds and brush collecting around them (known as downfalls) that constituted the coverts in the Allegheny Mountains of Southern Pennsylvania. The coverts provided both food and cover for a number of wild animals, including the ruffed grouse. Amy hunted without ever seeming to tire, looking back at me every moment or so.
I soon found out that she would follow my eyes and the direction I faced. I would turn toward some likely-looking cover and she would shift her body and that precious nose in the same direction, always remaining twenty to thirty yards in front of me where I could see her every move.
I usually fed her in the basement to keep any food away from the outside kennel area where it might attract rats or mice. One day after my mother had roasted a chicken and left it on the counter to cool before dinner, I stepped outside to say something to a neighbor. Meanwhile, Amy finished her dinner in the basement but smelled something heavenly coming from upstairs. When I walked back into the kitchen, there was Amy lying on top of the kitchen counter, an empty server beside her, with nothing showing but a little of the broth her tongue had missed. I walked toward her, aghast at the enormous bulge in her abdomen. She looked at me lazily and let out a burp. She had eaten every scrap of that chicken, including all the bones. Mom laughed and forgave her.
If Amy was a true pedigreed animal, I never saw any papers. But if her family history left anything to chance, her nose certainly did not. She had a way of working cover, thorough and silent, that instilled confidence in her hunting ability. With her tail always moving and riding high, she remained visible, and when it stopped and stiffened abruptly, I knew she was onto something.
My hunting friends all hunted rabbits with beagles and were reluctant to trust this new hunting companion.
"Hey Jonesy, is that dog hunting or just sniffing around?"
"Look at that long fur, your dog is gonna be covered in briars."
"That dog's not gonna run deer, is it?"
We played a lot that year and the two following years. Our woodland jaunts began in August with the short season established to allow hunters to exercise dogs in preparation for opening day. With transportation spotty, we often walked to the area we called Berkley Woods.
It was on one of those pre-season outings that an incident happened I will never forget. Amy had a couple of points that afternoon; grouse that were feeding on wild grapes. We were a mile or two from home when a storm came up suddenly. As we turned and headed toward home, a bolt of lightning hit a tree not a hundred feet in front of us, cleaving it in two. Amy fell to the ground like she'd been shot. As the rain started to pelt us, I realized she wasn't getting up anytime soon. The incident was so frightening, the dog had gone into shock. I carried her the rest of the way home, puffing and panting through the rain and the heavy cover while Amy hung over my shoulder, looking stunned.
The seasons in the Alleghenies couldn't provide a starker contrast. Springtime in Berkley Woods meant mayapples everywhere, along with the flowers of spring, wild honeysuckle, daisies, violets and early Queen Anne's Lace. Deer were active with antlers already shed, and with a sufficient food supply, started to put on weight after the sparse winter offerings.
Groundhogs awoke from their winter lairs, did a little spring housekeeping, and cared for their young. They often located their dens close to two old orchards, long-since forgotten, as the woods encroached and surrounded them. The promise of their sweet summer fruits beckoned to them early. Later, as the fragrance from the ripening crop cast its magic spell, the deer and squirrels would move in for their share.
In the springtime, we adolescents began walking through the woods with our slingshots at the ready for chipmunks and field mice, and our eyes open for signs of grouse nesting.
Berkley Woods, a series of ravines and hillsides littered with downfalls among the tall timber had nearly become a single mass of growth. Wild grape vines grew up the sides of trees, then in search of more light, spiraled crazily into space, eventually hooking up with limbs ten or twelve feet higher. Young maples and oaks arched up like lances surrounded by popple, itself poking up through the carpet of decaying leaves. This nearly impenetrable mass of young growth became thickets, and the thickets provided extensive cover. By August and early September, the leaves had turned the dark, musty green of late summer in readiness for cooler temperatures and the eventual turning of the leaves to bismuth yellow and Indian red. Wild black walnuts with their strong, sweet meats and acorns with their puckery bitterness fell, piercing the silence with an unmistakable pop as they bounced off dried leaves.
The training season was the time made to order for Amy and me. With no heavy gear, bag limits, or shotguns, I would experience the excitement of scores of generations of instinct, honed from one continent to the next, and one generation to the next. The quiet drama played out before me in the beauty of this single specimen of English Setter, who kept time to her joy with a tail that appeared to be connected to a metronome. Amy would course back and forth, up and down hills and through tangles of brush, displaying her amazing talent for finding the quickest and most evasive of game birds, the ruffed grouse.
We happily tripped over roots, panted while we climbed hills, and bled a dozen places from thorns borne on the canes of wild roses and wild raspberry bushes. Amy accomplished all of this with her tail wagging unceasingly, while I alternated between a grimace from the pain and a wide grin at the pleasure of seeing such skillful work. On point, she struck a classic pose, completely immobile save for an excited quivering in her withers and occasionally her right back leg. Her nose pointed straight ahead, ears cocked, and tail erect.
Eventually, hunting season arrived. By now, I had gone through my boot ritual requiring multiple coats of neat's-foot oil and a new pair of socks that were heavy enough to help my feet withstand the cold. Paper shotgun shells sat on the radiator in the kitchen driving out any dampness to be certain they would fire without fail.
Early in hunting season, before the first snowflake fell, we would usually experience a period of chilly rain. A thermos of hot tea always swelled my hunting coat. Hooded sweatshirts became our constant companions.
"That dog smells worse than my beagle when she's wet."
Soon an early frost would touch the earth, and the sound of hickory nuts falling would be fast and furious for a day or two before the woods would be silent once more as a tribute to anticipation of the first snows.
Wherever we found ourselves hunting grouse, Amy went to work quickly, her nose alternating between following the scent on the ground and in the air. When we were fortunate enough to get a shot and knock one down, Amy went about retrieving. Occasionally, a grouse would drop in heavy cover that was all but impossible to walk through. Not for Amy. She went through the heaviest tangles, always finding a path through the scrub. Soon she would emerge, her head held high, the bird in her mouth. She knew her job well.
An area above Soap Hollow became a favorite for hunting ruffed grouse. Soap Hollow would later become famous for a distinct furniture style that is said to have originated there. One hunting trip followed a foot-run home from school at breakneck speed, and a blast in my friend Morgan's family Chevy to a secret place a few miles away. With an hour and a half of daylight left, there was no time to lose. The Chevy took us up the mountain through Soap Hollow. The road, a crazy patchwork of black top, was barely more than one lane wide. The woods had been carefully logged leaving sparse stands of oak, tulip poplar, and maple, with dark thickets growing beneath. While Amy rid herself of the vinegar, we put our double-barrel shotguns together, Morgan with his 28 gauge and me with my 20 gauge. We walked through the heavy cover and came to an opening with lower growth where Amy went on point. Instead of standing erect, her tail proudly in the air, she crouched low to the ground with an odd expression on her face.
As I walked up close behind her, Morgan yelled "rooster!" A large cock pheasant took off, the bird's shrill metallic cackle piercing the air. We had grouse flushing up in this location all the time. This was clearly grouse cover, grouse not pheasant! Amy had been raised and trained on grouse. I learned that day she crouched low to the ground and had an almost sneaky expression when she located a pheasant.
The four-county area we hunted was mostly a mountainous tangle of brush and vines. There were so many places we hunted grouse, that I could not number them.
Much of the land in these four counties remains wild to this day.
Grouse are not propagated like quail or pheasants. There are few pen-raised ruffed grouse. They thrive and then seem to nearly disappear in seven-year cycles. According to one source, few fall to guns with ten out of eleven lost to owls, hawks, and other predators.
"You missed, Jonesy. So did I."
One trip to the southernmost of the four counties, I made by myself with Amy by my side. While working a hilltop, she approached a downfall. I lost track of her momentarily, and suddenly heard a wild flapping sound as she walked out of the brush, her head held high, a live grouse in her mouth. Did the bird hold so close she was able to just reach out and grab it? I will never know. She walked over to me and proudly deposited the bird at my feet. I stood grinning and muffling a laugh, while it righted itself and took wing.
A hunter who can achieve more than three flushes a day when he or she can actually see the bird, is doing well. Taking one bird per day is considered good. The limit was two birds back then. Many days even the most experienced grouse hunters will return home with an empty bag.
"With all the dried leaves, the grouse will hear us and flush wild a mile away. Why don'tcha leave the dog in the car and we can sit for squirrel?"
After graduation from high school, I headed off to college in the next state. Knowing I would not be back for hunting season, there was no way I could justify keeping Amy by asking my mother to care for her. With much sadness, I decided to give her to a guy three years younger than me in the hope that they could have the kind of experience Amy and I had. As I walked away that day, fighting back tears, I tried not to think of life without this incredible dog.
I know that Amy has been gone many years, but I think of her often. Without a photo to record our time together, I sometimes close my eyes and see her bounding across a field, disappearing into another downfall one last time, her tail keeping time, to a beat only she hears.