Written by: Daniel Riley
Winslow, ME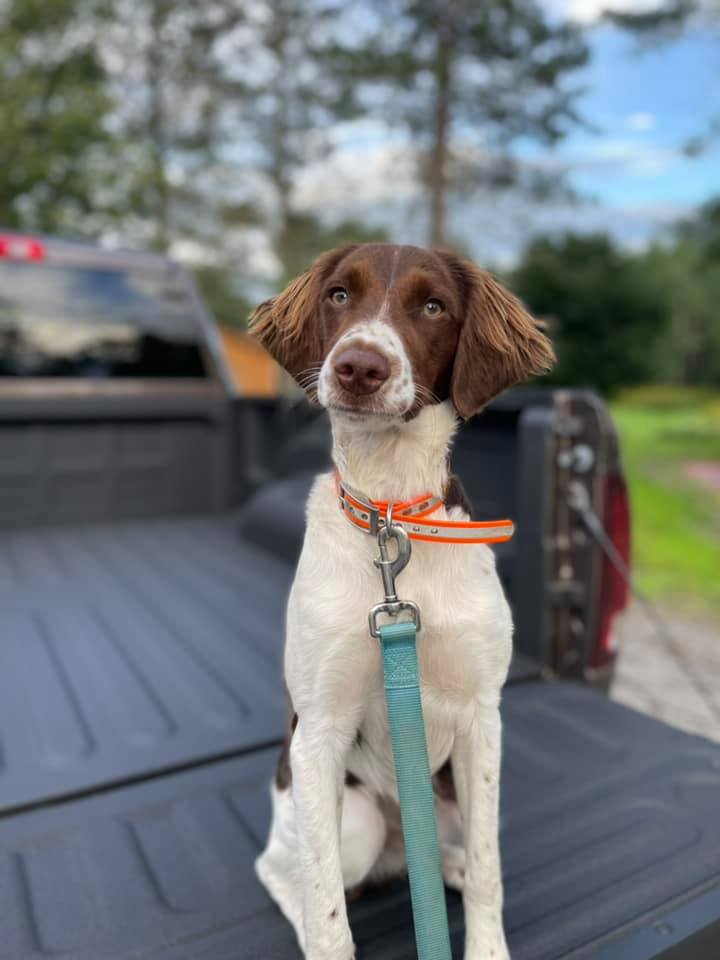 I am in awe with the eb and flow of life.  To think my mid-life crisis would evolve into my greatest passion is sometimes even a mystery to me.  Imagination can be squelched by the complexities of life.  Yet, at almost 40, I was invited to go bird hunting behind a lab.  I think I mostly carried that Remington 870 pump shotgun in the woods watching others kill birds behind that nice dog.  My first bird hunting season helped me experience many magical moments in the Maine woods.
Although bird hunting has been my greatest struggle, I managed to find an ad in a local magazine about a Wirehaired Pointing Griffon. My wife, Linda, was immediately smitten by this odd-looking hunting dog. Rosie and I worked at some of the basics with the help of several different trainers, but my dedication and persistence were not where it needed to be to bring her hunting skills to the next level.
My ability to find good bird cover and lack of shooting skills made my successful hunts difficult. Most of my kills were lucky shots like a blind squirrel. My wife would often question the logic behind my interest for this form of hunting since I had progressed somewhat more successfully with the other game I pursued. She didn't understand the beauty of my bird dog weaving through the magnificent landscape on a fool's hope that I would find my dog rock steady on point, stole my heart and filled my soul.
My fondest memory of hunting with Rosie was at the end of an evening hunt where I located a single feather following my shot. The feather was but a thumbnail in size. We were close to the end of the cover, but I decided to take Rosie back to the path where I saw the woodcock go. Like a freight train, Rosie busted through the brush down the hill and to my surprise she returned with the woodcock to my hand. Many years later, Linda decided to go bird hunting with me for the first time. We stayed at Cathedral Pines in Eustis, ME. Linda was able to appreciate my passion when she witnessed Rosie's natural ability by pointing two woodcock that I killed.
Life can take many turns. Rosie injured her knee on a snow shoeing excursion. This injury sidelined her from bird hunting. This unfortunate event simultaneously happened when a family member's medical situation needed our full support and attention.
Bird hunting behind my dog was no longer an option. If it wasn't for a good friend, Jason Hawes, and his fantastic dog, Gus, it would have been more than two years before bird hunting called to me again. I knew after that hunt with Jason and Gus that I was ready to get another bird hunting dog.
Letdowns and obstacles are part of this life but somehow luck would favor this late to the dance hunter whose heart still beats like a teenager and body reminds him that he is not. I was crushed when an opportunity to get a Brittany puppy fell through. With my wife's support, I pursued a puppy and eventually found one. Jason encouraged me to contact a professional dog trainer named Jason Carter. Jason accepted my request to be my trainer for a puppy I hadn't even picked.
After my first bird dog, I knew I needed a trainer to help me with my new family member and future hunting partner. I was in awe by Jason's skills and character. My experience to help Willow develop into a well-adjusted pet and set her up to become a hunting dog was amazing. I drove an hour one-way every week with enthusiasm and energy like a bird dog in the scent cone. No one had ever helped me relax and reassure me that I was up to the task to give Willow everything she needed to bring out the best that she had to offer. He showed such zest with his willingness to help me and Willow grow and learn. As an educator, I am very familiar with the art and science of teaching. There are not many who can be exceptional at both. After almost 25 years in education, Jason stands out as one of the best I have ever met.
I have learned many great lessons about bird dog training including timing. Although I wish I started hunting sooner in life, the timing for me to try to become a better bird hunter was substantially increased by Willow and Jason. They both have such God given talent that makes me feel blessed every day. I am not sure how long an average man like me has left to pursue his dream. I know my passion has always sustained my determination more like a bull crashing through the terrain. I now walk with more intentional steps toward my goals with the highest level of hope than ever before. My eyes are glowing with a big smile to match my imagination when thinking about the next magical moments in the Maine Woods.