Written by: Joseph Collins
Mount Airy, GA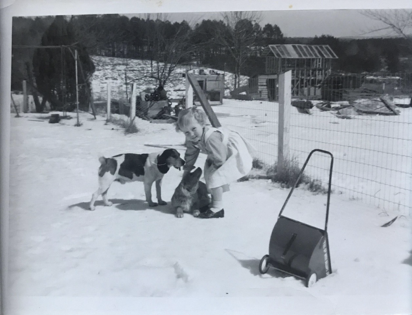 Albert Einstein is said to have defined "Insanity" as trying the same thing over and over and expecting different results. I believe he was referring to his quantum theory when he said it but the saying holds true in other applications. I'm sure we all have some aspect of our lives that would classify us insane by Einstein's definition. For me there are several. My monthly budgeting strategy, my morning routine to ensure that I leave for work on time, or disciplining my 5-year-old son. But there is another more unique one and that is my grouse hunting habit. Each year I welcome another season in the Southern Appalachians with high hopes of glorious days afield where I'll get one bird in my game bag and then let the rest of the birds the dogs find fly away unharmed because one was enough. I head into the mountains using the same tried and marginally true tactics as the year before but a funny thing happens. The results are always the same as the year before, not different. I have just enough moments of "success" to keep my hopes alive for another year. Why do I subject myself to this year after year? Why do I bother to grouse hunt in Southern Appalachia at all?
My dad, Mike Collins, is a hunter and outdoorsman through and through. To my mom, brother, and I we have only known him to read two books in his entire life; Shots at Whitetails and Deliverance. He has always been a loyal fan to the Atlanta Braves with the Atlanta Falcons in close second, but I've never known him to miss a hunt for the sake of catching a game. He was born and raised in and around Toccoa, GA. Anyone who has seen the old HBO mini-series Band of Brothers or read Stephen Ambrose's book about the 101st Airborne in WWII should be familiar with Toccoa as it is the home of Currahee mountain. My dad was taught to hunt and fish by his grandfather Henry Brown and his uncle Joe Brown, or Daddy Brown and Uncle Joe, respectively, as they were more fondly called. In those days the whitetail deer weren't as abundant in Northeast Georgia as they seem to be now, but small game was. My dad spent many days fighting through briar thickets with Daddy Brown and Uncle Joe hunting rabbits. They hunted with and without the aid of beagles. Daddy Brown carried a single shot 12 gauge and according to my dad, he never missed. Uncle Joe was somewhat of a gun collector and I don't know that he was known to always carry the same gun, but he was known to favor a 20 gauge. The one gun I've heard the most stories about was a light weight Franchi. When uncle Joe passed away in 2019, I inherited a rather large amount of shotgun shells, a bulk of which were 28 gauge. I asked my cousin, Joe's son, when did he ever have a 28 gauge. "He didn't. His thought process was more like 'I better get these 28-gauge shells in case I ever get a 28 gauge'". I felt that in order to properly honor his legacy I was obliged to get a 28-gauge. I bought a light weight Citori 28-gauge from a retired co-worker a month later. I'm sure it made him proud!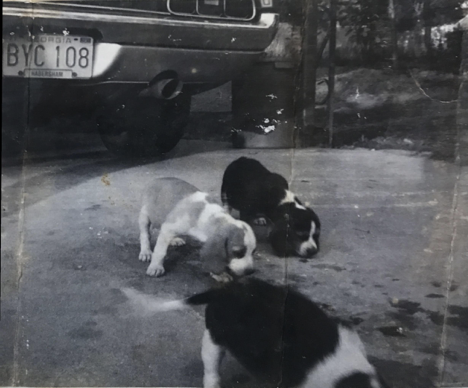 Also, on my dad's side of the pedigree, there in the same column as Uncle Joe, was Uncle Bruce. Uncle Bruce was a bird hunter. I never met him but have been told he favored a Belgian made Browning Sweet Sixteen. He did hunt with dogs and had what my dad referred to as merely "bird dogs". Further inquiring revealed that these "bird dogs" were black and white with a few patches of brown along with longer fur on the ears and legs. Aha, Tri colored English setters. I'm sure that Uncle Bruce shot some grouse but my understanding is that he mainly targeted quail or as Daddy Brown called them PAH-TRITCH. I know my dad hunted with his Uncle Bruce a few times but it wasn't often. Nevertheless, there was someone in my bloodline who liked to bird hunt.
My mom, Jeannie Collins, despite growing up in the rural Pea Ridge community is not an outdoorswoman. She likes shopping and HGTV. Nevertheless she never did anything to hinder my brother and I from getting dirty and exploring the outdoors. She made a lot of sacrifices over the years to accommodate living with three males who loved the outdoors. There is however other genetics out that branch of my pedigree that lend to my habits. My grandfather, Erford Harrison, and grandmother, Bobbi Harrison, grew up poor in the Pea Ridge community through the tail end of the Great Depression. My grandmother's family were sharecroppers and farmed the river bottoms of the Chattahoochee River a few miles above what is now Lake Lanier. I always liked hearing her tell stories of growing up because it seemed so unreal to me. One of the relevant things she talked about was her father having Fox hounds. Apparently, a lot of people had fox hounds in those days. I asked what they did when they killed a fox and she told me that wasn't the point. Hardly ever did anyone see the fox that the dogs were running. It was more of a bragging rights type of affair. Everyone knew which dog was theirs based on it bawl as it trailed the fox. I think these dogs would tree racoons and opossum as well. Given the poor times it wasn't unusual for my grandmother's family to eat racoon or even opossum. One of the last times I talked to my grandmother I was quizzing her about where people went to get hounds back in those days. She thought for a minute and said "Well, it seemed like there was always somebody around with a litter of puppies. There weren't no dogs that came to Pea Ridge on an airplane. That's for sure!" She was alluding to the way my brother and I might would acquire a dog. I suppose the whole idea of getting a dog from so far away was completely foreign to her.
My grandfather, Erford Harrison, liked hounds as well. When my mom was a little girl, my grandpa always had a pack of beagles. If you ever ask him about rabbit hunting, he will be quick to tell you that he liked hunting for the dogs. He never liked it if someone shot at a rabbit as soon as it jumped. He liked to hear the dogs run for a long time. I never knew him to really like pets, but he's always shown interest here the past 10 years or so in the hunting dogs my brother and I have. Interestingly enough, when I got my Labrador 9 years ago, he asked me if she would point. At first, I thought he was mistaking her for some type of pointer but he told me that he used to know people who said their labs would point. Then low and behold I found out there is such a thing as a pointing Labrador and to the best of my knowledge these lines of pointing Labradors were established by tracking down old timers like my grandfather who knew of a lab that pointed and then following the blood lines from there.
So, by looking back just a few generations on my pedigree there is sufficient evidence for a genetic predisposition for enjoying the pursuit of an animal with the aid of a dog. I subscribe to the bird dog trainers who promote finding a dog with the right genetics and then developing that dog through experiences that refine those genetic instincts. I believe the same could be said for me. It makes sense by looking at my heritage why I might engage in such a non-productive sport as grouse hunting, but what experiences have kindled those dispositions?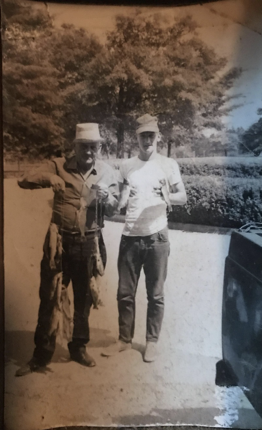 For my childhood, our routine for the most part was deer hunting in the fall and trout fishing and turkey hunting in the spring with little league baseball mixed into both of those seasons. I certainly have good memories of time spent in the woods deer hunting, but it never resonated with me the way it does with my dad and brother. The best times I had were when we would go on what was called a "various small game" hunt. Sometimes this was just my brother and I wandering around the back 60 or so acres of hardwoods of my grandparents Pea Ridge farm. I remember one day in particular; I shot my first squirrel with a single shot .410. It was so high in a tree that my brother had to place another shot with his 12-gauge Remington 870 express to break all the limbs holding the bushy tail from falling to the ground. When at home, there is no telling how many hours I spent prowling the 3 acres around our house with my lever action Red Ryder style BB gun trying to stalk squirrel and chipmunks. The bottom line is that I leaned towards small game hunting.
My dad's best friend who was like an uncle to my brother and I growing up owned a good amount of acreage in Jasper County. One year when I was in 7th or 8th grade, we made several post deer season trips down to his land for a "various small game" hunt, but this time we did something even more exciting to me. We brought along one of our Labradors, Kate. Kate was a female black Labrador. She was as pretty as she was smart and manipulative. Even though I was only around 3 years old, I can remember the day my dad and brother brought her home. As a puppy she tested the fence of our back yard to expose all of its weaknesses. She chewed down pretty much our entire back porch. She would steal our neighbors leather boots off of their carport and for her entire life she would occasionally take a notion to up and leave for hours at a time. She was never really purposed as a gun dog, but she was gamey and bold so my dad wanted to bring her along to help jump rabbits out of brush thickets. She would go right to work fighting through briar tangles searching like she had been hunted with a pack of beagles her whole life. Later in the day as we moved into a creek bottom something really cool happened. Kate got gamey, pushed into a tangle of briar and privet and teet teet teet teet teet teet. A bird exploded straight up into the air and then took off in an erratic flight pattern further down the creek bottom. This scene continued to repeat itself as we moved out of the creek bottom and along the edges of the field where Casey's house now sits when someone, I don't remember who, finally connected on one. I can remember all standing there looking at this funny looking bird with a long bill and my dad and Casey recalling that it was a "Timber Doodle". I was too young then to have thought much about it but I believe that might have been one of the most exciting hunting experience I had been a part of.
Whether it was climbing up a mountain ridge to get to a deer stand or descending through mountain laurel to a trout stream, it was a common occurrence when I was younger to be scared to death by the sudden thunderous thrashing of wings and breaking branches like the sound of a small helicopter leaving the ground. "Grouse" my dad would always say as we stood there startled. I never really thought of them as a bird to hunt until I was in high school. One afternoon my brother who was already in college at the time got out his shotgun and told me that we were going to go grouse hunting. We walked to a spot where an old logging road was carved in the foot of a mountain and just below it was a long flat bottom full of mountain laurel. We had unintentionally flushed grouse out of this area many times before on our way to a favorite trout fishing spot. We started wading through the waist high cover. We hadn't gone far when about 40 yards ahead of us whoosh whoosh whoosh whoosh whoosh to which my brother responded with Boom…Boom…Boom. The grouse sailed away unscathed. A scene that would play out again and again in our grouse hunting future.
In 2013, my wife and I had been married about 2 years when she started talking about wanting a dog. We were living in Colorado at the time but preparing to move back home. I grew up with Labradors so I couldn't imagine and wouldn't entertain the idea of any other type of dog. Being completely ignorant to anything related to dogs or hunting with them, our search consisted of Google searches for "Labrador puppies". I came in from skiing one night when my wife met me at the door with her laptop and showed me just born chocolate Labrador puppies. We called the person selling them that night and after I asked a few questions I was assured this would be a good hunting dog. We went ahead and paid a deposit on a puppy that night because if we didn't who knows how long we would have had to wait to find another litter of Labrador puppies (yes, you can laugh). Six weeks later we had a cute little chunk of chocolate lead. We named our little fur baby Maggie. She was an absolute horror. My dad, who had owned 7 or 8 Labradors at this point, said he had never seen anything like her in his life. She nearly brought me to the brink of a nervous breakdown several times, but I was determined to keep her and not only that but to make her into a hunting dog as well. To my knowledge there was only one book ever written on training hunting dogs. Training Your Retriever by James Lamb Free. According to Free's program, Maggie would need to stay in a kennel unless she was either hunting or being trained. After a few sessions from Free's book I determined that Maggie should be given to someone else as she would never be trained to be a good hunting retriever. I knew we wouldn't get rid of her so I only complied with the part of giving up on training her to be a retriever. When she was a couple months old, I somehow stumbled across the book Water Dog by Richard Wolters. This book was the gateway to me realizing there existed this whole new era of gun dogs. Dogs that lived inside with the family and hunted in the field. I started over with a different approach to training Maggie. Soon I had a dog that would follow hand signals to a specified bumper I had thrown. She was still a terror and it would take until she was nearly four years old before she would not break when I shot a dove but she was and is an integral part of our family.
My original intentions for hunting with Maggie was for her to be a duck dog. What I didn't realize was that thanks to the show Duck Dynasty everybody and their brother had grown a beard and was a duck hunter now. Duck hunting in my part of the country was something that had gone from marginal to nearly impossible unless you have a good swamp on private land. Consequently, I decided I would focus my efforts on upland birds. Little did I know that would be an uphill battle as well. I started out going to all the old spots we used to flush birds unintentionally as a kid, but I encountered my first problem. The birds weren't there anymore. So it went for a year or two. I would aimlessly wander through the mountains reminding Maggie to "hunt it up" for hours and we would never find a bird. Finally, we started traveling out of state to hunt and were able to see a good number of birds. Even so I really wanted to find grouse at home. After several years of no success, I was ready to give up pursuing grouse entirely. My second child had just been born and I had assumed my hunting season was over. However, to my surprise my wife overheard me talking to her younger brother about going grouse hunting and suggested we could go the next weekend. I gladly accepted the offer. The hunt went as normal at the beginning. We gained over a thousand feet of elevation in less than a mile and went to fighting mountain laurel and rhododendron as we made a large circle on the side of a mountain. I had walked the first hour or two with my gun up at a ready position in anticipation of a bird exploding up into the air at any moment. As usual though, my enthusiasm eventually waned and I dropped my gun to be held with one hand at my side. I had pretty much given up hope for the hunt yet again. So much so that I didn't even pay attention until after the fact that Maggie had kicked it up a notch or two out in front of us. I had one leg hiked over a fallen tree when all of a sudden, I heard an old familiar sound. I looked up in time to see a big red phased grouse exploding up from the ground. The big solid black tail band is still as vivid in my mind as the day that it happened. If I had actually been ready, it would have been a very reasonable shot attempt. That did it. Maybe hunting grouse wasn't completely impossible.
I took note of all aspects of the area where this grouse was and went into the next season targeting similar areas. Similar results. I was on the right track though. At this point in her life Maggie was an outstanding retriever and would tear apart a woodcock cover, but being older and mature she didn't hunt that hard in the mountains for grouse. I suppose she knew it was futile. I realized that in order to take the next step in pursuing these mountain birds I needed a dog that would cover some ground. I spent close to a year searching for where I would get my next dog from. I wanted either a Brittany Spaniel or an English Setter. I would find a place that had dogs that looked the way I desired but for one reason or another it didn't seem like the right fit. Then one day, and I still don't remember exactly how, I stumbled across the website for Northwoods Bird Dogs. They had the tri-colored English setters that fit the description of the dogs Uncle Bruce had. I called that day and spoke with Jerry Kolter and Betsy Danielson. For a change they asked me more questions than I asked them and I knew that these were the people I wanted to get a dog from. A few weeks later I sent in a deposit for a puppy. Not realizing how prominent this kennel was in the bird dog world I spent the next year pestering them with emails and questions. I suppose I thought they would be as excited about me getting one of their puppies as I was to get one from them. My original plan was to hopefully get a puppy whelped in South Georgia where they spent the winters working dogs on quail and I would just drive down there to pick it up. However, no puppies were whelped in the fall of 2019 and because of the evolving pandemic of 2020, Betsy and Jerry had gone home to Minnesota earlier than normal that spring. I didn't want to have to have a puppy flown to me nor did I want to drive 18 hours with a 10- to 12-week-old puppy but it turned out there was a better plan in store. Northwoods Cosmos, a 1-year puppy who had been worked on wild birds for an entire season, would be available. It didn't take much pondering to realize this was a great option for me. My wife and I flew to Minnesota in June of 2020 to pick up Cosmos at the Northwoods kennel. You can't imagine more knowledgeable, yet kind and accommodating people, than Betsy and Jerry. After a few hours at the kennel, we were on the road to drive back home with Cosmos. I instantly loved this new dog, but would have to endure the wait of summer before I could turn him loose on birds in the fall.
I started my 2020 season a few states north from home along the Appalachian Mountains. No sooner had I gotten to the general area of where I wanted to start hunting when a grouse crossed the dirt road in front of me. I immediately backed up 40 yards or so and parked on the side of the road and waited several minutes before turning Cosmos loose. This would be our first day hunting together and I was concerned that after a 6-hour truck ride, he might blow through a bird even if he smelled it. He kicked up the dirt and rocks as he blasted away from me and turned up an old skitter road that veered to the right in the same direction the grouse had crossed. He was moving like lighting when he crossed the scent of the bird. He did an about face, took a few slower steps back towards me, and then locked into a solid point with his head lifted high and tail straight up in the air. I couldn't believe this was actually happening. This dog can point a grouse!! I got to within 20 or so yards of where he was standing facing back towards my direction when the big grouse went thrashing into thicker cover over my right shoulder. This scenario would set my hopes probably a little too high for how the remainder of the season would play out, but it was a great start!
The pivotal moment of the fall was a month or so later when I was hunting back up in the same area. I had found a spot where the cover looked ideal for grouse, but had not moved any birds on my previous trip. At this point I had seen Cosmos point a half dozen or so birds but had only shot one or two woodcock with him. I really wanted to find a grouse. I was headed in a direction back towards my truck when I heard a faint sound that might have been a grouse flushing wild. I decided to make a big semi-circle back to the area I thought I heard the sound coming from and Cosmos handled in the same direction. I saw Cosmos acting birdy in an area of thick vine tangles along the edge of an old logging road so I hurried to move that direction. I could tell Cosmos was working to locate a bird and this didn't look like woodcock cover. My adrenaline started pumping as Cosmos eased into a point. No sooner had he established a point when a red phased grouse came thundering out of the tangle crossing right to left in front of me. I threw up my shotgun and pulled the trigger Boom..Boom. The grouse crumpled and fell in the edge of the opposite side of the old road bed. Cosmos and I were both racing to the bird and he beat me to it and scooped it up in his mouth. That moment made all the unsuccessful trips, the miles walked, the money spent on dogs, gear, hotel rooms, and hunting licenses all worth it. It was almost spot on to the scenarios I had day dreamed about for years.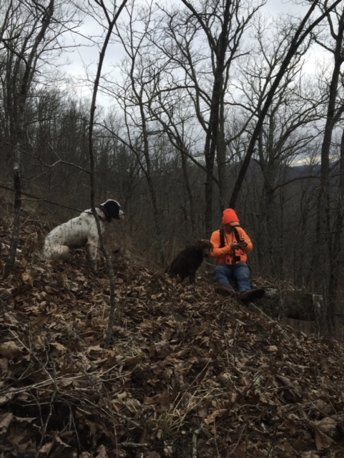 The rest of the season had plenty of exciting woodcock hunts. I got to hunt Cosmos and Maggie together for woodcock and also got to take several youth on their first bird hunt with dogs. I had a few more grouse contacts but no great points or birds brought to bag. But it didn't matter because I had all that I needed to keep my foolish hopes alive for another couple seasons. Will Cosmos be a sure enough grouse dog? I'm starting to realize that I'll probably never be able to put him on enough grouse to really know, but it doesn't matter because he's a good boy and very exciting to hunt with.
Like my Labrador, Maggie, I'm starting to be more and more realistic about finding grouse in the southern Appalachians, but that doesn't mean I'll stop looking for them. I think they will be back one day. It probably won't be soon but I do believe I'll see it in my lifetime. But even in these lean years I have no choice. I'm genetically prone to enjoying the hunt and I've been blessed to have the experiences to keep my high hopes alive!