Written by: Alex Jones
Vineland, Ontario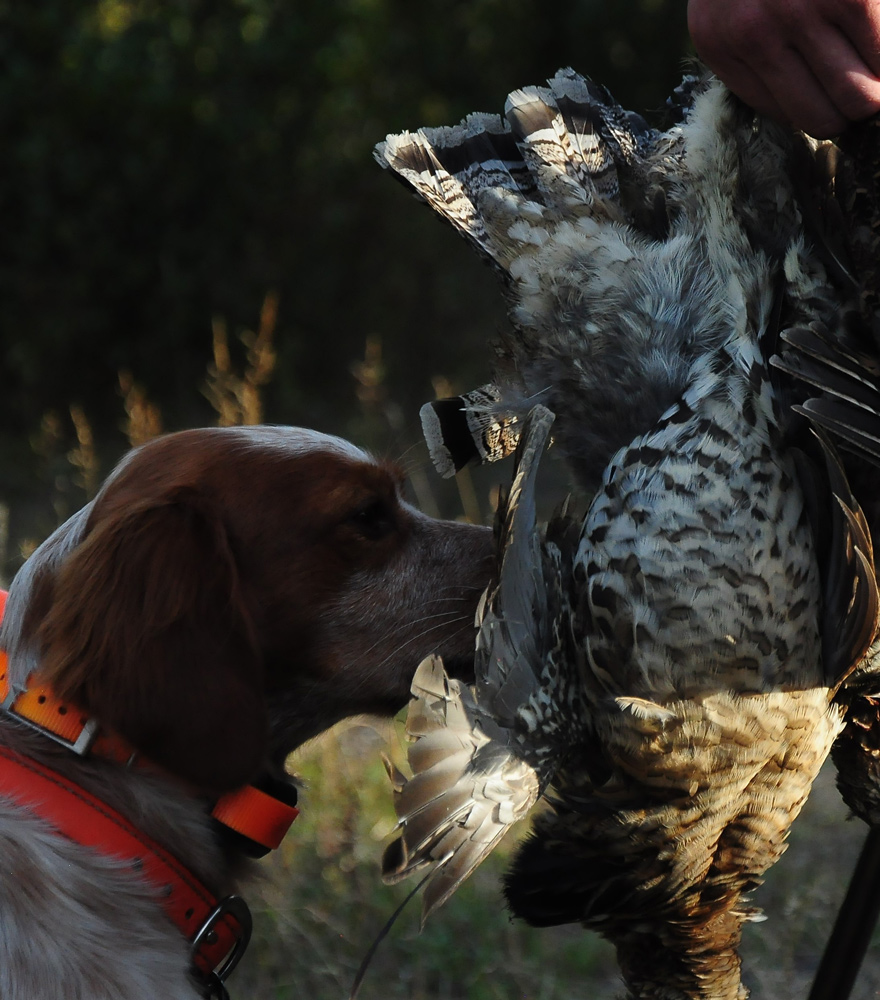 While we stood over the remaining two puppies in the litter, my heart was filled with anxious feelings. "The male or the female?" I thought to myself, "this one seems more independent… what if I pick a dud? I can't afford to start over if I screw this up" I broke the intense silence asking the breeder "could we have a look at the parents again?" As we walked out to the kennel, I was racking my brain trying to remember every bit of information from the hundreds of articles and videos that I had poured over in an attempt to become an expert in early bird dog identification. Seeing the adults again provided little in the way of answers, I had exhausted every tip and trick. All that remained was the choice, crossing my fingers behind my back, and with a bit of a wince, I pointed at the young male, "I think we are going to take this little fella." And with that we were the new owners of a beautiful young male French Brittany.
Being a first-time bird-dog owner and novice grouse and woodcock hunter, it was as if all the pressure of the next ten-or-so seasons, stomping around in the tag alders and blackberry canes, was on my shoulders in that moment.
The frustrations and questions that surfaced when attempting to take a rambunctious puppy to a confident bird dog were not something that I was prepared for. Many nights of sleep were traded in for the over-analysis of "why did he bust that planted pigeon?" Days were spent considering the reality that this dog may not have what it takes… "bad genes… must be bad genes." Worst of all was the thought, "Maybe I made a mistake… was I too aggressive? … was I not aggressive enough? Maybe he can still be a flushing dog?"
Our first season got off to a rocky start, the pup was still brand new, but we had conquered the gun and bird introductions. Basic commands and obedience had been coming along nicely, "this will be our training year" I said to myself. I had done all the reading and research and had become a self-proclaimed expert. As the sun broke through the clouds on opening day, both hunter and dog had their heads held high. As we set off into the cover, I thought to myself, "Just ten more steps and we should have our first bird of the year…" This fantasy was quickly squashed by the sound of wingbeats off in the distance and a pup that would rather polish my boots than range out 20 yards. Over the course of the first season birds were busted and shots were fired. No amount of reading or watching could have prepared me for the real thing. The spring and summer following our training season were filled with re-grouping and new approaches. We worked on confidence in the field and obedience, many nights were dedicated to procuring training pigeons from under the overpass.
The opening day of season came, we loaded up and headed north. Once again, the season began with busted birds and frustrations… but there was something different about the dog…
We set out down a rain-soaked trail; the silence provided by the damp leaves amplified the sound of the clanging bell. In an instant a new sound filled my ears; in the absence of a ringing bell the tone of a beeper made my heart began to pound. "Surely that thing is broken" I thought to myself as a crept toward the noise. I slipped under a sapling and thirty yards in front I could see the young dog rigid with his head low, his sides heaving with every inhale. "Eyes up, walk in with confidence…" I told myself as I made my way toward the thick tangle of raspberry canes. As I took the third step an explosion of feathers barreled out of the tangle, my body took over as the wood of my twenty-gauge side-by-side met my cheek. Swinging from left to right my eye caught up with the auburn blur of a red-phased grouse; I squeezed the first barrel off, and the bird folded, tumbling into the ground. I stood in silence for a moment taking in the smell of burnt powder as I watched a feather float and twirl in the slight breeze until in touched down. As the feather returned to earth, I snapped back into reality, I felt the tension in my shoulders subside, my jaw became unclenched. As I walked up to the young pup with his head buried in the warmth of the feathers, the frustrations and hours of reading, watching and pestering trainers faded into the background. The pup shook the feathers from his mouth, as I felt the weigh of the bird slipping into my vest. "Good boy" I told him whilst patting the top of his head, "good boy…"