Photo by: Tim Flanigan
The second year of Michigan Drummer Survey data is now available. Since the pause in the survey in 2015, a lot has happened with the ruffed grouse population across the Lake States. The threat of West Nile Virus was a likely factor in the acute population collapse in 2017-2018 and research has shown that the effects of climate change will likely destabilize the regularity of the ruffed grouse drumming cycle into the future. RGS & AWS Great Lakes and Upper Midwest Forest Conservation Director Jon Steigerwaldt provides the following observations:
Right now, with 2 years of renewed drumming surveys in Michigan, it's difficult to determine where the ruffed grouse population sits in terms of their natural cycle and historical population trends. This is especially true when compared to states like Wisconsin and Minnesota. Historically, all three states have been in relative step with their population cycles. However, in 2023, Wisconsin saw its third consecutive year of decline in the survey data while Minnesota saw its third consecutive year of increases. We do know that while ruffed grouse face a multitude of habitat concerns across their range, there are still good populations of birds to be found in the woods of Michigan. That alone should be reason enough for the diehard ruffed grouse hunters and conservationists among us to get out into the woods this fall.
Key Points:
The number of drums/routes appears to be low-mid range for the Upper Peninsula and Northern Lower Peninsula compared to historical results. Michigan is likely at the bottom of the population cycle.
Southern Lower Peninsula results are lower than historical results.
97 routes were run in 2022 and 116 routes were run in 2023. There was no statistical difference between common routes run in 2022 and 2023.
Graphs below include data from all routes run in both years. There was an increase in routes run especially in the Upper Peninsula that may affect comparisons between 2022 and 2023.
Ruffed Grouse Drums Per Route Statewide – 1990-2023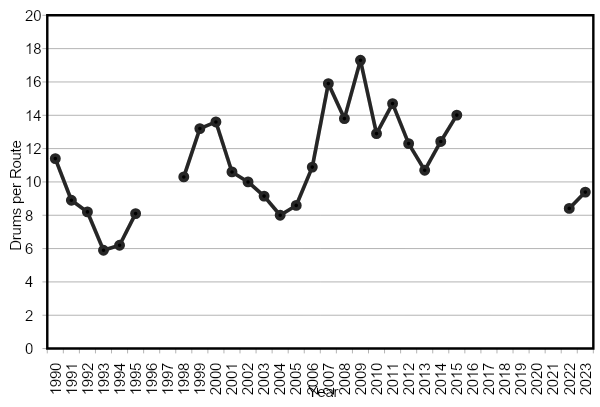 Ruffed Grouse Breeding Index (Average Number of Drums Per Route Statewide) in Michigan – 1990-2023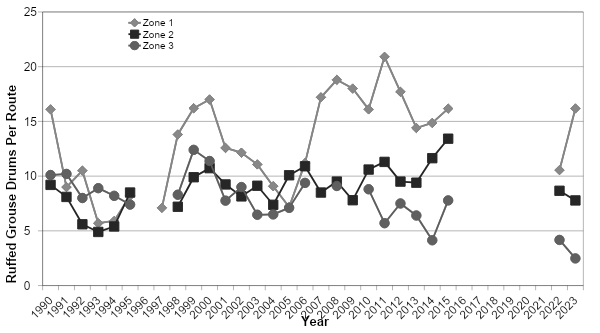 Ruffed Grouse Breeding Population Indices From Michigan (Drums Per Route), Minnesota and Wisconsin (Drums Per Stop) – 1990-2023