Written by: Rob Bunday
Delton, MI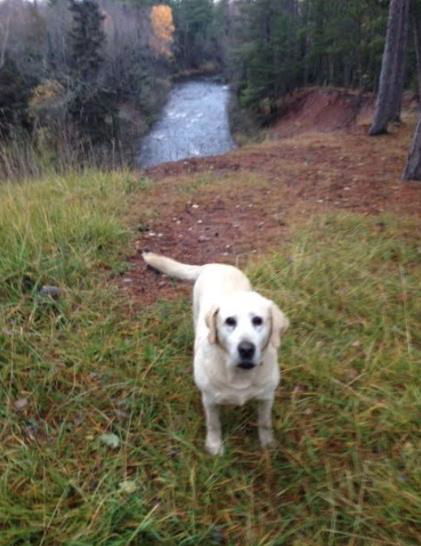 All hunters need a tutor; ours was a dog. Born near the shore of Lake Superior, George was a large Yellow Labrador who, for twelve wonderous seasons in the north country, taught two of us the art of hunting grouse. While some employ a finely tuned pointer or perhaps an athletic flusher as their dance partner in the upland thickets, George, an amiable canine chap, was neither finely tuned nor overly athletic. In many respects he bore a striking resemblance to those who hunted with him – fond of good food, a bit out of shape, perhaps slightly lazy at times, but always scheming to go play outdoors. With this briefest of insights provided, it seems prudent to share a few stories of lessons learned from and life with George.

As amateurs, our pre-canine grouse hunts were low success affairs. Aside from knowing grouse were residents of the young forest, and stumbling onto the errant bird, our knowledge of habitat requirements was limited. When George arrived on scene, things began to improve. In marginal habitat, despite urging to the contrary, George would walk alongside displaying a generally unenthusiastic demeanor. In good habitat, however, he'd readily take the lead and one could see his level of enthusiasm improve considerably. Simply based on whether he was alongside or out in front, we learned where birds were likely to be.

Keeping track of George in the woods was never really a problem. Although he would occasionally range further afield than preferred, the sheer quantity of noise left in his wake allowed for easy relocation. If he wasn't in sight, one only needed to listen for the crashing of the brush and the various snorting noises emanating from his general vicinity. In many respects, it was like following an off the rails steam locomotive through the woods. Surprisingly, birds tolerated the racket and held remarkably tight – perhaps in awe that any creature could make such noise. Certainly, no GPS collar was required to keep track of him.

All who hunt grouse know that shooting one on the wing is not a guaranteed affair. As may be the case with many sporting dogs, George seemed to regard poor shooting with a degree of disdain. After a particularly unsuccessful morning, while standing near a copse of pine trees bemoaning our lack of shooting prowess, a scuffle was heard not more than a few feet away. Moments later, George emerged from under a pine tree and delivered a lively grouse. The message was clear: "If you two cannot do this yourselves, I guess I'll have to bring you the birds too!". The gift grouse was graciously accepted. George would also occasionally retrieve spent shotgun shells. In the early years, spent shells were frequently left behind. Especially after a string of misses, it was not uncommon for him to deliver a spent shell and drop it at our feet. We've since made a strong effort to pick up after ourselves.

Like his human companions, George had an affinity for grouse. Although he took great delight in chasing them on our behalf, he was especially fond of the post hunt offal. No matter how well hidden the inedible portions were, George always seemed to locate and consume whatever was left behind – including feathers and feet. After a few seasons of this behavior, we finally gave up and accepted that his portion of the deal was, if he could find it, he was entitled to whatever we weren't going to eat. Based on the twelve seasons we enjoyed his company, it doesn't appear the post-hunt menu selection left him too much the worse for wear.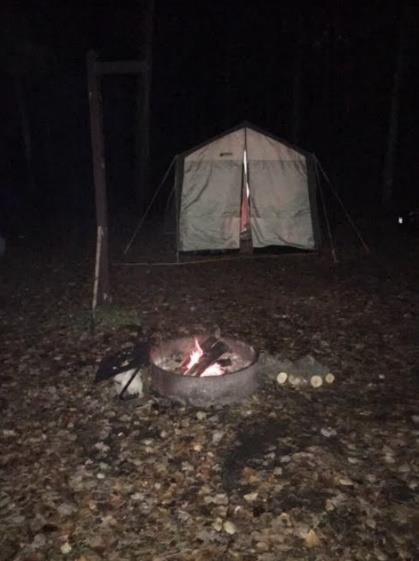 Evenings after the hunt were frequently spent in a canvas tent enjoying a beverage or two, good food and the camaraderie of good friendship. George would curl up close by but frequently positioned himself directly in front of the tent heater to bask in the warmth. One evening it was noted he was nestled a bit too close and had started smoking. Indeed, he had fallen asleep and singed his posterior. It took a couple of weeks for the hair to fully grow back on that hind quarter. Another night saw
him asleep (again, near the heater) during dinner. We stepped outside to tend to outdoor stuff for a couple of minutes and left half a sandwich unsupervised. Upon our return, the dog was still sleeping in the same location, but the half sandwich had
disappeared. Clearly, he had gotten up, helped himself to the dinner remnants and returned to the exact position he was previously in.

Aside from chasing grouse, there were a few other activities which brought George great delight. One was playing in the mud. And, to further define the ideal characteristics of mud, the thicker, slimier, and filthier, the better. He sought out
any opportunity to get dirty. Most of the time, he simply sloshed about, rolled a bit, and then returned to proudly display his new colors. During a hunt in Michigan's Pigeon
River State Forest, he managed to not only get into the mud, but he got stuck there. Removal, of course, required human intervention and was not a neat and tidy affair; all
participants ended up filthy. Mud stains from that expedition remain permanently etched in hunting clothes.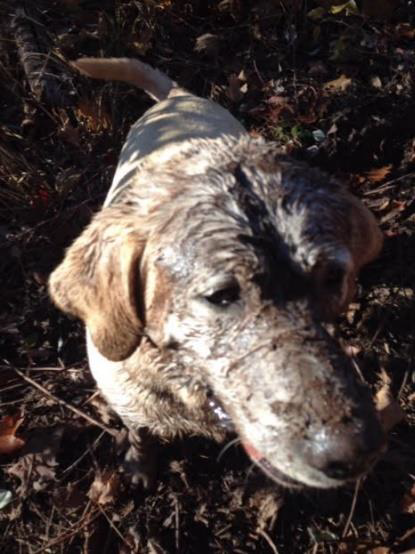 Swimming in the largest of Great Lakes, Superior, was another favorite pastime. One
afternoon, while playing on the beach, he spotted a young lady paddling past on a stand-up paddle board. Being a friendly sort, he swam out to join her. Unfortunately, during the uninvited boarding process, he managed to dump her into the lake. She was not nearly as enthused to see him as he was to see her. On another day, nearing the sunset of life and despite a robust underground fencing system, he took a self-guided tour of the neighborhood in pursuit of female companionship. A call was received from the local sheriff about the happy Labrador, and he was ignominiously retrieved from their care.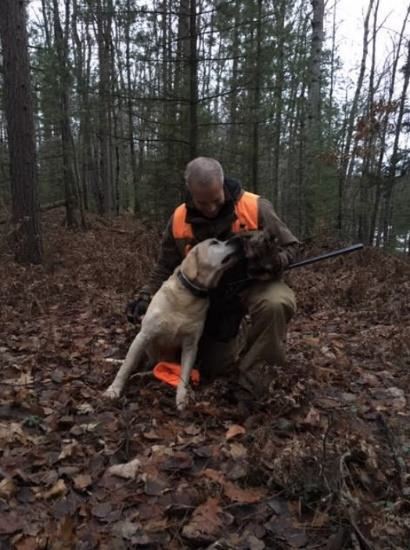 George didn't attend a thirteenth hunting season, but in the dozen years we enjoyed his company, he was a great companion, superb tutor of the habits of grouse and provided much entertainment. His successor, another Labrador, is developing
nicely and is continuing the process where George left off. He too, has some eccentric characteristics but we're hoping for another twelve wondrous Octobers.