Written by: David Motes
Plymouth, MN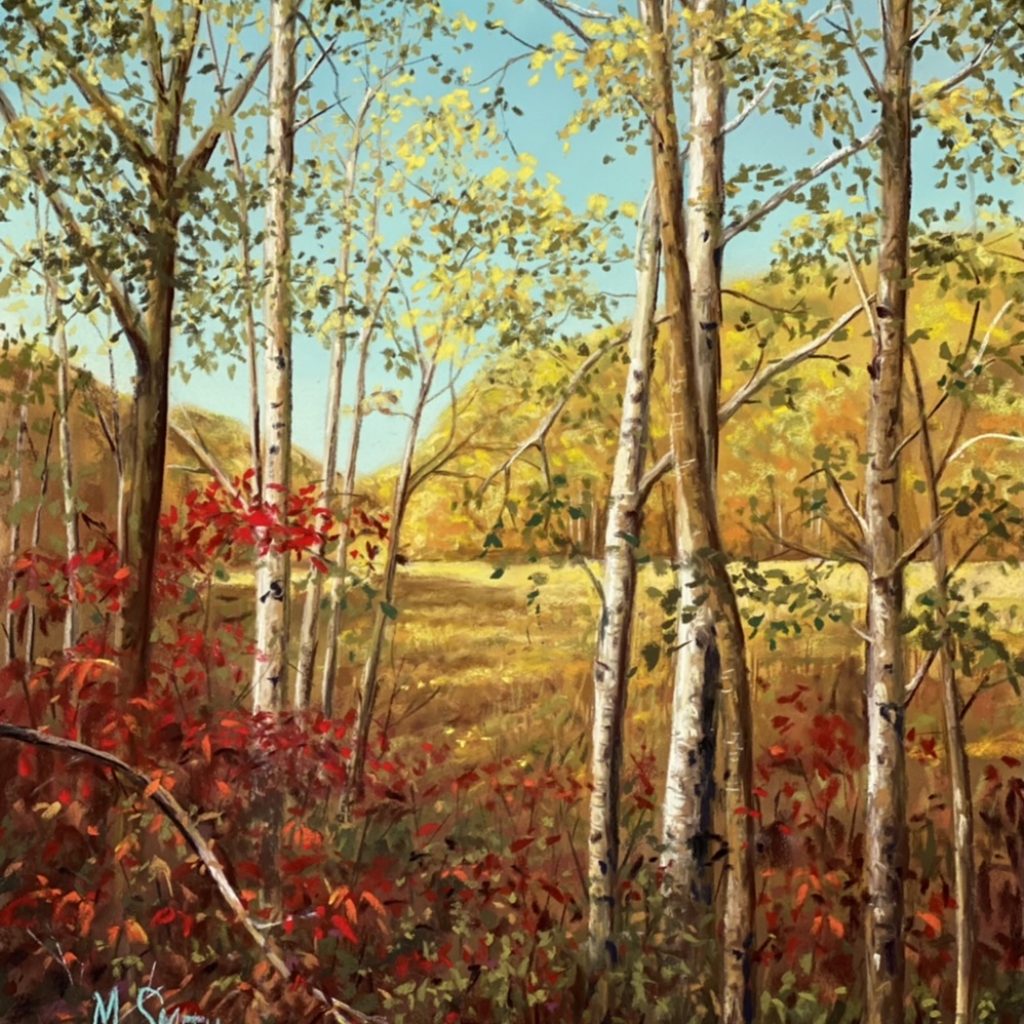 Three little partridges/sitting in a tree/F-L-U-S-H…? No, that didn't work.
F-L-Y- ? …nope.
Three little partridges/sitting in a tree/making an ass out of Ollie and Me. Yep. That was about it.
* * *
#1 lit off left, fighting out of the pine branches 20 feet off the ground. From below and too far away, all I got was a flicker across the tops of the birches. Gun up, click, a couple of steps, but nothing. Way too late.
#2 gave me just enough time to go back to being not ready before he flushed from the same spot. A clatter and the fading thump of wings dead away from me. I saw nothing, stood stupidly, waited. Nothing. I had moved into a better shooting alley, but of course a better shooting alley for bird #1 was no use for bird #2. Who am I kidding. It's grouse, in Minnesota. There's no such thing as a shooting alley.
The gun was back on safe, obscenities completed, when #3 made his entrance. This one froze me stupid by performing one of those weird grouse moves you either love or hate depending upon how long the bird survives. From the same spot, but he didn't flush–he fell, fell like a mockingbird dropping from a telephone wire. I am peering way too far, straining into the distance, and suddenly this bird drops into the open forty feet away and flares to the ground, bold as a lawn flamingo. Finally I got it, the gun comes up, but the flamingo has flushed on the bounce, low, flaring to the right into the trees. It took me a moment to unfreeze, to rerun that odd moment when everything was going the wrong way. Took another moment to exhale and accept that I've been handcuffed, punked by a bird with a brain the size of a pistachio. The dog didn't notice. He just dashed around under intersecting contrails of scent. I made myself stay ready for yet another chance, but of course that's it, all you get, thanks for playing. Three little partridges, sitting in a tree, making an ass out of Ollie and me.
* * *
I should not have been surprised. Minnesota DNR said it was the bottom of the cycle, the worst possible year of the decade to be an obsessive grouse hunter with a new dog. We'd found a few birds in October. We'd had good days on woodcock in the damp areas before the freeze. I had carefully saved my best home spots, hoping for some quiet empty hunts after deer season when most folks had packed up the cabin and headed south.
But this year winter came early and stayed. Snow piled up and -20 nights were standard in December. We were having an old-school 12-cord Iron Range winter. Cycle or no cycle, late bird hunting was grim.
In two days I had hardly raised my gun. We'd started three birds and seen only one of those. The reliable spots I'd been saving up were barren and silent. The dog was happy enough—he was young and could not remember plentiful grouse, and still didn't know a woodcock from a whitetail. He did not care about the cold or the snow. He ranged happily and I followed, trying to trust him, trying to stay alert. I kept thinking: a few more spots, then back to the warm stove to chew the ice out of our paws.
Then I scattered Itasca County's remaining grouse supply without getting a shot.
There they went. 1, 2, 3. Left, Middle, Right. Three little partridges, sitting in a tree.
* * *
I should have listened to the dog. Before we approached the pine, he perked up and started cutting short little loops, then he stood up like a circus bear, hopping, sniffing hard. We learn something new every day, if we're not too much of a dope. Next time I will raise my eyes too, and look up out of the low stuff. Next time I'll think about snow-draped white pine branches, dense and comfy. Next time I'll think like a pistachio-brained partridge, looking for that heavy cover that isn't just near the food supply but over it. Now I have figured out what the Springer knew: The scent was dense and hot but also up, not down. Next time I'll know better.
So I was slow, slower than usual, pivoting hopefully, looking for the bird where I wanted him to be, in this clear spot here or on that hillside there. I lagged when I should have moved and the silent cold woods was suddenly full of the clatter and whirr of birds. Then silent again.
* * *
The dog held, then came in. He jittered some before duty prevailed and he sat. "Sorry, Dude," I said. "I should have listened to you." He cocked his head but did not reply. The air must have been seething with the funk of startled grouse. "Sorry, dude," I said again.
Then he did say something. He looked over his shoulder, then to me; to his left, back to me; to his right, and back to me again. Birds #1, 2, and 3. He said, We know where they are, Boss. Loud and clear. Get it together, boss, he said. Three little partridges, scattered in the scrub—and we know where.
"We know where they are, don't we, Oll," I said. "Oh yes. We know where they are." Ollie didn't answer. He'd said his piece. Three little partridges, sitting in the snow. It changes things when you know.
* * *
Three birds, three directions. Three chances to close out a season that had offered few chances. Three little partridges, crouching in the brush. We knew where they went because we knew what they did. They did what partridges do: they flew hard, they glided, they turned this way and that, they dropped into a space, maybe ran for a while—not far, the snow is deep—then they hunkered down by a log or under the snow or in a tree.
Left Bird had gone toward the lake. He would have broken into the clear space over the powerline cut and the road. He would have picked a space to drop into then hustled for cover. I could figure out where Left Bird would be.
Middle Bird flushed into a recently logged area dense with brush and slash. Middle Bird would have mistrusted this open space but his direction gave him few choices so he would have sailed on across and downhill to the low ground beyond, which was a small tag alder bog. Middle Bird would hunker down there. I knew where Middle Bird would be.
Right Bird flew into the deep patchwork of heavy mature forest to the west. He was ranging free in an expanding triangle of cover with no boundaries and plenty of random open spaces, downed logs, and folds of land. Right Bird was gone.
Ollie held his stay, jittery but attentive. "I want one. Just one," I said to him. It was cold, and the solstice sun was sliding along the trees, dragging the day and the season to an end. "I want one."
I looked at him again. "You want them all," I said. I paused. "You know best," I told him. "Get 'em!"
* * *
Ollie hung a hard left and led me out of the woods, across the powerline cut, and into the road. A cabin behind us, bounded by a high wooden fence. We were halfway along the hundred-foot strip of woods before the next cabin–that was Bluntach's, an open front yard crowded with tarped boats and sheds. More woods before Gersich's front yard, dominated by several Norway pines. "Thin snow below, good overhead cover. The Norways. That's where he went, Ollie," I said.
He agreed, but I kept him close and cut through Bluntach's to the lake shore and along the ice then back through Gersich's. Ollie didn't care that he was hunting in somebody's front yard. He lit up under the pines and worked into the next strip of woods. He coursed a half-circle toward the lake then cut back. I stayed close and let him work through the low trees toward a space by some mature popples. He coursed tightly ten feet over and ten feet back, vibrating, birdy as he'd ever been. He made another tight-banked turn and plunged into a snowdrift. A grouse burst from the snow ahead of him, pounding into the air in a cloud, hanging a moment then arching upward, clawing through branches. I followed the bird up, seeing it all—the cupping, fighting wings, the little birdy tilt of the crested head, the flare of the broad tail–individual feathers with one gap–, and finally a vortex of sunlit snow crystals. It was a perfect shot and I loved the control it, breathing Bird, Bead, Bang! but I never took the gun off safe. Too close to the houses and the road, however empty—too close to neighbors, even if they were snug at home in Hibbing or Anoka. Last I saw of Left Bird he was motion through the trees, climbing and left, still accelerating. My heart was hammering. It was good. It was good enough.
"I had him, Ol," I said, though the dog was off, humping through snow and brush toward the road. "Good dog. Good dog. Wow," I said. "That was cool."
* * *
It took a little vibration from the training collar to get Ollie to wait up. "You did good. Good dog," I said. "You knew it. You knew he was there."
He looked back, then sat unbidden and went to work on a back paw. But when I walked on he powered by and fought across powerline toward the little tag bog kettle where Middle Bird waited for us. We were well away from the houses now and I worked the safety off and on—I wanted this bird.
Ollie went right at the middle of the half-acre or so of low ground, plowing in among the open spaces where the gathered bases of evenly spaced tag-alders gave him avenues. I itched to control him, to send him around instead of through, but I held back. He had been right so far.
Halfway in he stopped and worked in place moment, raising his head, then bounded left toward the north-facing slope. I worked along parallel, in the clear but fighting through snow and hummocks of grass. He veered toward me then cut away again, bounding through the snow and whacking into the angled branches of the little trees. I wanted to follow, wanted to control, but he was moving and I followed. I heard him move out of the clacking alder trunks and into the swish of lower undergrowth on the slope, a flicker of white-on white. Then all noise was gone and I was alone in the solid silence of the deep winter. Young dog, I thought. You wanted a flusher, I thought. My hearing perspective expanded—my own breath, still harsh from exertion and adrenaline; the distant "rawk!" of a raven on the lake; the hiss of an impalpable wind through a billion empty branches. Then, closer than I was listening, simultaneous: Ollie's frantic bark, and the thrum of a flushing grouse which rose and vectored to my left. Don't think! I thought but instead I thought "Safe off!" and other jumbles of idiot garble. I tracked both the pounding wingbeats and the approach of the dog. Against the grey trees and snow the bird was a flicker, coming across low but is that high enough? Angle-dog-movement I was thinking and tracking and the bird jinked or I jinked and the gun bucked once with no effect, nothing there but the dog coming on with a joyous yip!, all of the bird so much a memory that was already doubting it, everything but the flight of the wad, the only thing I could really remember for certain that I had seen moving in the air.
I stood a moment, cursed, then laughed. Drawn by the shot the dog came to me then dashed back to the line the bird had taken and tracked him, nose up, through the air. I laughed again and shook my head. "Two little partridges, sitting in a tree," I called to him. He started back uncertainly, pranced in a circle, drawing the last juice from the air. "Kicked and tracked and flushed by Ollie and me," I finished. I broke the gun. My fingers were cold and I dropped the empty. Ollie came over, sniffed it, then sat and thumped his weight into my calf.
* * *
The sun was on the trees, blurred by thin cloud. The wind sighed higher and spoke of long darkness. Both Left and Middle Birds had flushed south, down the road. Home was north, up the road and over the hill, or onto the lake and around the point. Either way would be a weary closing trudge upwind and uphill.
Or we could turn back into the woods, walk the trail through the close forest where Right Bird had gone. "We'd be out of the wind, buddy," I said. He looked up, still leaning on my leg. He had an ice-mask and left his paws alone. But he'd go, and he'd lead, if I took even the first step. I breathed fully, felt the burn in my nose, the tremble in my hands. We were done. We were done, but we'd stretched the day, and the season, just long enough. "Three little partridges, sitting in a tree," I said to the dog, and started up the road toward home.