by Keith Schopp
The Trap Doctor never advertises, but he's not hard to find. If you spot a truck with Minnesota "Trap Doctor" plates, you've found Jerry Snetsinger. His email address incorporates the "Trap Doctor" title, and you can usually run into Snetsinger at National Trap Collector Association swap meets.
Jerry Snetsinger has been trapping and hunting for more than 60 years. He collects antique traps and fixes broken traps for friends and customers – hence his reputation as a trap doctor.
As much as Snetsinger enjoys trapping, he loves walking behind a good bird dog even more. He's proud of "Gypsy," his 6-year-old German shorthaired pointer.
"I love dogs," Snetsinger says. "I know what they mean to people."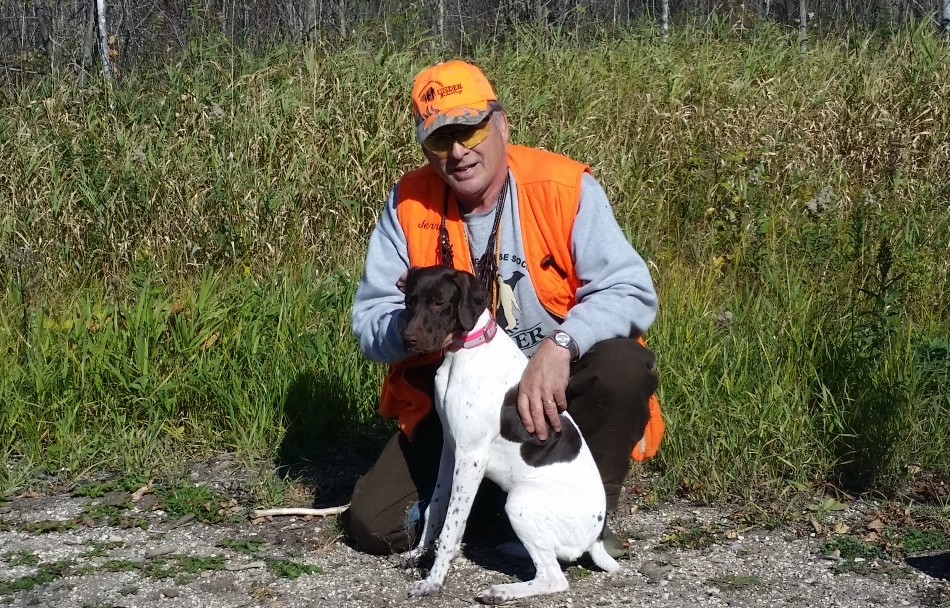 That's why Snetsinger spends time educating hunting dog enthusiasts about trapping and, more specifically, how to get a dog out of a trap.
In all his years trapping and hunting with bird dogs, he's never had a dog caught in a trap. But Snetsinger knows someone who has.
"A friend of mine, nice young man, had a hobby of collecting driftwood," Snetsinger says. "He'd walk the shores of lakes with his Labrador retriever, and when he'd find a nice piece of driftwood, he'd flag it and then come back later to collect all the pieces. Well, one day he and the Labrador came upon a Conibear trap set in a pile of driftwood along the lake. The dog was caught in the trap and the young man panicked. He tried and tried but just couldn't get his dog out of the trap. It passed in his arms. I can't even imagine."
Snetsinger pauses.
"Most people will never have a dog in a trap," he says. "But if you do, time is very valuable. It pays to be prepared."
Wearing Two Hats
Hunting and trapping are a way of life for many in the north woods – and throughout the country.
"The way I see it, I wear two hats," Snetsinger says. "One as a trapper, one as a hunter with dogs. We both have a right to be there. It's important to remember that. There are laws for both, seasons for both. As a hunter, I respect the trapper and as a trapper, I respect the hunter."
A welder by trade, Snetsinger started fixing traps for friends. Maybe an old antique bear trap was missing a pan, ring or some other part. "I was the head welder at an electric utility and had to know a little about all the different metals. When it comes to fixing antique traps, you can't order a new part. You either need to fix the old part or make a new one. So I'd weld it together, and you'd never know it was broken."
Word spread about the Trap Doctor, and pretty soon, Snetsinger had lots of broken traps to fix.
"Two different times I've had more than 90 traps to fix," he said. "That's why I never advertise."
Word also spread about the trapper who likes to teach people how to get dogs out of traps. Snetsinger lives in Cohasset, Minnesota, not far from Grand Rapids, where the Ruffed Grouse and Woodcock Society holds its annual National Grouse and Woodcock Hunt. Many years ago, he began volunteering as a huntsman for the event and eventually was asked to give a talk and hands-on demonstration about dogs and traps.
"I'd bring a variety of different traps and snares and showed how they work, and how you can release a dog or any animal from the trap. I also brought along a couple tools that hunters could carry that might help save the day in an emergency."
The Bear
The trap dog owners fear most is undoubtedly the Conibear – a body-grip trap that comes in various sizes and is designed as a humane, quick-killing device for target animals.
While the Conibear gets its name from Canadian trapper Frank Conibear, Snetsinger says the 'bear' part of the name is appropriate because the trap essentially gives a bear hug to the animal, squeezing from the neck or chest or mid-section to suffocate the animal.
"The more you wiggle, the tighter it gets," Snetsinger says. "Again, for the same reason it was designed as a humane, quick kill trap, if your dog gets into a Conibear trap – time is very valuable."
Conibear traps are double-spring traps and are typically numbered according to size.
The 110 Conibear has about a 5-inch jaw spread and is commonly used for small furbearers like mink or muskrats. The 220 Conibear has a 7-inch jaw spread and is used for raccoons, skunks and fishers. The 330 Conibear has a 10-inch jaw spread and is used for beavers and otters. The 220 and especially the 330 pose the most risk to dogs and other non-target animals. The Conibear has hinged metal bars that collapse onto the animal as it passes through the trap and trips the trigger. Most often, dogs are caught around the neck. That's when seconds count, especially if the bars place pressure on the dog's windpipe.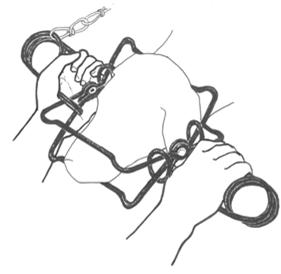 Experts advise immediately squeezing both springs to reduce pressure on the windpipe [Illustration 1A] and rotating the trap so the jaws aren't placing pressure directly on the windpipe [Illustration 1B]. Once this is accomplished, compress each spring one at a time and engage the safety catch [Illustration 1C]. When that's done on both sides, you can remove the trap.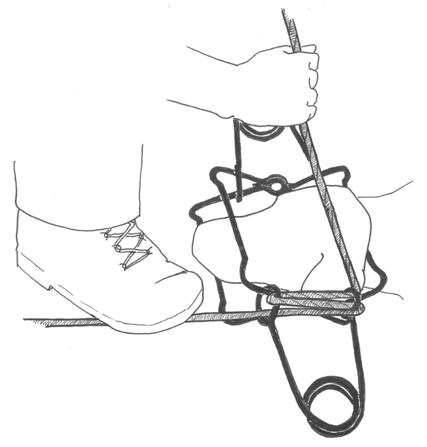 "Most people aren't strong enough to compress the springs of a 220 by hand – much less the 330," Snetsinger says. "I can squeeze the 220 – and even the 330 – by hand, but I still carry a tool that's used to set the traps." The tool for setting a 220 Conibear is about 14 inches long and available online or where traps are sold. The 330 trap-setting tool is about 30 inches long and probably not practical to carry along on a hunt. Snetsinger strongly recommends carrying a trap-setting tool along while hunting. The next best option to have in your game vest is probably a 4-foot piece of nylon rope or a dog leash that you can feed through the spring eyes or around the spring. By stepping on one end of the rope or leash and pulling up, you can create enough leverage to open the springs and engage the safety catches [Illustration 2].
Sound complicated? Imagine the stress and emotion of trying to release your bird dog in a life-threatening situation.
"That's why it's important to become familiar with how to set a Conibear and to practice," Snetsinger says. "Everything changes when the dog is on the ground and you're struggling to get it out of the trap. We even used a stuffed dog in our demonstration – and that made things more difficult."
Most states have laws that dictate how and where you can use larger body-grip traps to help avoid trapping non-target species. For example, some states require the large 330 Conibear to be completely submerged in water. "Here in Minnesota, the 330 must be half-submerged," Snetsinger says.
Snares and Leg-Hold Traps
Trappers set snares in a movement path of target animals and typically catch the animal by the neck or leg. A snare usually consists of a steel or galvanized aircraft cable that forms an oval loop and is anchored to a tree, post or piece of fence or rebar.
"I don't use snares, but a dog can get in one and the more they pull the tighter the snare gets," Snetsinger says. "The good news is, most dogs won't pull. When the snare starts to tighten dogs usually will sit there and wait."
There are break-away snares, spring-loaded snares and snares with multiple stops or a catch that allows one to loosen and release the animal. Like the Conibear, it pays to be familiar with the various types of snares and practice loosening one before encountering one with your dog.
Snetsinger recommends carrying a good pair of side-cutters or cable cutters.
"A multi-tool is always good to carry, but it usually won't cut a cable or a snare," he says. "It tends to crush the cable instead of cutting it. Side-cutters also come in handy if you need to cut a trap wire that's anchored to the ground. There's usually no way you can pull the anchor out."
Leg-hold traps are also a part of Snetsinger's dog-in-trap demonstration.
"Unlike Conibear traps, you have time on your side. You still need to be able to step on the trap springs to release the dog, and it could be a two-person operation. One person might need to hold the dog or the muzzle while you can work on the trap. Again, it all changes when you're on the ground and the dog is in the trap."
Snetsinger adds that many leg-hold traps today feature an off-set jaw with a ¼-inch gap between the jaws. This allows blood to flow to the animal's foot.
And Sometimes, You Probably Should Find a Different Place to Hunt …
Snetsinger says to be aware of what's happening in your state or where you hunt grouse and woodcock with your dogs.
"In Northern Minnesota the Department of Natural Resources sometimes has nuisance trapping for Timberwolves. This could be near cattle ranches or sheep farms or where they might have problems with wolves. They use a much bigger trap, double long springs, and if your dog would happen to get in that it wouldn't be good. Sometimes they have signs that indicate there's wolf trapping, sometimes they don't. If you're aware of that possibility or activity, you and your dog should probably just find a different place to hunt."
Likewise, pay extra attention when hunting near beaver ponds and be familiar with trapping regulations and season dates in the state you're hunting. For example, are state or wildlife management areas closed to trapping during the upland season? Are cable devices (ex. snares) permitted? "Do your homework," Snetsinger says. "A lot of people think it won't happen to their dog, and it probably won't, but if it does you should have an idea of what to do."
Tips for traps
Be familiar with different types of traps, how to set them and how to release an animal. Practice before you need to perform the task in the field.
Carry a piece of nylon rope, a dog leash or body-grip setting tool in your game vest.
Use a GPS or beeper collar to keep track of your dog. If a "point" turns into a trap, you need to get on the scene as soon as possible.
Pay attention to trapping season dates and regulations where you plan to hunt. If beaver trapping season opens November 2 and you know of trapping activity, it may be best to avoid that beaver pond.
If you're fortunate to gain permission to hunt on private property, ask the landowner if anyone is currently trapping there.
Keep an eye on your dog and his or her behavior around culverts, boat docks, ditches, creeks or anything that might indicate bait or the presence of traps.
If you free a dog from a trap, seek veterinary care as appropriate.
If you suspect illegal trapping activity or find illegal trap sets, contact your state's game and fish department.