by Rob Seilheimer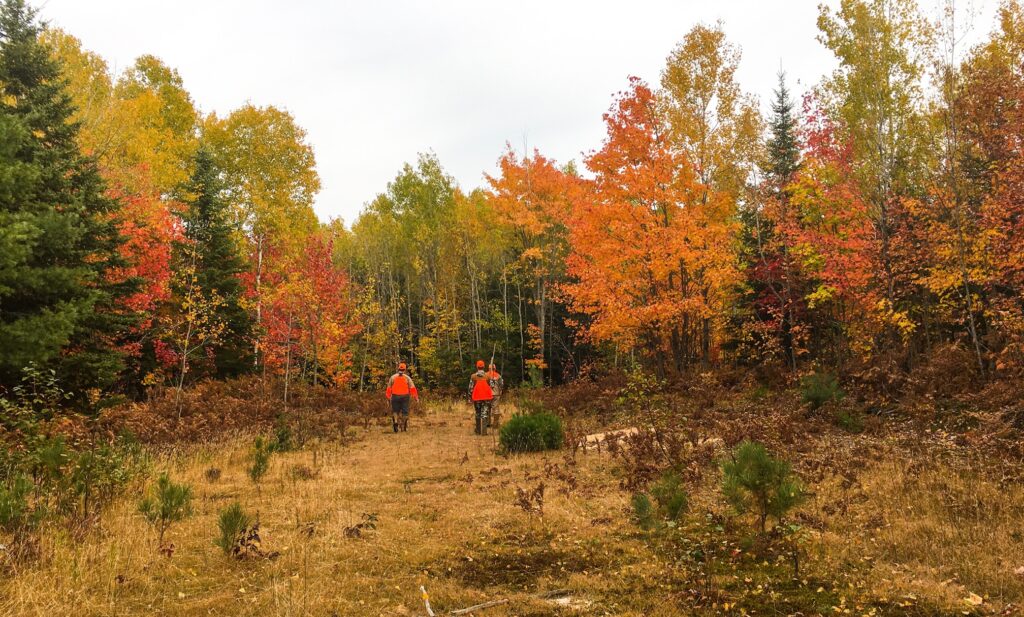 I'm in the Upper Peninsula with three buddies. Red, yellow, and orange leaves descend upon us like raindrops falling from the sky. Ruffed grouse and woodcock are what we're after.
Every year, we make the drive from Indiana and cross the bridge. Trolls are what they call us. I'll happily own that title. Also, a quick note for all the troll brethren, it's a pastie. Pronounced pass-tee, don't get it wrong, or you'll be laughed at by every Yooper within earshot. Pastie shops are the Starbucks of the Upper Peninsula, minus the multibillion-dollar industry and lattes; they have one at every corner and every gas station. Do yourself a favor a grab one, but only one. They settle on your tummy about as well as a brick floats.
Back to hunting … A shorthair, wirehair, and small munsterlander are looping between young aspen cuts with an intensity that's hard to match. We've moved a few ruffies earlier in the day. The guns were all bark but no bite.
"Can you smell that," shouted Zach. Pungent would be one way to describe it. A jolt to the olfactory nerve. Think rotten eggs or kimchi on steroids. "It's getting stronger," Luke muttered. Just like that, Flax took off. Like an out-of-control locomotive barreling down the tracks. If you've ever hunted with German breed dogs, you'll quickly realize they have a thing for fur. Our small munsterlander didn't disappoint. Luke took off in pursuit at a speed walker's pace. You know, that awkward-looking Olympic sport, a movement somewhere between walking and running. Zach shouted, "That's all you got," as we laughed our asses off.
We caught up a few minutes later and arrived at the scene. Flax was rolling around like a drunken sailor. That dead skunk didn't stand a chance. Expletives were flying like tweety birds, too numerous to count. Luke was hot, like Carolina reaper hot. Eyes bulging, and steam coming out of his ears.
Little did I know the tables would quickly turn. Luke and the rest of the guys would have the last laugh. After a few minutes of laughter at Luke and Flax's expense, we decided to go back to the task at hand.
Preoccupied with thoughts of grouse and woodcock, I casually walked around the dead skunk. Big mistake. The wind shifted, and I almost died. Well, not really, but it sure as hell felt like it. I was skunked, literally. My eyes and lungs were burning. My nostrils were on fire. I went into a sneezing and coughing fit. A painful experience I hope never to repeat. Meanwhile, the guys were literally rolling on the ground in laughter, giggling like little boys who heard a fart in church. That covert has since been named the Skunk of Sault St. Marie. Marked with laughter and an onX pin.