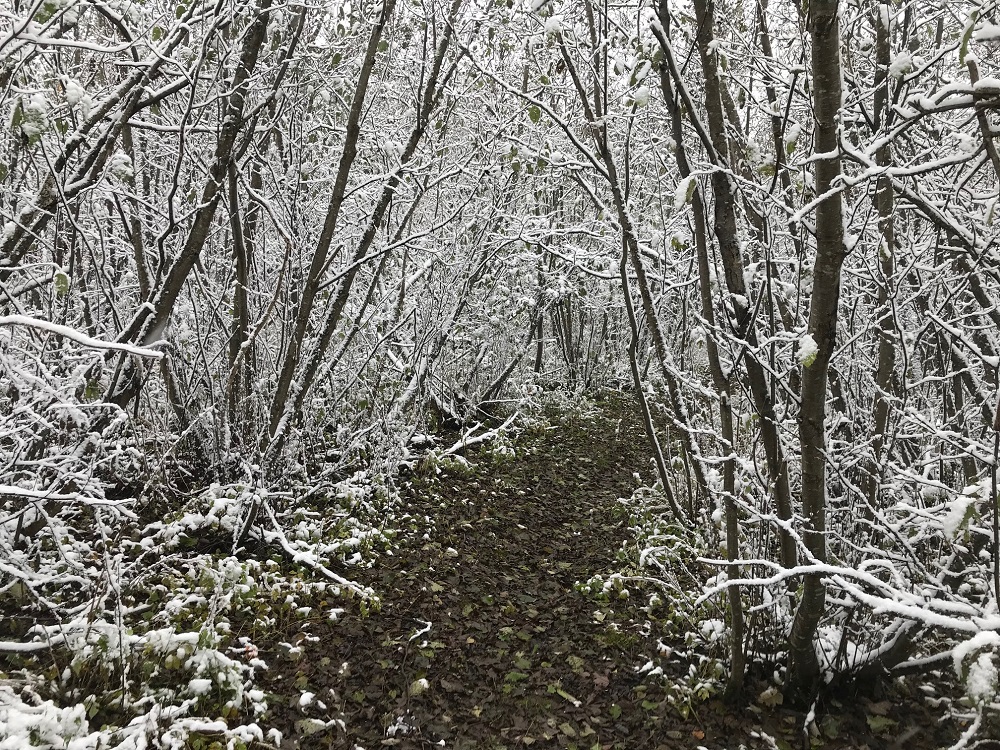 Exploring Our Love (and Hatred) of Alder Thickets
Maybe in your grouse hunting career, you've explored the edges of a tangled alder swamp while looking for birds. You've quite possibly shot at a grouse that flew into one, requiring you to trudge in after it. Perhaps you have even willingly adventured into one to see what secrets it keeps. No matter which of these is true, if you've ever had to navigate through an alder swamp or thicket, you know the misery that they can be.
Alder can be a real pain when you're trying to navigate over the horizontal stems without tripping or missing your foothold and sinking into a deep mud hole. Yet alder has a special and important role for many wildlife species, including upland birds like the ruffed grouse and American woodcock. Here's why it's important to respect and appreciate alder even when you're cursing its existence.
Description and Identification
Speckled alder (Alnus incana ssp. rugosa), also known as tag alder, gray alder, or hazel alder, is a member of the birch family, but it usually falls somewhere between a shrub and a tree (growing 10 to 25 feet tall). It is an often multi-stemmed deciduous plant that can form impressive and seemingly impenetrable thickets. It can grow via seed germination, root suckering (where new shoots grow up from the root system/rhizome), or layering (where a low branch that touches the ground forms new roots and detaches to form a new shrub) (Minnesota Wildflowers 2019). Because of these growing habits, an alder thicket usually consists of many individual plants that are actually clones of each other, much like aspen forests. As alder shrubs get older, new stems start to grow horizontally outward, creating the thicket formation. Younger stems are often brown, red, or gray with white lenticels (pores), while older stems are smooth and gray with white lenticels.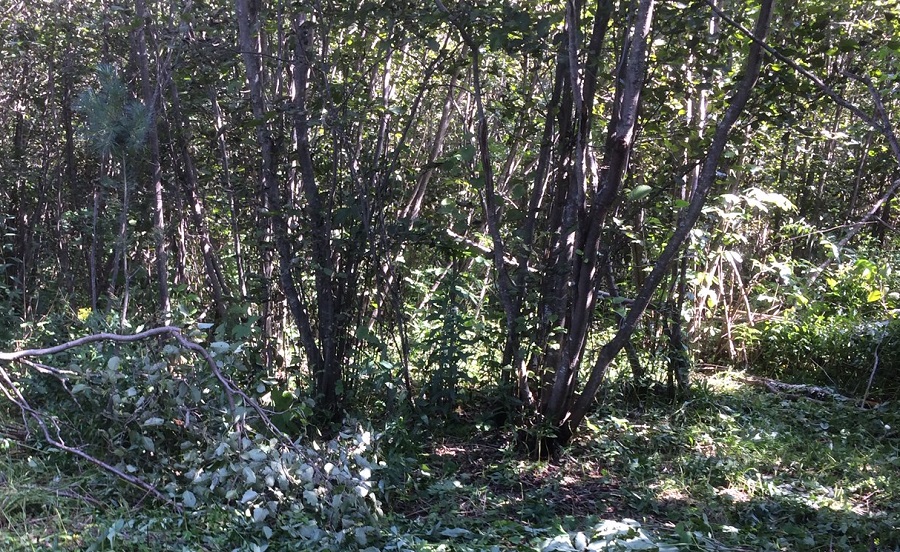 The leaves on speckled alder plants are 2 to 4 inches in length, double-toothed, and grow alternately on the stems (Minnesota Wildflowers 2019). The plants are monoecious, meaning they have male and female flowers on the same plant. The male flowers are catkins that hang about 1 to 3 inches in length from the tips of young twigs, while the female catkins are oval-shaped and only about ½ inch long on the same branch (USDA NRCS 2019). In the fall, the female catkins resemble small, brown pine cones and open to release the nutlets (i.e., seeds).
Where Does It Grow
Speckled alder can colonize many different sites with a range of conditions, and so it occurs across a large range nationally. It is most common in the Great Lakes states and Northeast. While most hunters probably associate it with swampy thickets or bogs, it can also grow along riparian areas (i.e., lakeshores, stream banks, etc.), roadside ditches, hardwood and coniferous forests, or abandoned pastures/hayfields (USDA NRCS 2019; Minnesota Wildflowers 2019). It can grow well in several different soils (including sandy, gravelly, loamy, clayey, or mucky soils) and moisture levels (including permanently flooded areas to upland areas with occasional droughts) (USDA NRCS 2019). While it grows best in full sunlight, it can also grow in shaded understories fairly well.
Importance for Upland Birds
This is likely the part you're most interested in – how does alder help wildlife? Fortunately, that's an easy question to answer – it provides food and cover to several species. For example, large mammals (e.g., white-tailed deer, moose, black bear, etc.), small mammals (e.g., rabbits/snowshoe hares, foxes, beavers, etc.), and birds (e.g., ruffed grouse, American woodcock, songbirds, etc.) utilize alder thickets as cover at some point throughout the year (USDA NRCS 2019). Young alder stands generally have high stem densities and can provide secure feeding areas for woodcock or ruffed grouse. On upland sites, alder canopies limit the sunlight and amount of herbaceous plants at ground level. This opens it up for smaller animals and game bird broods to move around with good predator detection, while providing a shady spot to get out of the sun. Ruffed grouse often use alder stands as drumming sites, selecting a log with good visibility around them. It's common to find nests and broods in alder thickets on upland sites.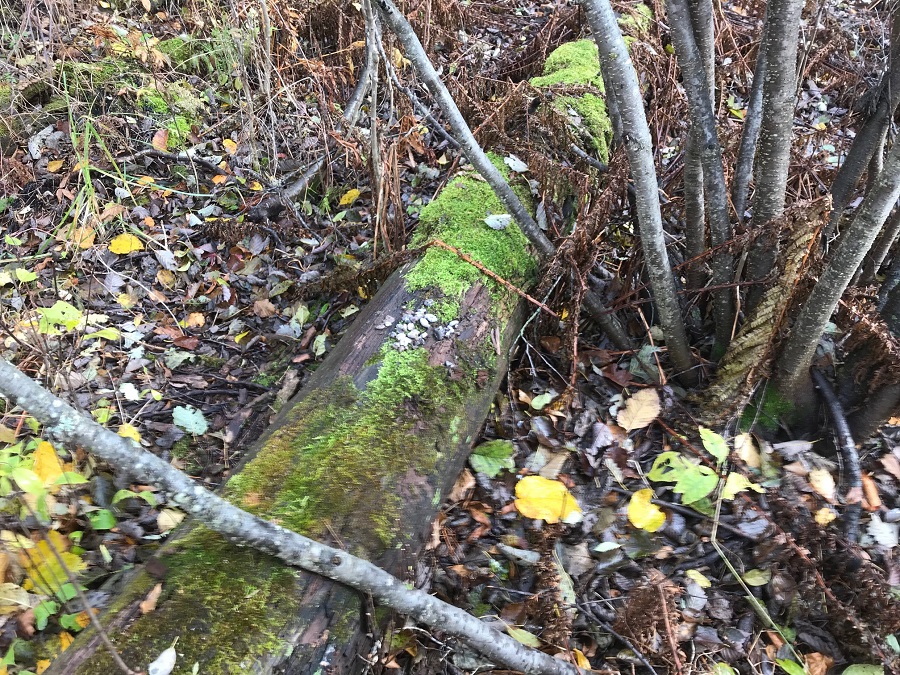 Ruffed grouse can and do eat the seeds, buds, and catkins from speckled alder (USDA NRCS 2019). However, some studies reveal that they might not prefer to eat them until mid-winter when other food options are scarce (Guglielmo and Karasov 1995). This indicates that while they may be unpalatable to ruffed grouse, they are an important winter survival food, much like highbush cranberry. This is especially true where other preferential food sources (e.g., aspen buds, hazel buds, etc.) are limited.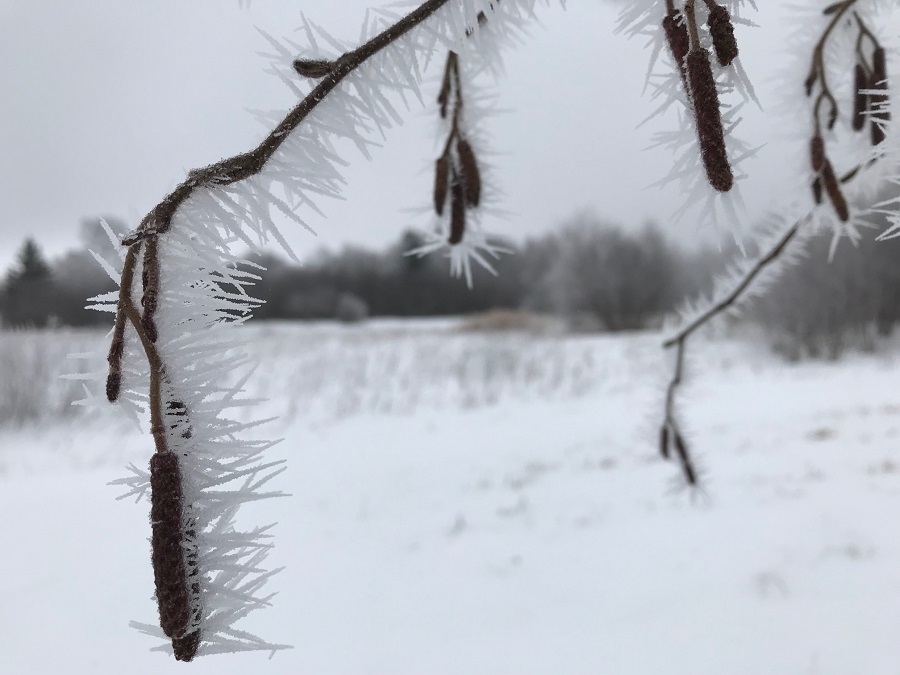 Additionally, speckled alder roots support nitrogen-fixing bacteria (similar to soybeans in a farm field). Combined with leaf fall in autumn, dying roots release nitrogen back into the soil around them, locally fertilizing other plants. This ability to condition low quality soils and make them more fertile creates richer, organic soils that are attractive to earthworms. As you might expect, moist soils with lots of earthworms and little vegetation to inhibit movement are a gold mine for American woodcock habitat. So much so that many woodcock feed, nest, and raise their broods nearly entirely in alder stands. However, this mostly applies to alder thickets on drier, upland sites. Alder swamps generally contain too much sedge or grass growth underneath and likely a higher water table, making movement for birds harder and earthworms less common.
Management of Alder Thickets
Once alder shrubs mature past a certain point, it becomes a game of diminishing returns as far as value for wildlife. For example, alder canopies generally open up more as stem density decreases, which allows the understory to become dominated by grasses and other herbaceous plants again. This limits movement for woodcock and grouse and makes the habitat less desirable. When limbs start growing horizontally, it's likely that the stand is not providing high quality habitat any longer (Wildlife Management Institute 2009). You can manage the alder in this scenario by cutting or shearing it during the winter to set it back to an early successional stage. The clearings can be arranged in small patches or strips approximately 50 feet wide.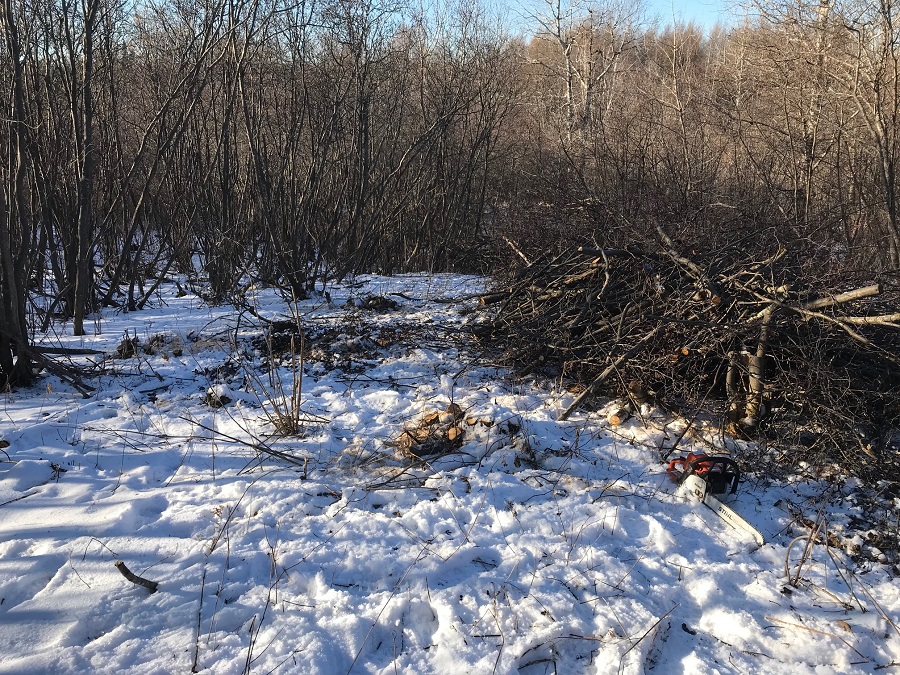 Winter management encourages dense and healthy regrowth in the summer because all the food reserves are stored dormant in the root system. Remove all stems in a given patch or strip to ensure adequate sunlight reaches the forest floor. Take care not to disturb the roots, so they can re-sprout vigorously. The first summer after cutting, you'd be amazed how many suckers pop up from the stump base!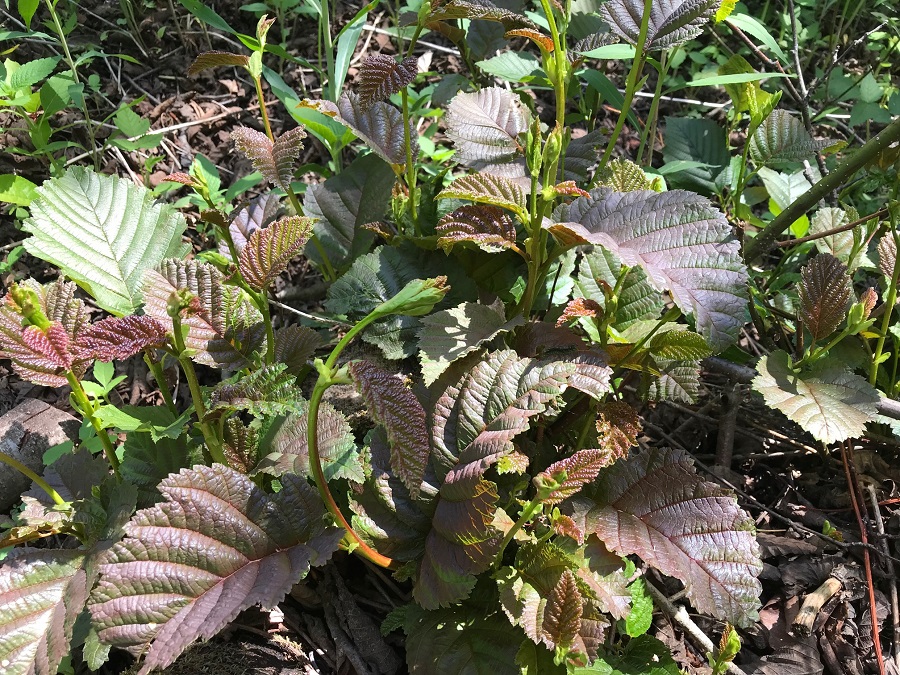 The resulting flush of other plants is also beneficial because it can produce more summer food sources (e.g., strawberry, clover, raspberries, elderberries, etc.) in close proximity to the more mature alder stands. Managing habitat on your property is a great way to extend the season throughout the year, because you are always thinking about it and working to improve next year's opportunities. If you have alder on your land that looks mature, it might be time to do something about it. Reach out to one of RGS's biologists for specific feedback on your situation.
Sources:
Guglielmo, C.G. and W.H. Karasov. 1995. Nutritional Quality of Winter Browse for Ruffed Grouse. The Journal of Wildlife Management, 59(3), 427-436. Accessed at: https://www.jstor.org/stable/3802448?seq=1#page_scan_tab_contents
Minnesota Wildflowers. 2019. Speckled Alder. Accessed at: https://www.minnesotawildflowers.info/shrub/speckled-alder
USDA NRCS. 2019. The PLANTS Database. Speckled Alder. Accessed at: https://plants.usda.gov/plantguide/pdf/cs_alinr.pdf
Wildlife Management Institute. 2009. Best Management Practices for Woodcock & Associated Bird Species. Accessed at: https://timberdoodle.org/sites/default/files/research_documents/Woodcock%20BMPs_Upper%20Great%20Lakes_0.pdf
Wisconsin NRCS. 2017. Tag Alder (Speckled Alder) Management. Wisconsin Biology Technical Note 9. Accessed at: https://efotg.sc.egov.usda.gov/references/public/WI/WI_TN_B9-Black_Alder_Management-(2017-05).pdf