By Jeff Helsdon
When Al Stewart was 12, he started woodcock hunting. Little did he imagine his passion would turn into a remarkable career.
Al retired on April 1, 2021, as the State of Michigan's Upland Game Bird Specialist and program leader. His career with Michigan's Department of Natural Resources spanned an incredible 50 years – from student to retirement – with more than 20 as Upland Game Bird Specialist. Al made his mark in the upland bird world, not only in Michigan but continentally and internationally.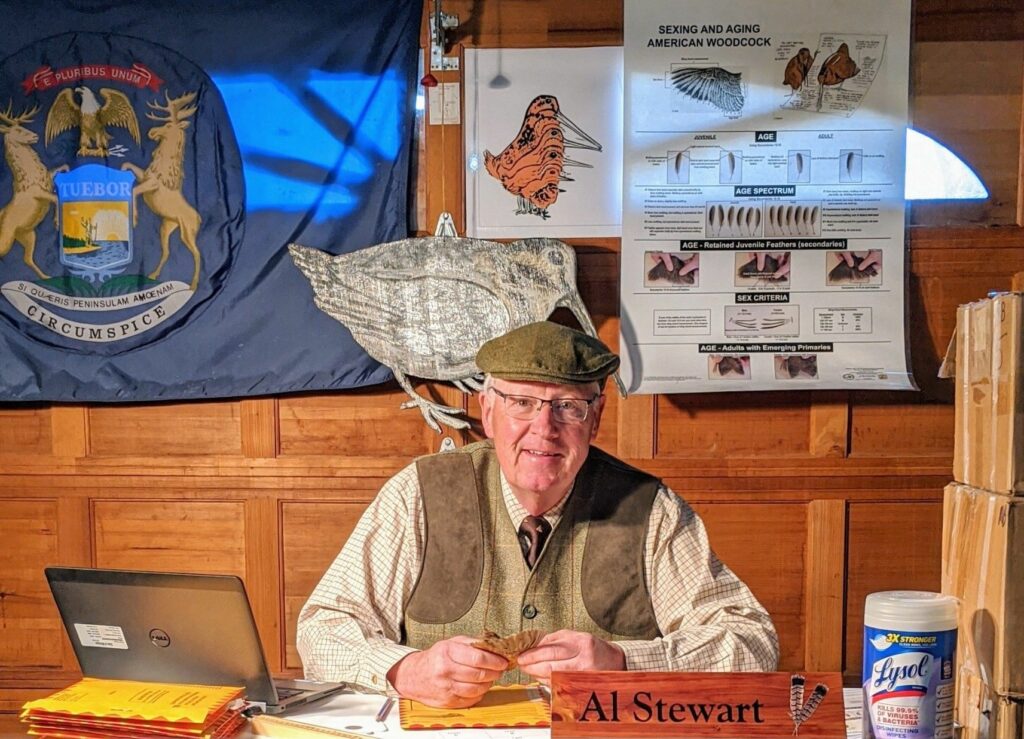 It seems only natural Al came to upland game birds. His first experience with upland hunting was with a friend who had a pointing dog before buying his own when he was 19.
To start, Al is in an excellent position to have a love of woodcock. Michigan is the top U.S. state for woodcock harvest, with Michigan hunters taking 35% of the national total. It's also one of the top states for production of woodcock.
"Michigan continues to be up there and actively engaged in maintaining young forests," Al said. "The other side of it is Michigan has lots of public land – the largest amount of public land east of the Mississippi. Michigan has traditionally had people who had dogs to hunt grouse and woodcock."
There is also a strong tradition of woodcock research, which includes an aggressive bnaind program for timberdoodle chicks.
As a student, Al worked with Andy Ammann, one of the pioneers in woodcock banding using pointing dogs and a long-handled net. Andy gave Al his first pointer. Additionally, Al worked alongside noted grouse biologist Gordon Gullion.
"In the early part of my career, those folks helped instill an interest in grouse and woodcock in me," he said.
Al was involved in managing forests for ruffed grouse since the mid-1970s, and he helped create Michigan's Grouse Enhanced Management Sites (GEMS).
The Ruffed Grouse Society has been intertwined in Al's career. His involvement with RGS dates back to 1971, and he gave his first grouse/woodcock habitat and life history presentation at an RGS grouse management workshop in 1975. RGS Director of Regional Development for Michigan, Glen R. Blackwood, said Al was a regular at RGS & AWS banquets, shoots and meetings.
"His passion for grouse and woodcock and the pursuit of them was always present, whether he was speaking of the Michigan GEMS or the latest litter of English Setter puppies," Blackwood said. "His large hands and heart touched a multitude of RGS & AWS members throughout his career, so much so that the Michigan Drummer Fund for habitat work was named in his honor."
"Like the birds he loves, Al didn't stay put in Michigan," said RGS President and CEO Benjamin C. Jones. "He forged a national, and even international, presence among wildlife managers. Al is a trusted colleague and a mentor. The world of upland bird hunting is better for having Al Stewart at the helm for his long and committed career."
Al hosted the 10th International Woodcock Symposium in Michigan in 2006, discussing his work banding thousands of woodcock. He was a pioneer in satellite tracking – work he did with RGS & AWS biologists. He also was involved in putting a smaller transmitter on woodcock chicks, which fall off as the chicks grow, and in banding Eurasian woodcock in Europe.
"I've had a great career," he said. "It really wasn't 'work' because I was working with people committed to the resource and partners, such as RGS."
Another of Al's achievements was creating the first barrier-free duck hunting and waterfowl observation blind at Maple River, Michigan. The effort earned him the Teddy Roosevelt Conservation Award, which George H. Bush presented at the White House in 1992.
With so many successes throughout his career, Al was upfront that he was a failure at retirement. Shortly after retiring, he was appointed as director of the Nimrod Education Centre at Michigan's Hillsdale College.
"The mission of my position is to inform the non-hunting public of the contributions of hunters, anglers and recreational shooters to conservation," he said.