Written by: Teresa Arnett
Grand Blanc, MI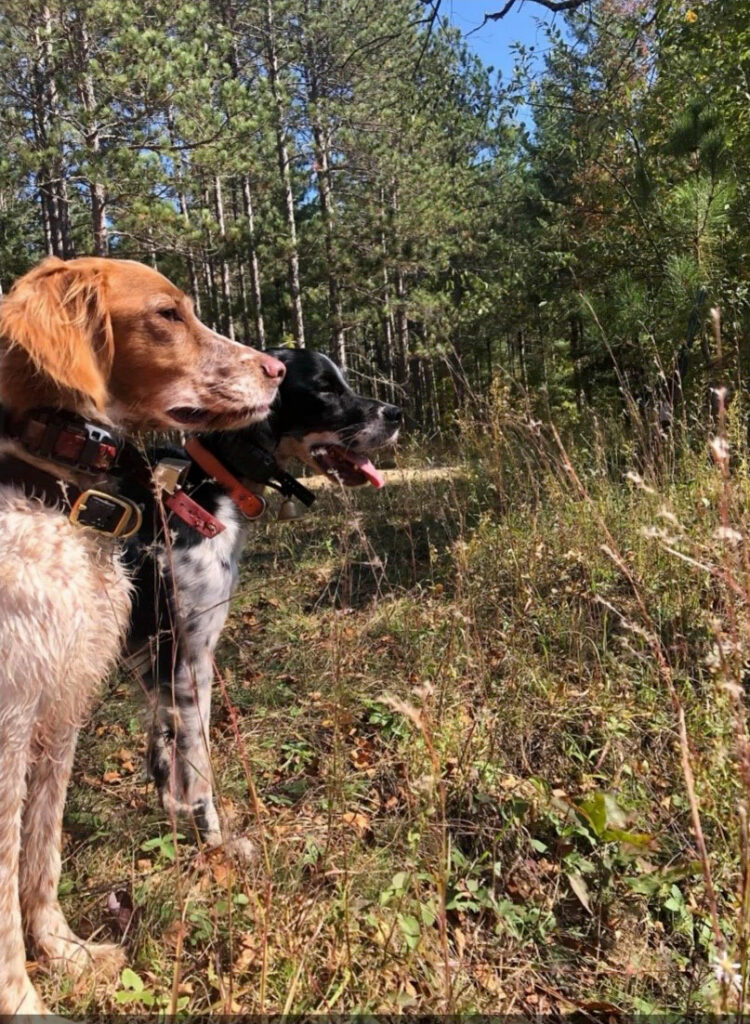 "I want to hike in the woods and chase pheasant" I told my best friend when we talked about rescuing a gun dog. I had my handsome lab, Pippin, who was moving into his golden years. He was gun shy and never able to hunt him. I had also grown up with the nostalgia of my dad's old GSP and Sweet 16. My dad would tell stories of slipping into the farmer's fields he would work to chase pheasants with that GSP. The same fields he worked a whole summer to save up the 200$ to buy his Browning Sweet Sixteen in 1971. The gun I carried a few seasons till I saved up enough money to purchase my own field gun.
A few weeks later a picture of the cutest ginger setter slid into my inbox. "Take a look at her" my best friend said. All freckles and fire. Primrose, her name. After hearing about her, it is not one I would equate with her. Not at all prim and proper as her name suggests. Her previous owner had to rehome her due to a pending pregnancy and the amount of work Prim required. She was a 13-month-old gun dog locked up in an apartment in her daily life. She was a great dog just in need of a better home her owner told me. A home where she could do what she was bred to do. Thus, this began my real exposure to the upland hunting world.
Numerous phone conversations later a plan was hatched for me to drive across the country to meet them halfway and pick up this little ball of fire. Prim spent some time with my lab to ensure she would mesh, and it was hard to not fall in love with her sweet side. She charmed all the people we met on the car ride home.
Once home, the real work began. Training her to run off leash and begin the foundations of gun training. Endlessly obsessing over details and asking for advice from my best friend. I don't know if he realized what he was getting into offering to be a mentor to an adult-onset upland bird hunter. Through his tutelage, I found a trainer and stood in awe as she would point and point those birds. The trainer laughing at me every time.
Setters on point is poetry in my opinion. Only second to watching them canter across fields, or weave between the forest floors. She was never afraid of the gun and loved to have a job. As our relationship began to grow and I began to trust her, we explored. It was painful to lose my aging lab 6 months after Prim came home. Her cries echoed mine and to keep ourselves busy we explored any patch of woods or trail we could find. Long car rides and adventures kept our minds busy and eventually healed our hearts.
I will never forget her first pheasant season and how proud she was to retrieve each one of those birds. She worked the fields like she had done it many times before and I was still breathless watching her. Excited for the fall when we could venture into Grouse Country as I was growing into a more competent hunter.
Fast forward a year or two and yet again I found myself being asked by a hunting friend if I would mind helping on a litter of pups her setters were having. After I agreed she then asked if I would want a puppy from their last litter. I politely told her no I didn't want a puppy but would be more than happy to help play with puppies. Conversations turned to questions like "if you wanted a setter puppy what color and gender would you want?" Very casual on her part. I naïvely answered that I would want a black and white boy puppy but would laugh it off that I was still not interested. Prim and I were still working out the kinks in our relationship at that time.
The kinks being she was a headstrong ginger female and would sometimes do things her own way. "Trust your dog" my best friend would always tell me as I would yet again complain on how she wasn't doing exactly what I wanted at exactly the time I wanted it. "Give her flexibility" he would say, she's not a lab. She's a pointing dog. "Change your mindset" was also some of the advice I would hear over and over.
The setters were eventually born and there were 5 puppies. One black and white boy in the mix of all those females. Four days later I was holding my Fergus Flynn in the palm of my hand and was forever hooked. Two became three in our little bird dog family.
For all the difficulties in my head strong female, Fergus was exactly the opposite for training. He was easy going, loved to please me, and always ranged close. Training was a breeze. A breeze because I had to work out the kinks with Prim my best friend told me.
We have traveled the country four times. Lived in North Carolina, Washington State, New Mexico, and Northern Michigan. We are completing our fourth grouse season this year. I am still in awe of my setters when they go on point. They have both learned independently their own grouse techniques. I hunt with a gun I purchased and love to tell the stories of them on point. Even if we don't always get a bird, these setters find them for me. I don't know where I would be without these gun dogs or the passion of upland hunting. Especially grouse hunting. It gets in your soul in a way that only those of that do it can understand.
This story is not only an ode to my beautiful first setter, nor to just my second one. No this is also a public thank you to my mentor and best friend that helped me find the path to not only training my first (and second) gun dog, but the path to becoming a proficient Grouse Hunter in my own rights.