Off-season scouting can lead to important clues and fall success in the grouse woods, and NOW is the time to go!
Watching a male ruffed grouse drum his spring beat from less than 20 yards away is quite the surreal experience, especially considering we barely see a glimpse of them post flush in the fall as they dodge young trees toward their escape route.
For the past few years, I've been addicted to spending time in the spring woods, just after snow melt, trying to capture images of these elusive birds. I lug my video and still cameras around on forest trails waiting to hear the spring thunder of the male grouse mating ritual. From my time afield, I have learned a few tricks that have helped me locate new covers to hunt in the fall. My spring scouting has improved my grab bag of hunting spots – this is not earth shattering rocket science, but if you put boots to the ground in the spring time, it may help your fall odds too.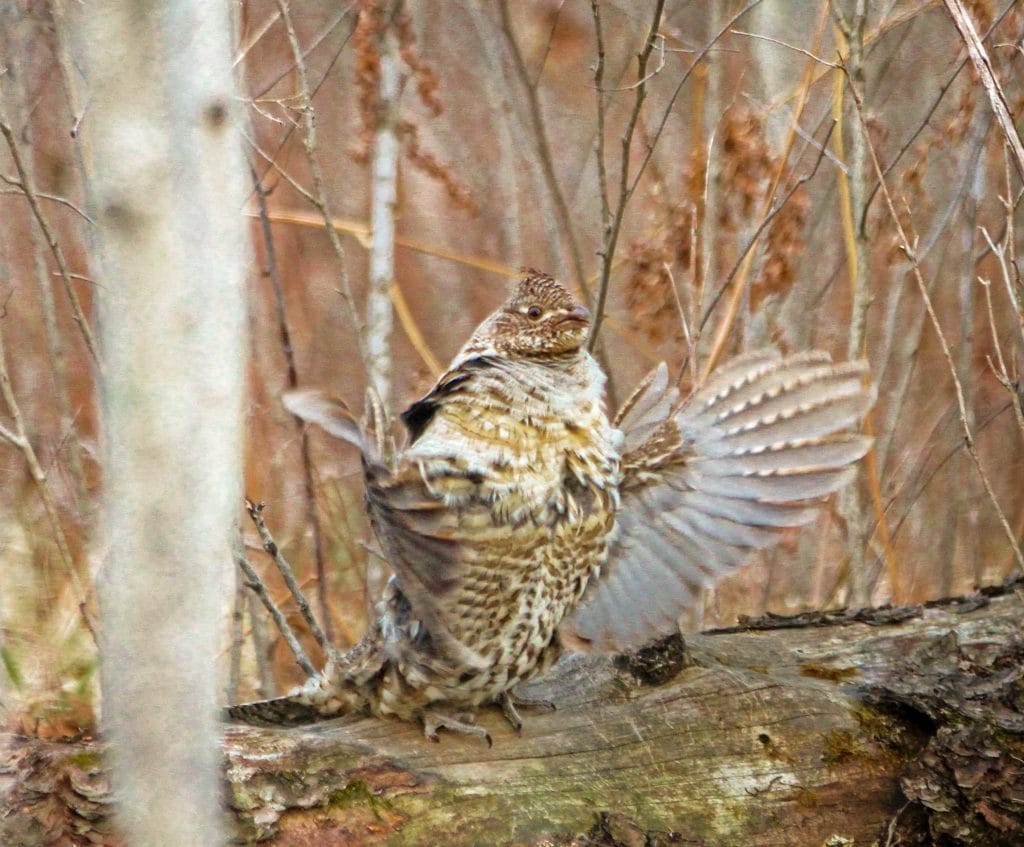 Get outside. It is that simple. Get outside and do something, whether it is hiking, biking, turkey hunting, cutting wood or taking pictures of drumming grouse, get outside. After snow melt is one of my favorite times – spring is blooming, the songbirds are back, woodcock are peenting, turkeys are gobbling, and of course, the male grouse are drumming. The grouse are basically pronouncing, "Here I am," every time they drum, and their thunder and power is really unmistakable. You may be doing some other random activity near the woods and hear a faint drummer in the distance. You won't hear it if you are on the couch watching golf. During the long, cold winter months, I anticipate spring and can't wait to find an excuse to get outside. Find your excuse, and you will be surprised how much you can learn.
Hit a forest trail. For me, a forest trail is one of the most mystical places to be, especially in the fall with a shotgun in hand, but spring is almost just as fun for all the reasons stated above. When I'm targeting drummers, I actually avoid my key hunting covers, the places where I know grouse to be. Spring, for me, is an opportunity to scout anew. I will locate a new area on an aerial image or plat book with good access, get there before dawn and start walking. Drumming will start in the dark before sunrise or shortly thereafter, and every "Here I am" is a pinpointed spot where you know a grouse is located. If there is a male drumming (often times multiple drummers on a single trail), you can bet there are females close too. If the spring mating ritual is successful – you do the math – there will hopefully be a good huntable population of grouse in the future. When you find a new drumming trail, put an "X" on your map and load up your dogs and guns at that spot in the fall.
Listen and look around. This sounds overly simple, but it works. I've learned the most about my fall hunting covers by slowing down, listening and looking during spring scouting. The location of the drumming log simulates an epicenter of that grouse's "territory". Find the log and look around. What do you see? What kind of habitat surrounds the log? In central Minnesota, I find most drumming logs in thick young aspen stands. It may be slightly different where you are, but you can learn the particular habitat that makes a sneaky, sly male drummer feel safe, where he can easily find food, and where he feels he has a good likelihood of finding a mate. Also, back up a ways from the drumming log and take a more global look at the entire area. You will often learn the basics of what a "healthy forest" means – transitions from various age classes, nearby mature forests, young stands of managed forests and others in between. Once you get a feel for what a grouse is looking for in terms of its surrounding forest, you will quickly get the "eye" for it and will be able to easily pinpoint those spots in the future, whether scouting in the spring or hunting in the fall.
By getting out in the spring, I try to make my grouse hunting a yearlong activity . . . at least that is my excuse, anyway. Again, this isn't brain surgery, but if you are anything like me and enjoy "prolonging the hunt", I urge you to get outside and enjoy the spring – scouting spring drummers can lead to finding fall covers. ~ Matt Soberg