09/01/17
« Back
August 30, 2017

For Immediate Release
Ruffed Grouse Society and American Woodcock Society Congratulate Tony Tooke on Forest Service Chief Appointment
Coraopolis, PA – The Ruffed Grouse Society and American Woodcock Society (RGS/AWS) congratulate Tony Tooke for his appointment as Chief of the United States Forest Service (Forest Service). On August 21, 2017, U.S. Secretary of Agriculture Sonny Perdue announced Tooke's promotion and lauded his career work for the Forest Service since age 18, most recently serving as the regional forester for the Southern Region.
RGS/AWS is significantly concerned about forest health and insufficient active management on national forests, specifically of young forest habitats required by ruffed grouse, American woodcock, golden-winged warblers and other game and nongame wildlife throughout the eastern United States. As he pursued Forest Service Silviculturist Certification earlier in his career, Tooke's project involved designing a ruffed grouse habitat management plan for a portion of the Daniel Boone National Forest in Kentucky. RGS/AWS believes that Tooke will be a reliable leader for improved forest management on national forests.
"Mr. Tooke clearly has great respect for the importance of this job and of the need for responsible management to promote healthy forests across our nation, and RGS/AWS will be happy to support and work with him in pursuit of that goal" noted RGS/AWS Director of Conservation Policy Dr. Brent Rudolph after recently meeting with Tooke to discuss management on national forests. "I was very appreciative of Mr. Tooke being generous with his time at the point he is preparing to take on such a demanding position."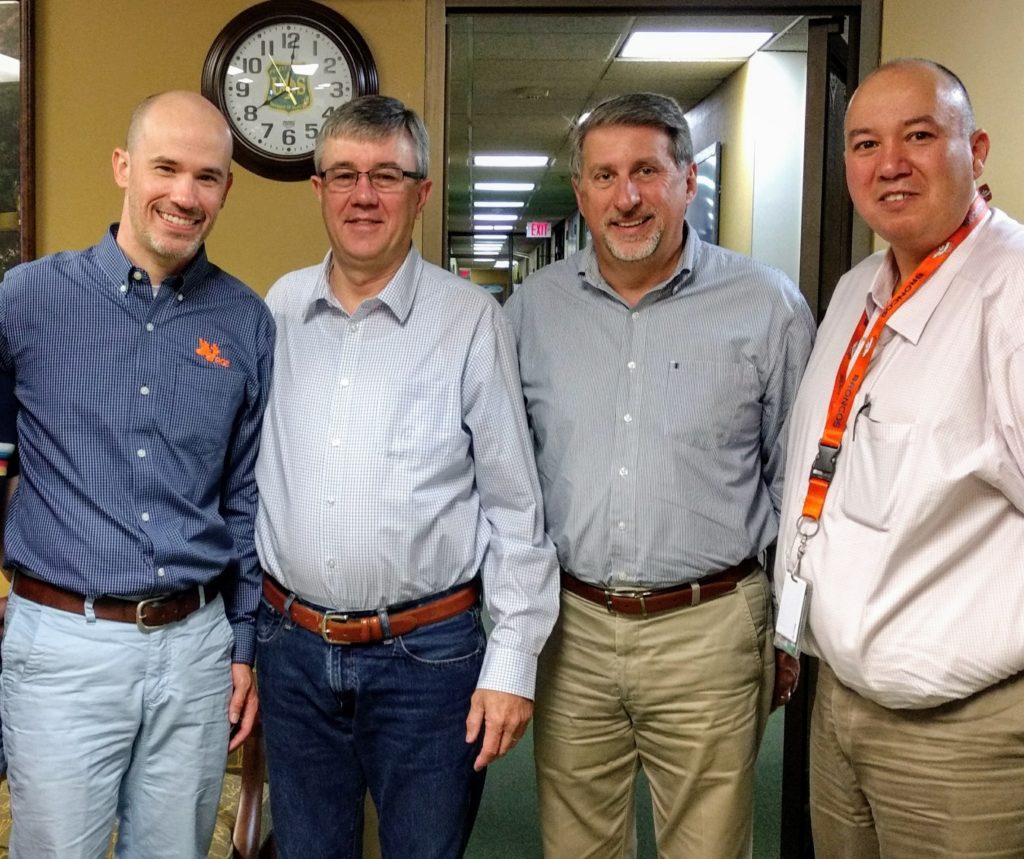 Photo: RGS/AWS Director of Conservation Policy Dr. Brent Rudolph congratulates Tony Tooke for his appointment as Forest Service Chief. Pictured, from left to right, are Rudolph, Tooke, Frank Beum (Deputy Regional Forester, Southern Region) and Robert Trujillo (Director – Biological & Physical Resources, Southern Region).
Following Tooke's appointment, Perdue stated, "The Forest Service will be in good hands with the U.S. Forest Service's own Tony Tooke whose knowledge of forestry is unmatched. His focus will be on ensuring we are good neighbors and are managing our forests effectively, efficiently, and responsibly."
As the regional forester for the Southern Region of the Forest Service, Tooke was responsible for 3,100 employees, an annual budget exceeding $400 million, 14 national forests, and two managed areas, which encompass more than 13.3 million acres in 13 states and Puerto Rico. He grew up in Alabama and earned a bachelor's degree in forestry from Mississippi State University. He was in the Forest Service's inaugural class of the Senior Leadership Program, and he has completed the Senior Executive Service Candidate Development Program.
***
Established in 1961, the Ruffed Grouse Society/American Woodcock Society is North America's foremost conservation organization dedicated to preserving our sporting traditions by creating healthy forest habitat for ruffed grouse, American woodcock and other wildlife. RGS/AWS works with landowners and government agencies to develop critical habitat utilizing scientific management practices.
RGS/AWS is designated as a Charity Navigator Four-Star charity, for recognition as a financially healthy, accountable, and transparent organization. Information on RGS/AWS, its mission, management projects and membership can be found on the web at: www.RuffedGrouseSociety.org.
Media Contact:

Brent A. Rudolph, Ph.D.

RGS/AWS Director of Conservation Policy

(517) 980-4570

BrentR@RuffedGrouseSociety.Org