09/06/12
« Back
PRESS RELEASE
Ruffed Grouse Society

451 McCormick Rd

Coraopolis PA 15108
Immediate Release

September 6, 2012
On Saturday August 25, members of the Ruffed Grouse Society from the Grand Rapids, MN Chapter donated time, equipment and effort to clear and mow the Jingo Lake Hunter Walking Trail north of Talmoon. Marty Niewind, head of the chapter, supplied the ASV mower, trailer and transport vehicle and the crew put in about 13 hours on the day. Niewind said: "We have great grouse hunting here and one of the largest RGS chapters in the country – we want to help make hunting better for our neighbors and the businesses that benefit from grouse hunter tourism." Although there was some RGS money available to offset fuel costs, Niewind picked up the tab for that, too.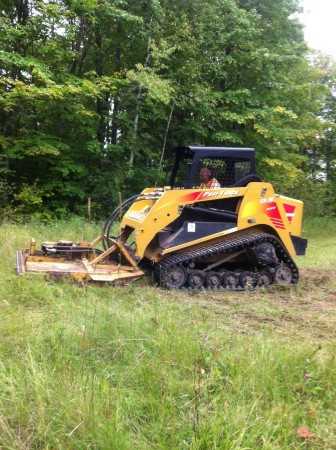 The Jingo Lake Trail system is on USFS Chippewa National Forest land. Todd Tisler of the Forest Service said: "Our budgets for maintaining Hunter Walking Trails have been sharply reduced in recent years so we really appreciate the efforts of these volunteers and we would like to work with RGS in the future on more projects that benefit grouse hunters and habitat. Ted Dick, Grouse Coordinator for the MN DNR, also hopes to expand these cooperative projects in the future: "I work with biologists from across the country, our grouse habitat and public land availability is as good as anywhere and we want to keep it the best in the country by helping wherever we can."
---
Established in 1961, the Ruffed Grouse Society is the one international wildlife conservation organization dedicated to promoting conditions suitable for ruffed grouse, American woodcock and related wildlife to sustain our sport hunting tradition and outdoor heritage.
Information on RGS, its mission, management projects and membership can be found on the web at: www.ruffedgrousesociety.org.
Media contact:

Ted Dick

MN DNR Grouse Coordinator

218-327-4438
Ted.Dick@state.mn.us