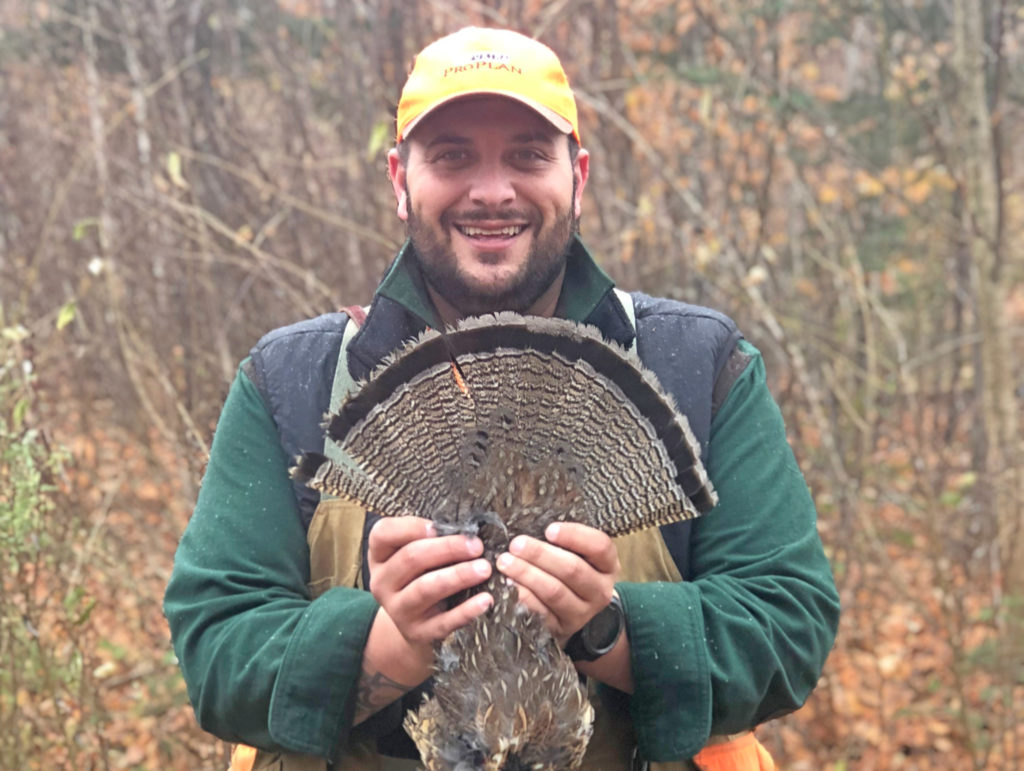 The room was full of bird hunters. Certainly, the most New Hampshire bird hunters I had seen in one place. The idea of creating a New Hampshire Ruffed Grouse Society chapter brought us together. The crowd included people as revered in the upland community as Dave Trahan, President of NAVHDA, and Paul Fuller of Bird Dogs Afield.
Across the room I spotted Joe Levesque. We shook hands, and as expected per our mutual Instagram following, things went smoothly. Turns out, we had hunted many of the same areas, though details were kept under wraps, at least for now. Through subsequent chapter meetings our conversations grew and Joe became treasurer of the newly formed Granite State Chapter.

Fast forward to fall and Joe and I were in Coos County, New Hampshire on a scouting mission as he was about to mentor a new hunter and another bird hunter who had never pursued grouse or woodcock. He showed an inherent interest in upland birds, habitat, and the future of hunting—things many of us discuss but don't often translate into action. It was clear that Joe is rooted deeply in the uplands. A perfect match for RGS/AWS!

So what does it take to be a regional director for the Ruffed Grouse Society? In the simplest form it involves leading members to further the conservation mission. It ranges from fundraising to communicating the vision for more diverse, healthy forests. It's all about carrying the conservation ethic into specific actions. Actions that Joe comes by naturally.

Joe and I now share personal covers and have shot birds over each other's dogs. As a chapter member I'm excited to see my hunting partner at the helm of the Northeast Region. I know he will excel. Although I didn't know I was watching the next RGS/AWS regional director at the time, I saw Joe's true leadership shine last fall as he handled his dogs and a new hunter with grace.

It was successful, inspiring, and a promising taste of our future.

Joe Levesque will support the Northeast Region to enhance chapter engagement and fundraising efforts. RGS/AWS regional directors work with local chapter volunteers to create and host chapter events including fundraising, sportsman's banquets, shoots, educational activities, habitat days and recruitment/youth events.
To contact Joe Levesque about his new role: josephl@ruffedgrousesociety.org
***
Established in 1961, the Ruffed Grouse Society/American Woodcock Society is North America's foremost conservation organization dedicated to preserving our hunting traditions by creating healthy forest habitat for ruffed grouse, American woodcock and other wildlife. RGS/AWS works with landowners and government agencies to develop critical habitat utilizing scientific management practices.