Written by: Mike Haider
Pine Island, MN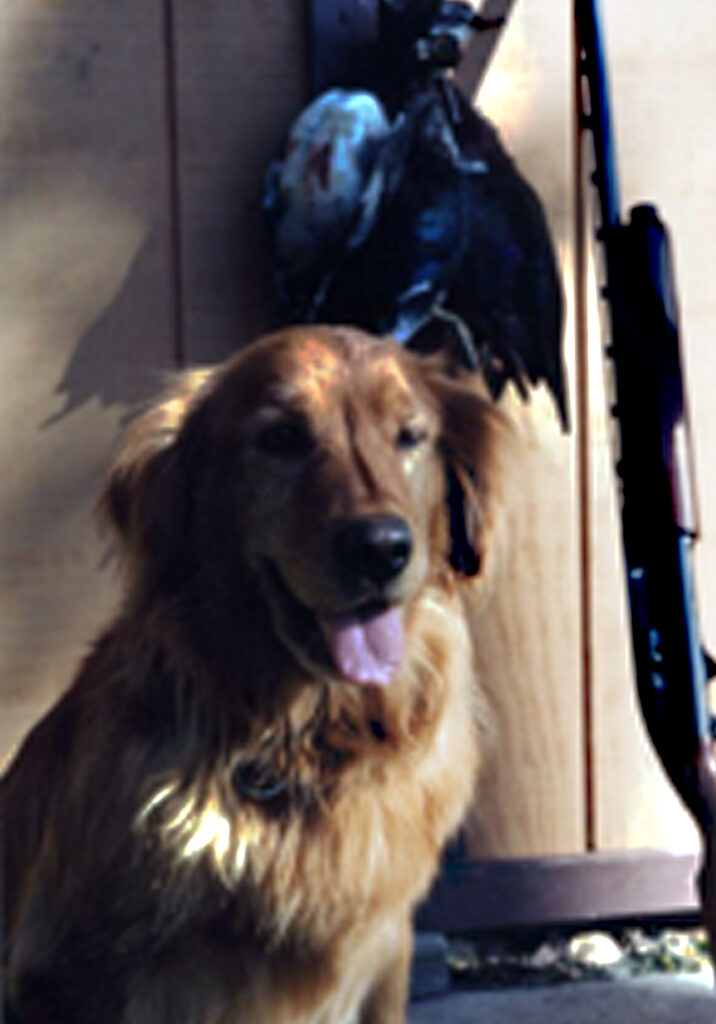 This is a story about a dog. A dog that became a member of our family and sometimes a friend of mine while hunting. A dog that I would talk to while alone hunting and a dog that I believed understood me and would talk back to me.
Nugget was our third dog. Another Golden Retriever that we called Nugget after McDonald's Chicken Nuggets. Nugget because my daughter, Teresa, was working at McDonalds.
There are so many things I remember about Nugget. The funny times, frustrating times, and the many times it was just the two of us hunting. But I've selected just a few.
Since I wanted Nugget to be a hunting dog, I spent a lot of time teaching her to heal and fetch. My son John joined in by taking on the obedience training project as part of his participation in 4H. One time going through a judging on his performance in training Nugget, John had to walk Nugget down the length of a room with Nugget on a leach at heal. Turn back, stop with Nugget sitting at heal. He dropped the leash, told Nugget to stay and then walked back to where he started. After pausing for a few second, he told Nugget to come. Nugget started, then picked up the leash and carried it with her back to John and stopped in front of him holding the leash in her mouth. That wasn't what she was supposed to do, but it caused the audience to laugh a bit. John eventually won a trophy or two with Nugget.
I love to hunt ducks and pheasants, but my favorite bird is the Ruffed Grouse. While Nugget was still young, but no longer a young puppy, I took John and Nugget to my favorite spot for grouse in the Whitewater Wildlife Management Area. John had only been hunting squirrels and rabbits, so this was his first bird hunting trip. It was also Nuggets first hunting trip. We climbed up the hill and started swimming through the trees. I was surprised that Nugget seemed to figure out what she was supposed to do. She was running thru the trees between John and I when she flushed Grouse. By some stroke of luck, I was able to drop the bird. I marked where the bird dropped and told John to move up, till I could tell him where the bird should be. I asked him if he could see Nugget. He could not see Nugget. And she was nowhere to be seen. This being her first hunt, I was afraid she may have gone off on some deer trail or chasing a rabbit, when John yelled, "Nugget is here, and she has got the grouse". Evidently the grouse had run, and she chased it down. That was Nugget's first retrieve.
I hunted a lot of birds with Nugget. Grouse, Ducks, Pheasants, and Prairie Chickens. Many times, it was just Nugget and I. She was my companion, and we talked a lot on those hunts. I remember one duck hunt on Rice Lake near Owatonna. In the boat, it was just Nugget and me. It was a beautiful day, sunny blue skies, and a nice mild temperature. Not a good day for hunting ducks. I was talking to Nugget, while sitting in the boat, about the weather, the lack of birds, just about anything, when a flock of mallards came from behind and flew right over the top of us making a pass at the decoys. It happened so fast, that I never got a shot off. I remember the look that Nugget gave me that said, "how come you didn't shoot boss". I recognized that look many times during our hunts together.