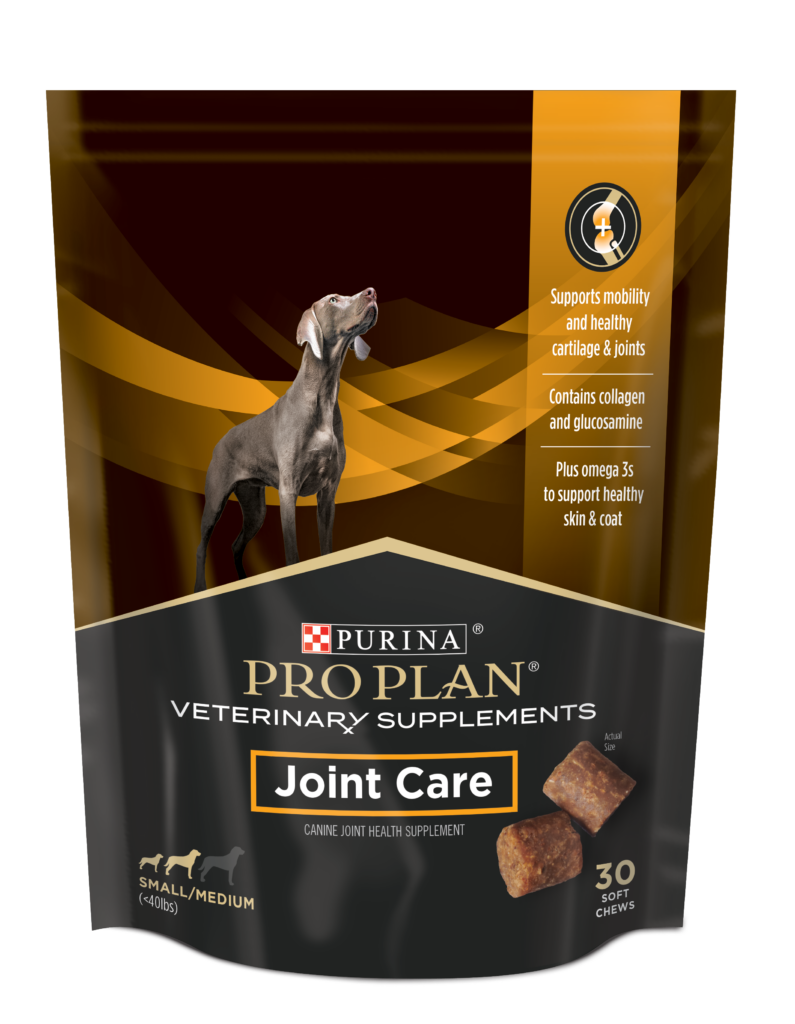 Cambridge Dictionary defines a joint as "a place where two things are joined together." In terms of your hard-charging sporting dog, think how important the knee, hip, ankle, shoulder, elbow and carpal joints are to his or her performance and comfort day in and day out. And factor in the pounding those respective joints take year after year.
Purina has been thinking about it – and in June 2023 is introducing Joint Care, a new soft chew supplement formulated to support canine mobility and normal daily activity.
This latest addition to the Purina Pro Plan Veterinary Supplements line provides three joint benefits in one new supplement:
Joint Care contains collagen, glucosamine and chondroitin sulfate to help maintain healthy cartilage and joints.
Contains omega-3 fatty acids from cod liver oil to support normal inflammatory response in joints from natural aging.
Promotes walking, climbing and general mobility.
Purina Scientist and Research Nutritionist Brian Zanghi says the company spent about 2½ years developing the Joint Care formula, identifying the proper ingredients and appropriate levels of inclusion and ensuring the product and production quality are met and confirmed.
"The active ingredients in our Joint Care supplement have been widely evaluated by many different veterinarians and nutrition researchers," Zanghi says. He adds that Joint Care has been fed to dogs to confirm that their acceptance of the new supplement is excellent.
The Joint Care supplement hits the marketplace June 1 and is available through veterinarians as well as online and at pet specialty retail stores.
In addition to his background as a scientist and researcher, Zanghi is a hunter with a passion for Labrador retrievers. In this installment of Tips from Purina Pro Plan, we sat down with Zanghi for a Q&A about Purina's new Joint Care supplement.
Covers: Joint Care is recommended as a supplement for healthy puppies and adult dogs predisposed to joint conditions. How do I know if my healthy puppy or adult dog needs it?
Zanghi: Some dogs may be predisposed to joint conditions, and there are several risk factors, including their genetics, excessive growth rate, types of exercise, improper weight and unbalanced nutrition. It's always best to discuss any health concerns with your veterinarian to understand if your pet or sporting dog is at risk for any joint conditions.
Covers: Joint Care is recommended for dogs with osteoarthritis. What are signs of osteoarthritis, and would this diagnosis be based on the recommendation of a veterinarian?
Zanghi: Osteoarthritis is a degenerative disease of the joints and can range from mild to severe in its condition and symptom severity. Dogs that may be developing osteoarthritis could show varying severity of joint stiffness or lameness, have joints that are painful or even appear swollen. In many cases, the pet may be restless, reluctant to stand and/or refuse to jump, use stairs or run. Again, it's best to consult a veterinarian to conduct a proper evaluation and provide a diagnosis for osteoarthritis, along with the appropriate treatment plan.
Covers: Talk about the ingredients in Joint Care.
Zanghi: Joint Care provides a range of active ingredients evaluated in nutrition studies published by many different scientists and veterinarians. These active ingredients are incorporated into joint structure and involved in joint cell metabolism to support joint health. Ingredients like collagen, omega-3 fatty acids as eicosapentaenoic acid (EPA) and docosahexaenoic acid (DHA) delivered by cod liver oil, and blends including glucosamine, chondroitin sulfate, and/or hyaluronic acid have a direct influence on joint structure and metabolism, thus supporting mobility in dogs and other mammalian species.
Covers: Pro Plan brand dog food already contains some of these ingredients to support joint health. Do I still need a supplement?
Zanghi: Depending on the Pro Plan main meal dog formula, different levels of omega-3s and glucosamine will be included. Each pet's lifestyle, age, health status and environment will be different, and Joint Care has been formulated to be used in combination with any Pro Plan dog formula.
Covers: I have a very active sporting dog. What's the recommended usage of this supplement?
Zanghi: Joint Care is available in two sizes – 2.5-gram and 5-gram chews – both in 30-count pouches. Dogs less than 40 pounds would receive one small chew daily. Dogs from 40 to 90 pounds would receive two small chews daily, or one large chew daily. Dogs more than 90 pounds would receive two large chews daily.
Covers: If I use Joint Care and stop (e.g., hunting season ends) is there any ramification or issue?
Zanghi: Joint Care is best if used continuously to support joint health.
Covers: How will I know if Joint Care is helping and/or working?
Zanghi: Joint Care is developed and formulated to support normal daily activity, such as walking, climbing and general movements. The benefits may vary depending on your pet's individual needs, joint health status and many other factors. Most nutrition studies with dogs receiving joint health supplements see improvements after several weeks to several months of regular daily intake, depending on the individual pet and type of joint health status. Thus, it may take time to observe a benefit.
The suggested retail price for Joint Care is $12.99 for the 30 count small chews and $19.99 for the 30 count large chews. For more information about Joint Care or other Purina Pro Plan Veterinary supplements, go to ProPlanVetDirect.com