by Keith Schopp
Part of my job at Purina – one that I really enjoyed before retiring – was occasionally answering calls from consumers. Some calls were positive, some were opportunities and some were downright bizarre.

"WHY DO YOU PACK LIVE ANIMALS IN YOUR BAGS OF DOG FOOD?'' the consumer yelled into the phone.

Below is one of the bizarre ones.

"We don't," I said calmly but firmly.

"WELL, THEN PLEASE TELL ME WHY I OPENED THE BAG TODAY AND A LARGE ANIMAL WAS LOOKING UP AT ME? IT SCARED ME. THE ANIMAL WAS SCARED, TOO!"

I tried, repeatedly, to assure this consumer there was no way, but she was adamant. We were just as determined to get to the bottom of this, so we weren't left holding the bag, so to speak. Purina eventually sent a local resource to help investigate the situation and provide some answers. Amazingly, there had been a large animal inside the bag of dog food! It was a raccoon. Unfortunately, that's because this consumer stored her bag of dog food in the corner of an open barn with a dirt floor. And yes, Mr. Raccoon apparently burrowed up from the bottom of the 50-pound bag and helped himself to a tasty meal. It was an inside job. Case closed.

Lesson learned? Don't store your pet food outside, on the ground or where rodents, varmints or other pests, including insects, have easy access.
We asked Dr. Kurt Venator, Purina's Chief Veterinary Officer, for some common-sense tips on buying and storing pet food properly.

"Consumers can start by examining pet food packaging before purchasing at the store or when it's delivered to ensure it's clean and hasn't been damaged with a rip or hole," Dr. Venator says. "And when shopping for pet food, make sure the food meets the "Best if Used By" date on the package.

"Where and how pet food is stored can make a huge difference in both quality and freshness. Remember that pet food is food and it should be stored similar to how human food is stored. Store your pet food in a cool, dry location. Don't leave the bag on the floor in the garage or outside. Don't expose it to heat or high humidity," said Dr. Venator.

Dr. Venator recommends storing pet food in the original bag and within a plastic or galvanized metal bin with a tight-fitting lid. Keeping the food in the original bag, if possible, is essential for several reasons: The package contains date code information that tells the complete story of when and where the product was made. If a consumer has a question about the product, they can share date code information with Purina's Office of Consumer Affairs. The code includes a "Best if Used By" date and identifies the U.S. factory where the product was produced and the exact time and production line used in the process.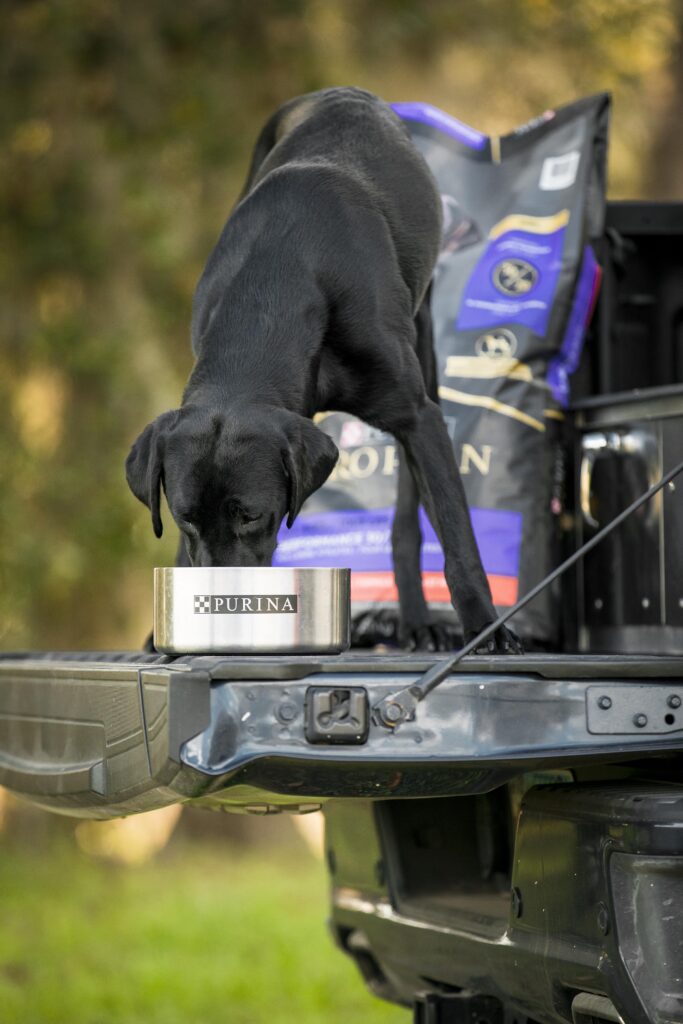 Some consumers choose to pour the contents of the bag into a clean tub or bulk bin. At a minimum, save the original packaging for reference. You can repurpose the bags for everything from tote bags to kindling sacks to trash bags.

"Ideally, pet food should be consumed within 5-6 weeks from when opening the bag to ensure freshness," Dr. Venator says.

Opened cans of wet dog food should be sealed and stored in a refrigerator (or a cooler if you're traveling) at temperatures between 40-45 degrees Fahrenheit for a maximum of 3-5 days. You should empty your pet's bowl of moist or canned food not eaten by your dog within 2-3 hours if the ambient temperature is above 50 degrees Fahrenheit.
Clean your pet food bowls daily with hot soap and water; if you use a bin or container, remember to wash it regularly. Highly palatable and high-fat/calorically dense pet food like Purina Pro Plan can leave a fatty residue in bins over time. Wash and dry those bins or containers to maintain optimum cleanliness.

Traveling With Pet Food
Karl Gunzer, Purina's Director of Sporting Dogs, says keeping dog food dry, air-tight and off-limits to insects and unwanted animals is equally important when traveling. Sturdy, heavy-duty containers like the Gunner Food Crate can help make sure your food stays protected, especially when it's necessary to keep it in the back of your pickup.
Gunzer adds that there's a good reason why manufacturers recommend not transferring food out of the original packaging and into containers. "No matter how dedicated, most owners simply don't take the time to wash out storage containers and clean and dry between bags," Gunzer says. "The word 'cross-contamination' was coined for just such events."

And if you can't or don't keep the original bag, Gunzer suggests snapping a photo of the manufacturing date code information before transferring the product or clipping the code information. "That way you can remember what you put in the container."

For short hunting trips with a few dogs, Gunzer says pre-portioning feedings into individual storage bags can be a great strategy. "This makes sense when you're feeding different Pro Plan formulas to different dogs – say Pro Plan Performance brand Salmon and Rice to the Labrador and Pro Plan Performance Chicken and Rice to the shorthair. Or, when dogs are on medications or given supplements with their diets."

And, speaking of supplements, products like Purina Pro Plan Veterinary Supplements Forti-Flora should also be kept cool and dry. Take steps to keep your pet food, supplements and medications out of direct sunlight and extreme heat.