by Seth Bynum, DVM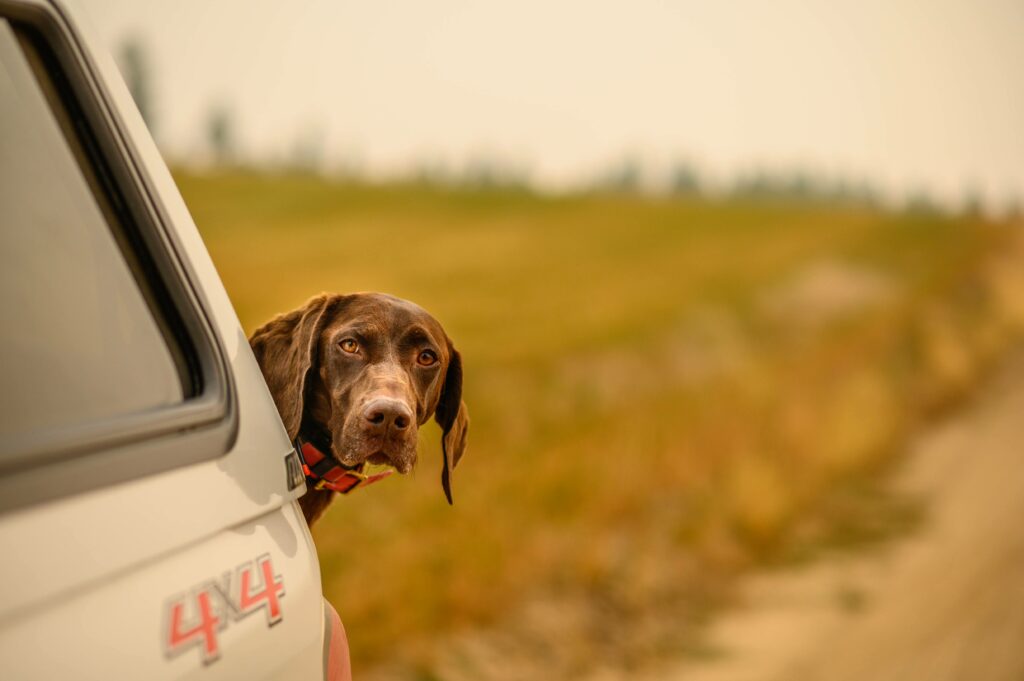 Perhaps my favorite attribute of a bird dog is their unending enthusiasm to load up and go hunting. A subtle movement towards the gun safe or the rustling of a bird vest are all that's required to light the fires hot and fast without care about the weather, terrain or what televised Sunday sporting event might be missed with a day spent in the field.
Additionally, they're always game for an upland-cation on short notice, without care for feasibility or becoming mired in logistics. But raw enthusiasm only gets you so far when finalizing a game plan for a well-executed upland road trip. So heed this field-borne advice and learn from my mistakes as you and your hunting dog prepare for your next big adventure.
Health and Wellness
Multi-day trips carry tremendous physical costs for the hunting dog, and with that comes an increased risk of injury. Make sure your pregame strategy involves a sketched-out disaster plan for addressing veterinary emergencies while traveling in new, often remote country.
I've learned through the years that the likelihood of experiencing a medical disaster on the road seems to diminish considerably the more effort is invested in a solid action plan. First, investigate ahead of time what veterinary clinics serve the regions you're hunting. Embrace the fact that, out West, some of those could be multiple hours away.
Have the phone numbers for multiple clinics stored in your phone before the trip, as cell service will be only sufficient for a choppy call in most places. Browsing Google reviews or getting turn-by-turn directions won't be an option in the 5G vacuum of chukar country, so figure these things out beforehand. Investigate which clinics see after-hours emergencies and what their policies, available services and fee structures are in the unlikely event you need to use them. Beginning with clear expectations will be helpful in the murky chaos that accompanies a medical disaster far from home.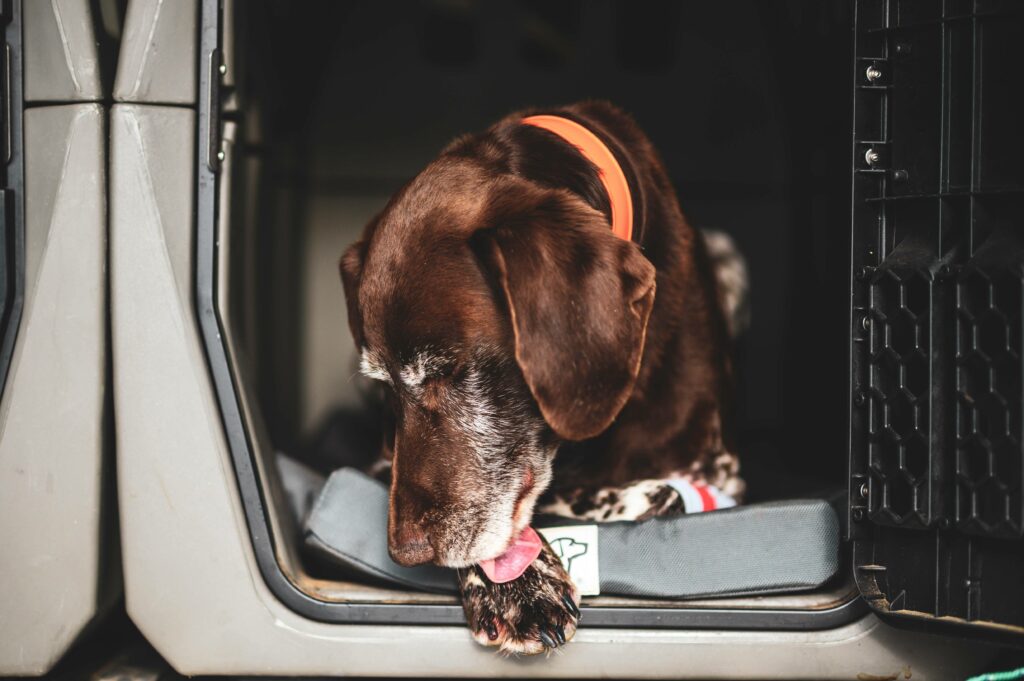 Fortunately, you can safely address most minor injuries or ailments in the field with a dose of common sense and basic supplies, emphasizing the former. A field first aid kit need not be a mobile veterinary practice, especially if its user lacks experience with its contents. I carry a modest field kit with basic bandaging material and flush for eyes and minor wounds. Don't embark on a road trip to pheasant country without a multi-tool or needle-nosed pliers for porcupine quills, even if your dog isn't prone to making them a chew toy. I've removed a number of stray quills picked up in thick cover without the dogs ever directly encountering one of the prickly critters.
Back at camp or the truck, I keep a more comprehensive kit for medium to advanced first aid. For those with some medical training, wound sterilizing scrubs and a skin stapler may be all that's required to avoid a visit to the veterinarian for small lacerations. The larger kit contains an assortment of pain, nausea, diarrhea and antibiotic meds, many of which a hunter-friendly veterinarian could prescribe ahead of time for established patients.
Nutrition and Energy
An epic road trip requires a mind-boggling amount of calories. Hunting dogs may burn as many as 12,000 kcal in a single day-long upland outing, a demand that's hard to replenish with kibble alone. I give my dogs performance dog food throughout the year in anticipation of the multi-day hunts we enjoy each fall. These diets are rich in fats – the canine athlete's primary energy source – with ample research behind their ingredients.
Additionally, performance dog foods have the added advantage of calorie density, many approaching 500 kcal/cup. This density not only equates to maximizing space within the dog (they can only hold so much food in their digestive tract at each meal,) but they also pack tightly where truck bed real estate is limited and immensely valuable. Wild fluctuations in temperature and humidity necessitate the inherent shelf stability most quality dry commercial dog foods boast. In my experience, these diets can withstand the abuse of extreme heat or sub-zero temperatures without degrading or turning rancid mid-journey. A multi-day trip isn't the time for perishable and fragile raw diets.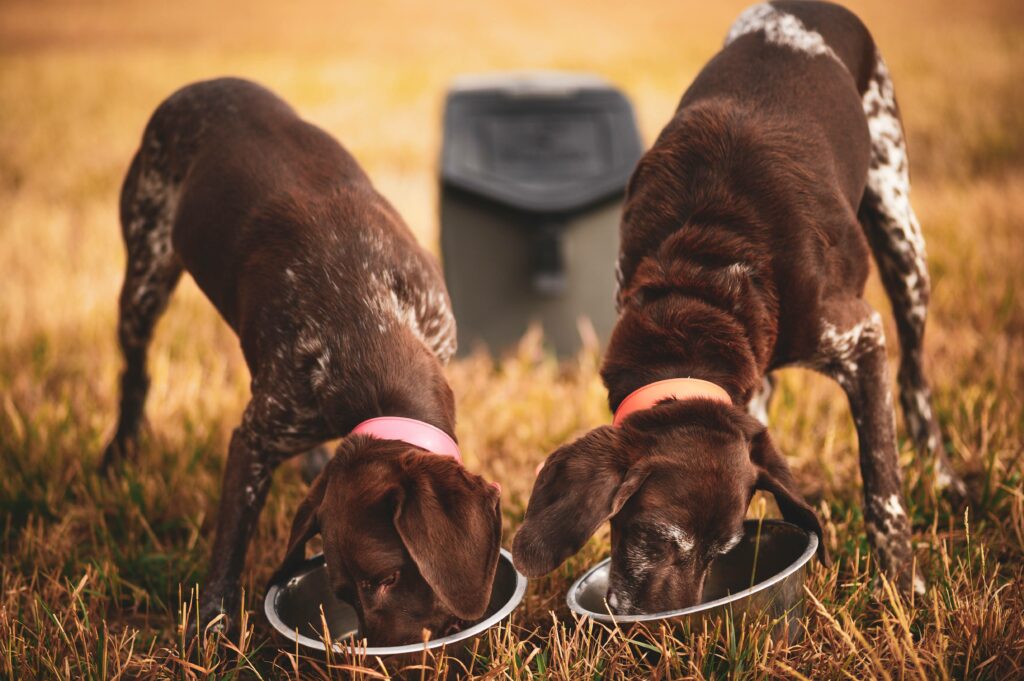 Learn from my mistakes and store your dog food in a weatherproof and critter-proof container for the duration of your journey. Several options on the market fit the bill for food safety on a road trip. I love and rely on the unrivaled durability of the Food Crate from Gunner, but some may find the heft and expense unpalatable.
I reserve ample space for water as well, especially when my road trips take me across the prairie states. I loosely calculate one gallon per dog daily, depending on conditions and availability of clean, natural sources along the hunt. I've learned the hard way that water containers should be large enough to hold a respectable volume but small enough to easily heft indoors or inside the truck cab to prevent freezing overnight. A large block of ice is nearly as useless as a bone-dry water jug is for keeping a dog hydrated.
Supplements warrant an entire column on their own, but there's one in particular that I reach for on longer trips: Fortiflora. This highly palatable product is a proprietary probiotic that has worked tremendously well for me as both a clinician and upland road trip junkie.
Traveling – even when submerged in an activity our dogs love to do – carries an inherent amount of stress. Excitement, nerves and a smorgasbord of free-range prairie snacks all contribute to a condition called gut dysbiosis. Think of it as a misalignment of the delicate balance of good and bad bacteria in the gut. The result is diarrhea, which I can assure you is one of the least desirable ailments encountered when confining and traveling long distances with dogs. Fortiflora establishes a healthy population of beneficial bacteria and prevents or at least minimizes stress-related gastrointestinal issues. My last piece of advice steps outside my realm as a veterinarian but leans on my former life as a photographer and journalist. Bring a camera and use it. Bird dogs are only with us for a short while, and each opportunity to travel and hunt with them is a treasure. Breathe in and capture every moment.