Written by: Joe Peikert
Hortonville, WI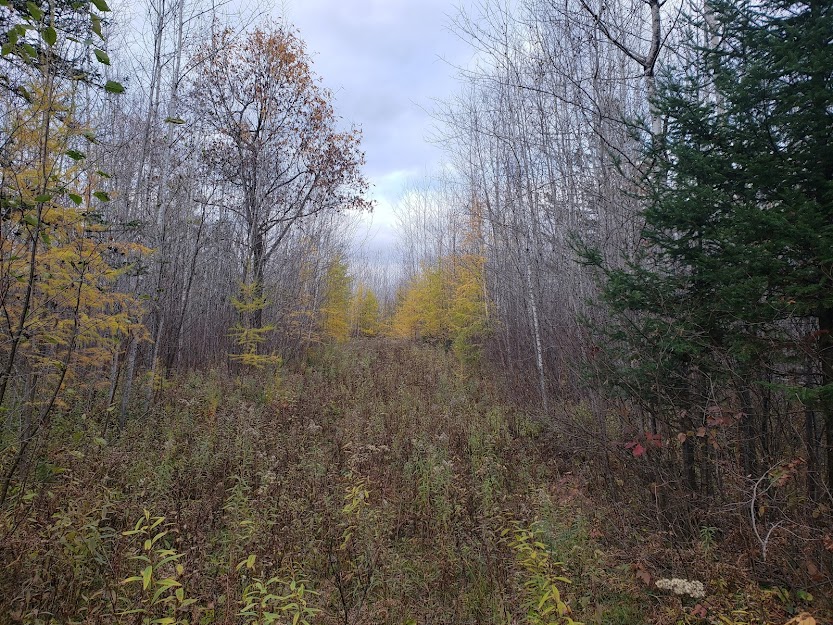 It had been decades since I had been to the lakeside cabin of some very good friends.  I had missed our annual waterfowl trip to North Dakota this year and was looking for an opportunity to hunt with Brad.  When I figured out he was going to be at his family cabin in northern Wisconsin on a weekend I had open, I shamelessly suggested we might get together for a hunt.  An invitation followed that did not require any thought on my part to accept.  On road trips I like think time.  My drive northward would not include listening to podcasts or music.  The drive time was filled with memories of many hunts we had together from boyhood through adulthood.  And of thoughts of what memories might be made this weekend.  As I got closer to the cabin the roads changed from highway to county roads to dirt roads.  Many memories appeared and passed like the road signs along the way.  The final few turns to the cabin felt both distant due to the passing of many years, yet warmly familiar.
I was greeted by Brad and his mom Barb and their dogs. Barb had been like a second mom to me during my formative years in our neighborhood where we first met. With old friends, it doesn't take but a moment to catch up, though many years may have passed since any significant time was spent together. Such was the case with this reunion.
Brad and I were anxious to get the dogs to the woods however. We had happened to be at that magnificent mid-October time that Midwest uplanders live for. Grouse were on the wanted list. But we were hopeful that there would be woodcock down. "They're calendar birds." Brad reminded. "There should be some around."
Though Brad was familiar with most all of the coverts we worked, they were all new to me. I had never hunted any of them. In fact it is safe to say they were likely mature standing timber the last time I was at the cabin. We spent the next three days busting brush.
There is something rewarding about tough hunts through young popple stands. The smell of decaying leaves on the forest floor and balsam in the air are intoxicating to those of us who love this pursuit. It had me wondering if that's what the fresh scent of grouse and woodcock are to our dogs. To no surprise, we found the birds in the nastiest, thickest cover which of course included blackberry vines. As the weekend ensued, dogs and hunters alike accumulated "battle scars" from everything prickly.
Though we had to move from spot to spot, we pretty much figured out where the woodcock were hanging out and several days we were lucky enough that limits were collected. Brad's lab Bode and my two labs Gabby and Raven had quite a time flushing and retrieving timberdoodles.
The grouse were another story. They were unpredictable in the type of cover we found them in. Though we heard flushes or saw them flickering through the trees and brush, we were rarely afforded a shot. Our "quick first stop" one morning extended into a three and a half hour, three mile loop where we flushed 11 grouse and shot at only one. (Fortunately Brad got it!) This had us asking back at the tailgate, "Why are grouse so tough to get a shot at?" The question was rhetorical though, as we have both been doing this long enough to know and accept it.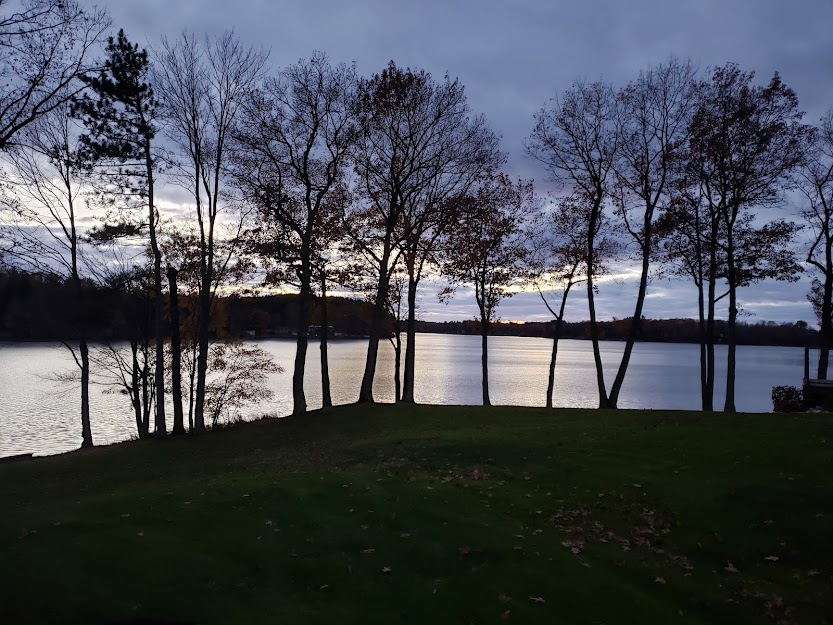 At the cabin each evening we watched they hazy autumn sun set beyond the dark water of the lake.  A Terry Redlin painting come to life.  Brad and Barb served up a traditional Wisconsin walleye fish fry the first night.  Many miles on the boots, good meals, and a cozy cabin very quickly brought on a comfortable drowsiness that seemed to come earlier each successive evening.
Our last day found us once again in some new coverts. A few more woodcock made their way to our game bags. The most interesting bird of the day was one collected without a shot being fired. Gabby got extremely birdy as we approached a wall of cover. I saw her dart in a straight line and sensed she was about to flush a bird. I moved up quickly though the cover but the bird had already flushed and she gave chase. I continued up and spotted her hunting some cover further ahead. As I readied for a shot on a potential re-flush, she turned back towards me with a very live woodcock in her mouth. This turned out to be the last bird of the weekend for me.
Brad was staying another day, but I needed to head for home. It was a fantastic "reunion hunt". We got to chase both the king of gamebirds and timberdoodles during that magical, short window of time in October. As I drove south in the waning daylight, my thoughts were of the new memories just made with old friends in new coverts.