03/09/16
« Back
RGS PRESS RELEASE
451 McCormick Rd

Coraopolis PA 15108

412-262-4044
For Immediate Release

March 8, 2016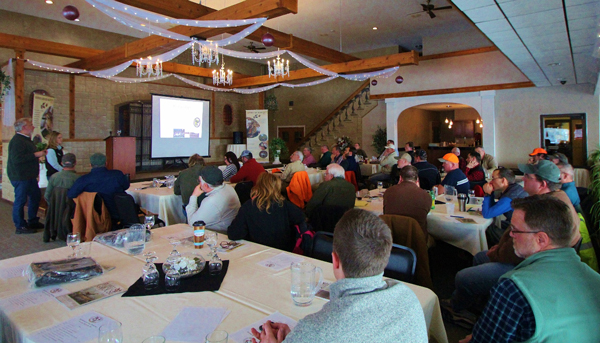 Coraopolis PA – On Saturday March 5, 2016, the Ruffed Grouse Society (RGS) and American Woodcock Society (AWS) hosted the 2016 Minnesota State Workshop in Duluth, Minnesota. The event was attended by over 40 passionate grouse and woodcock hunters, conservationists and general supporters of the RGS and AWS mission. The agenda was action packed throughout the full day seminar and covered a broad range of topics from conservation policy and wildlife biology to grouse dogs and modern scouting techniques. Each individual presentation morphed into an open discussion with significant interaction between presenters and attendees.
Matt Soberg, RGS and AWS editor and director of communications, updated attendees on the current state of marketing and media efforts including the Ruffed Grouse Society magazine and social media channels. Dan Dessecker, RGS and AWS director of conservation policy, provided an update on conservation policy and political efforts of the organization. Meadow Kouffeld-Hansen, RGS and AWS regional wildlife biologist, and Ted Dick, Minnesota Department of Natural Resources forest game bird coordinator, provided an in-depth look at recent RGS and AWS habitat work in Minnesota including insight on future plans. Mark Fouts, RGS and AWS director of member relations and outreach, rounded out the RGS staff presentations and provided a look at the New Hunter Mentor Program rolling out in 2016.
The final two presentations included volunteer guest speakers who took time out of their day to provide attendees with valuable expertise on two great topics, scouting and grouse dogs. Forrest Gibeault of Steigerwaldt Land Services demonstrated some advanced techniques utilizing Google Earth, county GIS systems and a host of other technological platforms to make the most out of your time spent in the grouse woods. To close out the day, Steve Grossman of the Little Moran Hunt Club and Double Gun Bird Hunts was joined on stage by three of his guides, Bert Benshoof, Rod Lein and Jim Koehler. The topic of grouse dogs and the ensuing question and answer session likely could have continued well into the evening, but eventually we had to call it a day.
Overall, the 2016 Minnesota State Workshop was a successful event, and RGS and AWS intend to build off this momentum to continue delivering similar events to our members in the future.
Interested in attending an RGS and AWS event? Numerous opportunities exist to attend an RGS Conservation and Sportsmen's Banquet in Minnesota this spring: March 18, International Falls; March 31, Cambridge; April 7, Bemidji; April 13, Grand Rapids; April 21, Virginia; April 28, Duluth/Superior; May 3, St. Cloud; May 6, Warroad. For more event information, visit www.ruffedgrousesociety.org or contact RGS and AWS Regional Director Nick Larson, NickL@RuffedGrouseSociety.org, 218-393-7076.
---
Established in 1961, the Ruffed Grouse Society/American Woodcock Society is North America's foremost conservation organization dedicated to preserving our sporting traditions by creating healthy forest habitat for ruffed grouse, American woodcock and other wildlife. RGS/AWS works with landowners and government agencies to develop critical habitat utilizing scientific management practices.
Information on RGS/AWS, the mission, management projects and membership can be found on the web at: www.ruffedgrousesociety.org.
Media Contact:

Nick M. Larson

RGS & AWS Regional Director
NickL@RuffedGrouseSociety.org

218-393-7076