by Keith Schopp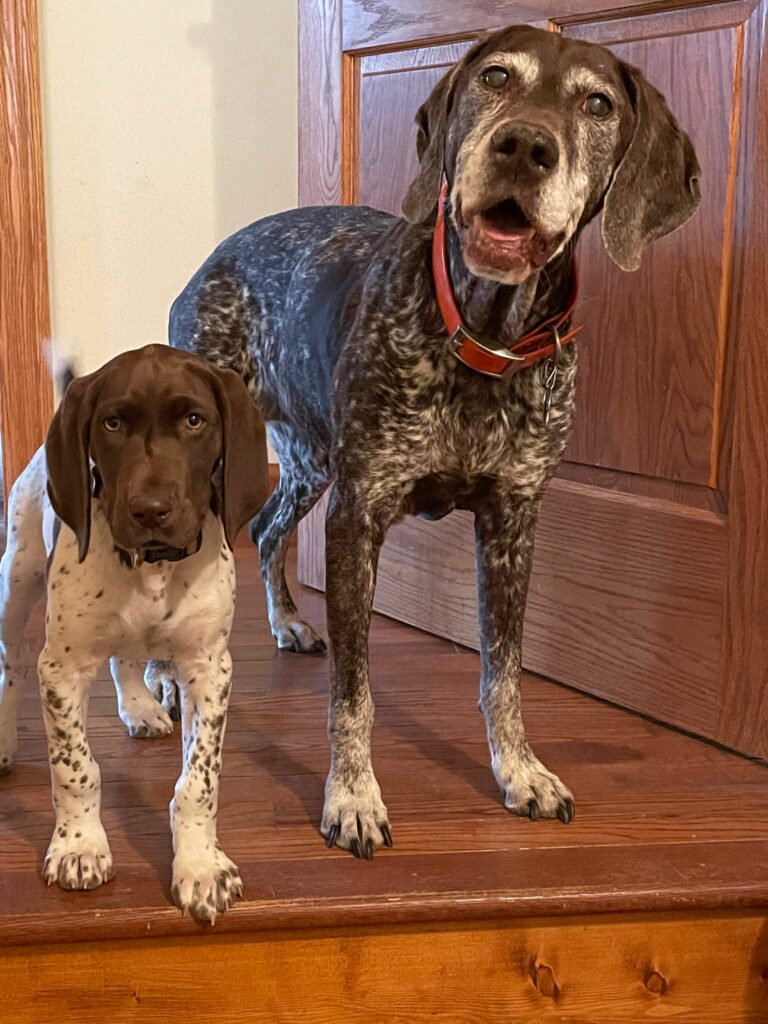 Claira was 12 when I knew. We were grouse hunting in thick cover on a snowy Minnesota morning, and my normally biddable shorthair who always checked back, always came to the whistle, always hunted with me and for me was out of sorts and out of touch. She was confused and I had to go find her, time after time. Even when we reunited and tried to regroup, she would range for 20 yards or so, then stop. I'd whistle or call her, and she'd go the other way. Finally, I had enough and resorted to the leash in my hunting vest. We headed out of the aspens together, and deep down I knew it was her last intensive grouse hunt. Claira had given me so much over the years. But at 12 she couldn't hear, couldn't find me and clearly had some cognitive issues. The heart was willing, but why push it? Better to hunt my younger dogs in the grouse woods and give Claira a game farm present from time to time and a path to retirement.
Claira lived to see four more Octobers. She passed away peacefully this past November, one week before her 17th birthday. I never regretted my decision to semi-retire her at age 12. She had nothing left to prove, enjoyed her shorter walks in the field and ruled the roost at our house. She also tolerated, if not welcomed, five new additions to our sporting dog lineup during her lifetime.
So, with Claira in mind, this Purina piece focuses on signs of aging and decline and strategies to help address those issues, along with and thoughts on timing for a new puppy to help fill in the gap.
Prime Time
Physically, most dogs are in their prime from about 2 to 8 years, depending on breed and overall health, according to Purina's Director of Sporting Dogs Karl Gunzer. "These are the years they can sustain longer days in the field and more miles," Gunzer says. "As they age past 8, it makes sense to gradually reduce the duration of bouts of exercise to avoid lameness and injury. They still have the same desire to work, but sometimes we need to intervene to keep them from wearing themselves out or causing injury. Sore, tired dogs are more likely to injure themselves than fresh, well-rested ones."
Dr. RuthAnn Lobos, DVM, CCRT, CVAT, senior veterinarian for Nestlé Purina PetCare, agrees, and adds that after age 7, glucose metabolism in a dog's brain decreases, thus making them more susceptible to diseases like canine cognitive dysfunction syndrome. "This can also decrease their reaction time and spatial awareness, even causing them to lose the training they previously had," Dr. Lobos says. "Other considerations can be a decrease in hearing, sight and potentially smell as they age."
Motion is the Lotion
If avoiding full retirement is the objective, keeping your senior sporting dog lean and in ideal body condition will help. Dr. Lobos points to the groundbreaking 14-year Purina study with Labrador retrievers, which demonstrated that keeping dogs at an ideal body condition actually extended their healthy lifespan. "Feeding the right diet with ideal levels of fat, protein and calories, keeping your sporting dog lean and providing regular veterinary checkups can keep dogs moving well into their senior years.
"My saying is 'motion is the lotion for the joints,' so regular, low-impact exercise is critical for seniors and even more so from a mental health standpoint of our senior athletes," Dr. Lobos says. "Keep them active and take them for short bouts of exercise where the birds might be. Sniffing releases serotonin – the 'happy hormone' – and stimulates their brain cells. So even if it's 15 minutes out in the field, I think our senior athletes deserve it and need it."
At the same time, Dr. Lobos advises paying attention to your dog's body language. "Chronic limping, super-stiff gaits and licking at joints like hips, knees and elbows are all signs that we need to be more mindful of the length and intensity of their excursions."
Dr. Lobos says she's a big fan of veterinary checkups every six months for sporting dogs over the age of seven. "You're more likely to catch things early and address small issues before they become career-ending," she says. Also, keep in mind there are veterinarians who specialize in rehabilitation, sports medicine and acupuncture and have a variety of modalities to address mobility and pain."
Build a Bench
Even the best performance dogs peak and begin to decline with age.
"Depending on how much you hunt or compete, it makes sense to spread out the work between multiple dogs at various stages of life," Karl Gunzer says. "Serious hunters or guides who work dogs on a daily basis often have a 'go-to' dog that works most days, a 'spare' that can sub in when the workhorse needs a day off and usually a top prospect that can gain some experience in the field before they're ready for the full-time roster."
One strategy is to acquire a new or started puppy every three or four years. For example, having a stable of hunting dogs at varying ages – say 2, 6 and 10 – keeps the pipeline full.
Some tech tips
Aside from a gut feeling and anecdotal evidence that your canine may be approaching retirement, Dr. Lobos says she's a fan of available technology to help prove the point.
"So many hunters will take videos of their dogs running and retrieving for social media and other platforms and purposes. Why not make it a habit to take a video of your middle-aged or senior dog at the start and finish of every season? Compare those for any changes, and share the videos with your veterinarian," she says. A video can also expose changes in gait and minor injuries or weaknesses, and can help capture body condition and composition year over year.
Dr. Lobos also recommends keeping a journal to track days hunted, number of hours worked, birds pointed or flushed and retrieved and conditions hunted (temperature, terrain, altitude).
Puppy Time?
If you're transitioning a senior dog to light duty or retirement and are thinking about taking on a new puppy, now is the time to do your homework before you make the commitment.
Some considerations:
Do you have the time, resources and support to take on another pet project?
Do you want to continue with the same sporting breed or go with another option?
Do you have a go-to breeder or puppy resource?
Are you prepared to rock your senior dog's world with a puppy infusion? Is your family supportive?
Are you planning to do the training, or do you have a professional resource in mind?
Are there training groups or organizations you could tap into?
Still on board? If so, spring is a terrific time for a puppy. Opportunities for socialization abound. And by September, as hunting seasons begin, your pup will be six or seven months old and ready for those precious first wild bird contacts.
Remember to give your aging bird dog some space and one-on-one attention as needed. The pack will sort itself out, but as leader of the pack you can help with that. And if you're lucky, the old dog may be able to teach the new dog some new tricks – even in retirement.